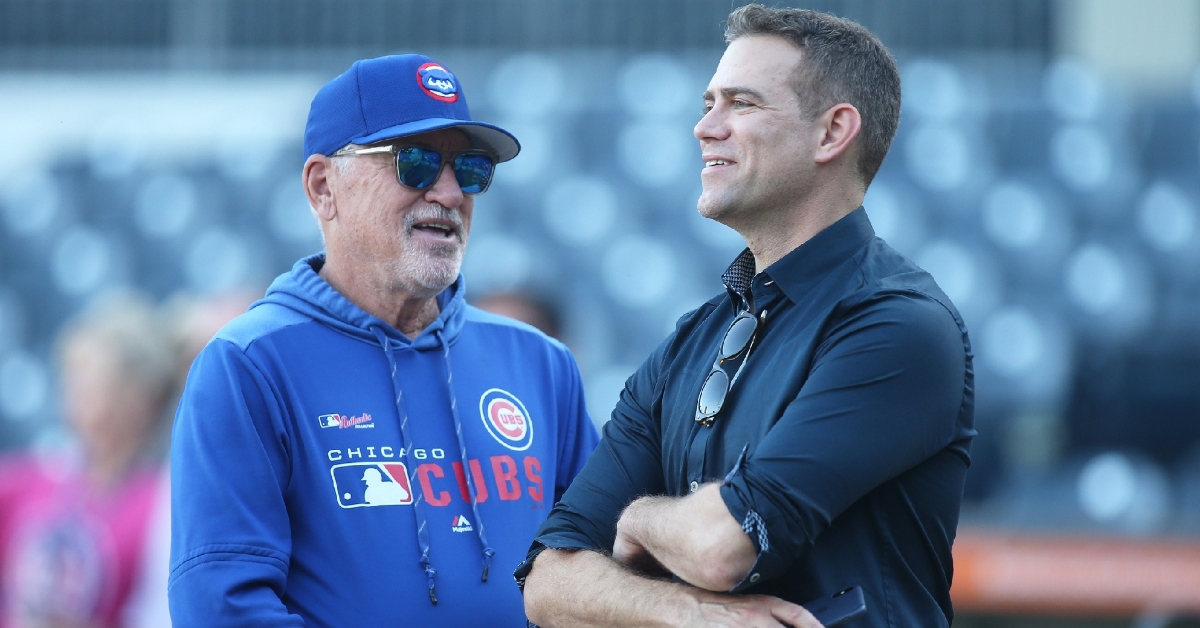 | | |
| --- | --- |
| Cubs News and Notes: Theo Epstein on trades, Cubs' manager search, Hot stove, more | |
---
| | | |
| --- | --- | --- |
| Tuesday, October 1, 2019, 6:13 PM | | |
CUBS NEWS AND NOTES
Epstein on KB/Javy: "I think they're both hugely important, and it'd be hard to see them out of a Cubs uniform, but we're at a transition point, and we have to do whatever is best for the Cubs. I hope it includes both of those guys."
As you'll see in Part-3 of Maybe Next Year, (posting tomorrow), Kris Bryant is the one Cub with huge name (and trade) value that I figure is going to leave the Cubs this winter. Argue all you want, but the fact remains that even a healthy KB at All-Star and MVP level, is not enough to fill even half the voids the Cubs have right now.
"You are likely to see change in this organization. I think this is a real opportunity when you fall short of your goals and fail to perform in the biggest moments as dramatically as we did. It provides a real opportunity if you're willing, to be honest with yourself and if you're willing to take a hard look inside. There will be an opportunity for change. We're not blowing anything up, per se, but we're likely to see real change, real adjustments, at various levels, most levels of our baseball operations in some form or another." – Theo Epstein, September 30, 2019
Theo on trades: "We were in a little tougher spot last year. We didn't have really good individual seasons last year. We didn't have the number of players with the value on the marketplace to go out and make a variety of changes. We just didn't."
Epstein went on to say, "This year there are more options open to us. We have a lot of players who have a tremendous value to us and in the industry. Because they're studs and they've gone out and put up really good numbers. I just think you have to be aggressive with what you want."
Let the debate begin: It's funny how quickly the conversation changed from, "They'll never fire Maddon," to "I think the Cubs next manager will be…" Mind you, while I'm quick to say I was wrong (whenever I'm wrong), I've not yet received one reply from the 100s who thought I was insane about saying Maddon was done; not one message that read, "You know what Ken? You were right all along about Joe Maddon." That's OK, though, you can own it privately (wink).
"We've got a lot of bright young people in the game now, but we've got a lot of bright older people in the game, too." -former manager, Jim Leyland
Now all the buzz is about the "war" (perpetuated by the fans and media) concerning whether David Ross or Joe Girardi will be the next Cubs' skipper.
Source: As of now there has been no contact between the #Angels and Joe Maddon.

— Jeff Fletcher (@JeffFletcherOCR) October 1, 2019
What Theo Epstein is searching for in the next Cubs manager (Hint: David Ross): https://t.co/L1kpp2PZ8s

— Patrick Mooney (@PJ_Mooney) October 1, 2019
The funny part is that Mark Loretta- allegedly the frontrunner for the job in recent weeks past, seldom gets mentioned, nor does Mark DeRosa or any one of a handful of candidates on Theo's list of potential suitors. Theo made a very deliberate statement in his presser yesterday, stating that the Cubs had "not called for permission" to speak to at least one other candidate, meaning they want someone who's either still under contract or currently involved in the playoff scene. No, I don't think Craig Counsell or Aaron Boone are coming to Chicago, nor is AJ Hinch or Davey Roberts; maybe a bench coach from one of those teams though. As Theo said, "it's a broad list."
Who is Raul Ibanez? Well, he's a former Major League outfielder with no managerial experience, but he's been working in the Dodgers' front office; he's also now in the running for Joe Maddon's former job.
Latest managerial and coaching scuttlebutt: https://t.co/MAxTmVUJ4v pic.twitter.com/5GseI8H3a9

— MLB Trade Rumors (@mlbtraderumors) October 1, 2019
Another name enters the mix: Not that the Cubs have talked him (at least not known publicly yet), but former pitcher, hitting coach, and manager, John Farrell (Luke Farrell's father) is throwing his name in the ring for a potential manager's slot. For his seven years as a manager (two with Toronto, five with Boston), Farrell posted a 586-548 record (.517).
Sutcliffe has lost his mind: Former Cubs' pitcher turned TV broadcaster; Rick Sutcliffe appears to have lost his mind. I heard today that Sutcliffe suggested the Cubs would be bundling Addison Russell with Willson Contreras for a trade to get a starting pitcher.
Theo on "untouchables": "I don't believe in untouchables, I never have. I just think there are obviously players who are really hard to move, but you're just doing the organization a disservice if you close (a door). It's hard enough to engage in trade discussions, why would you want to create a subset of players that you can't even talk about. That's just something we won't do."
Usually Theo Epstein saying there are no untouchables is just a way of him letting people know that he'll never close any avenues to improve his team. This time it means more. Change is coming to Wrigleyville, and Joe Maddon's departure is just the start. https://t.co/q7TrNcKZpc pic.twitter.com/txMwxQkSZp

— Sahadev Sharma (@sahadevsharma) October 1, 2019
MLB and the HOT STOVE
Giants: Pablo Sandoval will be a free agent this winter, after missing the end of the season due to Tommy John surgery. It's hard to tell if San Francisco will want to pay him to heal in 2020, but for his part, Sandoval wants to stay with the team.
Reds: The trading season has yet to kick off, but it seems like coaches and managers getting fired/released is in a free-for-all state. The Reds just released hitting coach, Turner Ward.
Orioles: First waiver claim of the off-season (at least so far as I've seen). Baltimore has claimed RHP Cole Sulser off waivers from Tampa.
Baseball Quotes: "I never blame myself when I'm not hitting. I just blame the bat, and if it keeps up, I change bats. After all, if I know it isn't my fault that I'm not hitting, how can I get mad at myself? -Yogi Berra
The only thing I can do is play baseball. I have to play ball. It's the only thing I know. -Mickey Mantle pic.twitter.com/JufGw9YiNh

— Baseball Quotes (@BaseballQuotes1) September 23, 2019
Cubs' Birthdays: Celebrating yesterday, were ex-Cubs Mitch Atkins (34), Chuck McElroy (52), Vance Law (63), and Bill Bonham (71).