| | |
| --- | --- |
| Cubs News and Notes: Willy the Beast, Craig Kimbrel to join Cubs, Javy's new goal, more | |
---
| | | |
| --- | --- | --- |
| Thursday, June 27, 2019, 8:16 AM | | |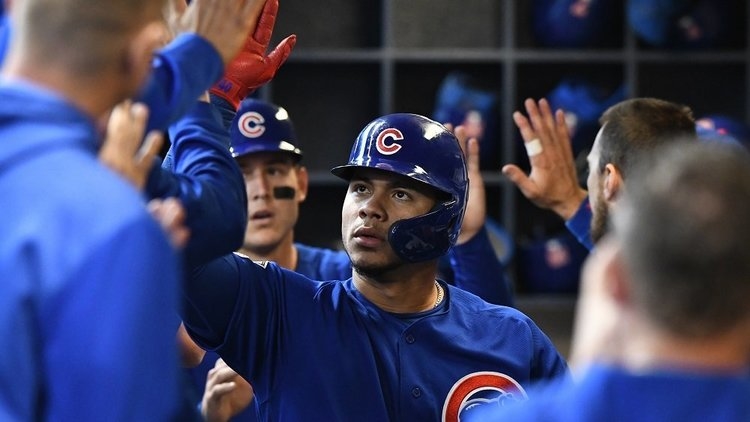 Next Game: Today, 1:20 PM CDT: Braves @ Cubs Braves TBD vs RHP Tyler Chatwood (3-1, 3.69 ERA).
CUBS NEWS AND NOTES:
Wednesday's Game Recap:
After winning on Tuesday night, Atlanta secured the season-series win; now, it was up to the Cubs to attempt to salvage the series win. Yu Darvish, still looking for his first win at Wrigley Field, nearly 18 months after becoming a Cub, took to the mound to face free-agent holdout, Dallas Kuechel. By the time the night ended, Darvish would still be looking for his first win.
While the Cubs were losing to Atlanta at Wrigley, I had the privilege of sitting at Wrigley North watching Seattle dismantle any ideas that the Brewers had of moving back into a tie for first place. I'll get a chance to see the Cubs and Braves finish the series tomorrow, but I digress.
Darvish would allow a run in each of the first two innings, then went for broke, allowing three in the third. He'd settle down for his final two innings, but by then the damage was done.
Trailing 5-0, the Cubs would wait until the bottom of the fourth to get on the board. A very motivated Willson Contreras would hit a solo shot to left field, finally breaking the ice. The Cubs would tack on another run in the fifth, courtesy of Kris Bryant's moon-shot that wound up deep in the left-centerfield bleachers. Contreras would come to the rescue again in the sixth, this time with a triple, and would then come around to score on Jason Heyward's single to right. That would be all the Boys in Blue would get though- final score: Braves-5, Cubs-3.
Yu Darvish: 5.0 IP, five hits (2 homers), 5 ER, two walks, eight strikeouts.

Cubs/Reds Probable Pitchers Friday: LHP Cole Hamels (6-2, 2.92 ERA) vs RHP Sonny Gray (3-5, 4.03 ERA). Saturday: LHP Jose Quintana (4-7, 4.50 ERA) vs RHP Luis Castillo (7-2, 2.56 ERA). Sunday: LHP Jon Lester (7-5, 3.83 ERA) vs RHP Anthony DeSclafani (4-4, 4.70 ERA).
The time is now: The Cubs will announce on Thursday that Tony Barnette will be optioned back to AAA, to make room for the new Cubs' closer. Ladies and gentlemen put your hands together for Mr. Craig Kimbrel.
Willy the beast: The Cubs may have come up short in their bid for a win again last night, but if there's one good thing this series has done, it's that it has certainly lit a fire under Willson Contreras. Between towering homers, triples and the all-around grit, Contreras has been a man on a mission, ever since Tyler Flowers was dumb enough to set him off.
Willson Contreras has gone 5-for-10 with 2 homers, one double, one triple, one walk, three runs, six RBI and one bench-clearing fracas so far in this series against the Braves.

— Jordan Bastian (@MLBastian) June 27, 2019
Yu Darvish: Following another "L," Yu Darvish shared this:
Darvish on his downfall: pic.twitter.com/aFyq9BcgFQ

— Mark Gonzales (@MDGonzales) June 27, 2019
Javy's new goal: Javier Baez has already had a 30 HR, 100 RBI season as a second baseman, now he's on pace to do the same as a shortstop. Any ideas on how many others have accomplished that? None. But then again, this is Javy.
Contreras on Alzolay: "He could be really good in the big leagues. He still needs to make the adjustments- like all of us. But with the confidence he has, the intensity he has and the way he prepares before the game, it's going to take him a long way.
Maddon on Alzolay: Not that Adbert Alzolay was terrible on Tuesday night, but Joe Maddon and the Cubs' upper management are in the process of deciding whether the rookie will get another start next week. The Cubs have made it clear that they intend on using a six-man rotation, but they aren't exactly abundant in the area of extra starters.
Barring a terrible performance today, there's little doubt that Tyler Chatwood will remain in the Cubs' rotation, especially in the continued absence of Kyle Hendricks, but until The Professor returns, Alzolay makes the most sense to serve as the extra man. About the only other choice, the Cubs have, is Mike Montgomery, but let's face it, Monty has just not turned in quality innings this year.
Terrible news: Albert Almora Jr.'s at-bat in Houston; things are much uglier than anyone could have dreamed. According to an attorney who is representing the child's family, the child suffered a skull fracture, subdural bleeding, brain contusions, and brain edema – the child has also experienced a new onset of seizure activity, which is reportedly under control through the use of medication. The child is said to be recovering at home.
Baseball Quotes: "There is no one correct way to bat, and so, of course, there is no one correct stance for it." -Stan Musial
Cub Birthdays: Celebrating yesterday, were ex-Cubs Jason Kendall (45), Rodney Myers(50), Mike Griffin(62), Manny Seoane(64), Dave Rosello(69), and posthumously, Howie Pollet(98), Elmer Singleton(101), "Babe" Herman(116) George Milstead(116) Elmer Yoter(119) Elmer Ponder(126) and "Tospy" Hartsel(145)
NL CENTRAL SCHEDULE (June 23 – June 29, 2019)
(Wins are in green, losses in red)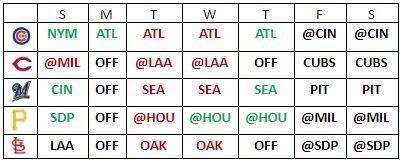 NL CENTRAL SCOREBOARD/STANDINGS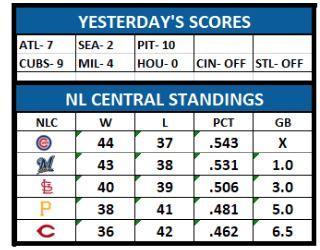 Tags: Cubs Baseball
,
Willson Contreras
,
Tyler Chatwood
,
Yu Darvish
,
,
Jason Heyward
,
Cole Hamels
,
Jose Quintana
,
,
Tony Barnette
,
,
Adbert Alzolay
,
Kyle Hendricks
,
Mike Montgomery
,
Albert Almora Jr
,
Joe Maddon