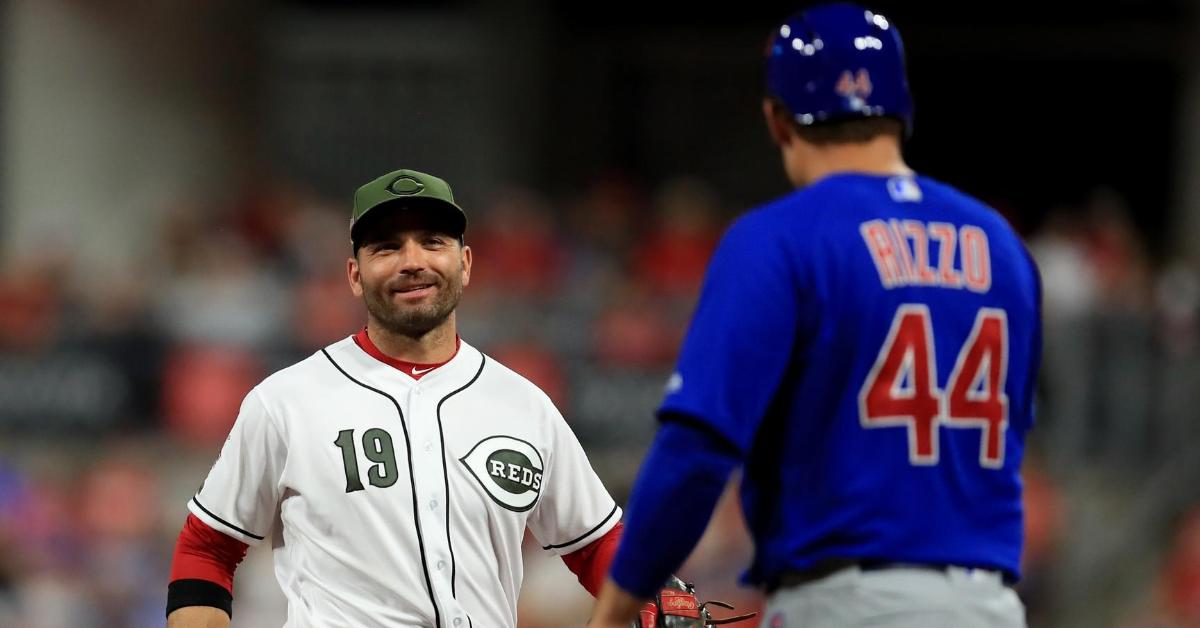 | | |
| --- | --- |
| Cubs News and Notes: Zobrist homers again, Roster moves, Rizzo's future, standings, more | |
---
| | | |
| --- | --- | --- |
| Saturday, August 10, 2019, 8:07 AM | | |
Next Game: Today: RHP Kyle Hendricks (8-8, 3.06 ERA) vs RHP Sonny Gray (6-6, 3.25 ERA). Game time 6:10 PM CDT; WGN.
Friday night's Game Recap:
Who'd have thought that Yu Darvish would have become this effective after the year that he didn't have last year? Certainly not me. Darvish said earlier this year that his sole mission was to prove to the fans, the team (and I think maybe even to himself) that he was worthy of his $126M deal. I'm starting to buy into that.
Darvish took the mound last night in Cincinnati, squaring off against former Indians righty, Trevor Bauer, who was making his second start for the Reds. Let the games begin.
The first inning indeed went as planned for the Cubs: Nick Castellanos homered, then Yu Darvish struck out the side. 1-0, Chicago.
The doubles appear to have turned into dingers.#EverybodyIn pic.twitter.com/zAbraIhw1p

— Chicago Cubs (@Cubs) August 9, 2019
In the bottom of the second Aquino would hit a two-run blast to right, putting the Reds up 2-1.
The Cubs would fail to convert baserunners into runs in the top of fourth, and Eugenio Suarez would make them pay for it in the bottom of the fourth, with a towering blast to left. Reds up 3-1.
After five innings it was safe to announce that they had a pitcher's duel going…
In the bottom of the sixth Joey Votto made it 4-1 Reds, then Peraza's bloop-single with two outs in the seventh (vs. Steve Cishek) would score yet another run. Reds- 5; Cubs- 1
The Cubs would threaten in the eighth but would end up settling for just one run when Jason Heyward scored after Anthony Rizzo was hit by a pitch with the bases loaded. Ian Happ's strikeout would leave it up to Schwarber who would ground out to end the inning. Reds- 5; Cubs- 2
Unfortunately, nothing more to see here. Reds win it 5-2.
CUBS NEWS AND NOTES
Cubs/Reds Probable Pitchers: Sunday: LHP Jon Lester (9-8, 4.46 ERA) vs RHP Luis Castillo (11-4, 2.63 ERA) Game time 1:20 PM CDT; NBC Sports Chicago.
Roster Moves: The Cubs placed reliever, Kyle Ryan, on the bereavement list yesterday, and recalled Alec Mills from Triple-A Iowa.
Zo goes yard: In his first game with the Myrtle Beach Pelicans, Ben Zobrist went deep (batting left-handed) in a campaign that saw him go 1 for 3 with a walk on Thursday. Zo should be rejoining the Cubs within the next few weeks.
Going out on a limb here, but I think this guy @benzobrist18 has a future with the @Cubs... ???? pic.twitter.com/Z3ZK9UAZOT

— Myrtle Beach Pelicans (@Pelicanbaseball) August 9, 2019
And Ben did it again last night…
2? games, 2? home runs for @benzobrist18! ??@Cubs, can we keep him? pic.twitter.com/viCjuWQ3B5

— Myrtle Beach Pelicans (@Pelicanbaseball) August 10, 2019
No time for slumping: Bad games are going to happen for starters, I'm just hoping that the Cubs' starters don't go back into the systemic- pandemic- slump they were in a few months back. In the last week Jon Lester, Cole Hamels, and to a lesser extent, Yu Darvish have all had "off" nights. The fact that they each had a bad outing neither surprises nor upsets me, the fact that this is happening in succession again does.
Rizzo's future: The Cubs still have two more years (2020-2021) with club options for Anthony Rizzo, so signing him to an extension shortly isn't necessarily a priority at the moment.
"I do want to stay here. I do want to be a Cub" -Anthony Rizzo
Rizzo has been a fixture at first base for Chicago for eight seasons now, and depending on which way free agency and the mega deals progress (Harper, Machado, Arenado, Goldschmidt, etc.) Big Rizz could be looking at- or at least hoping for- a mega-deal of his own. The Cubs will have a lot of decisions to make over the next couple of years, as just about 75% of the roster will be hitting free agency between now and 2023.
Baez vs. Rizzo: It was fun seeing Javy take an at-bat as a left-hander on Thursday and I'm sure the Reds appreciated it, as they had a position player (Kyle Farmer) pitching, due to the blowout. That swing of Javy's looked somehow familiar to me, and now I think I know why…
Did @javy23baez's lefty stance look familiar to you too, @ARizzo44? ?? pic.twitter.com/yPWrvcyj60

— Cubs Talk (@NBCSCubs) August 9, 2019
Javy on hitting lefty for the first time. pic.twitter.com/Kvd6i7h6q7

— Paul Sullivan (@PWSullivan) August 9, 2019
Nick Castellanos: With every passing day, the Nick Castellanos signing is making Theo Epstein look smarter and smarter. Through his first eight games as a Cub (35 plate appearances, 33 at-bats), Castellanos is slashing .424/.457/.879 with three homers, six doubles, five singles, a pair of walks and five strikeouts.
Castellanos is putting the ball in play 80% of the time, and 42.4% of the time, those at-bats result in hits. What's more, 64.3% of the time, Castellanos isn't settling for just one base, and his strikeout rate (as a Cub) is just 14.3%- uncommonly low for a slugger.
Nicholas Castellanos' 1.336 OPS since joining the #Cubs is playing just fine.#EverybodyIn pic.twitter.com/RYt3SiZ2tR

— Chicago Cubs (@Cubs) August 9, 2019
Off the radar: From time to time, I check on former Cubs players, to see how they're doing in their new environments. I haven't heard anything about Carl Edwards Jr. since his trade to San Diego on July 31, so I did some digging. San Diego optioned Edwards immediately to Triple-A El Paso, but they've never even used him (and he's not listed as injured), according to Baseball-Reference. Not that I expected Edwards to catapult himself into the bullpen in southern California, but odd that he seems to have fallen completely off the radar.
Baseball Quotes: "The key to winning baseball games is pitching, fundamentals, and three-run homers." -Earl Weaver
I did PED's. Poultry every day. -Wade Boggs pic.twitter.com/42xcNcOkfJ

— Baseball Quotes (@BaseballQuotes1) August 7, 2019
Cubs Birthdays: Celebrating yesterday, were ex-Cubs Ben van Ryn (48), Pat Mahomes (49), Bob Scanlan (53), Steve Swisher (68), Junior Kennedy (69), and Bill Campbell (71).
And who could forget the big guy, Jason Heyward, who turned 30 yesterday. Happy birthday, J-Hey.
Wishing a happy 30th birthday to Jason Heyward! ?? #EverybodyIn pic.twitter.com/Jp2QpZnVee

— Chicago Cubs (@Cubs) August 9, 2019
THIS WEEK'S NL CENTRAL SCHEDULE:
(Wins in green, losses in red)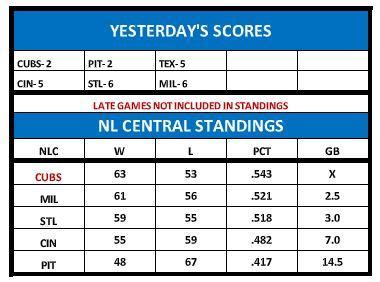 Tags: Cubs Baseball
,
Kyle Hendricks
,
Yu Darvish
,
Steve Cishek
,
Jason Heyward
,
Anthony Rizzo
,
,
,
Kyle Ryan
,
,
Ben Zobrist
,
Cole Hamels
,
Theo Epstein