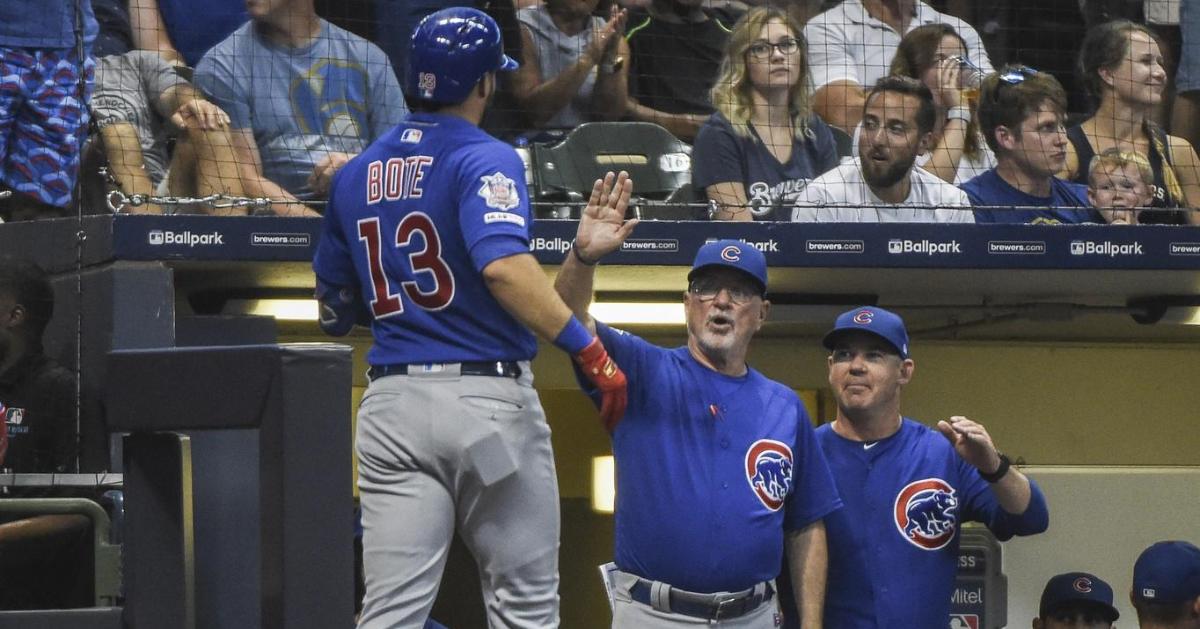 | | |
| --- | --- |
| Cubs News and Notes: Zobrist's decision, Happ's debut, Roster moves, Hamels' update, more | |
---
| | | |
| --- | --- | --- |
| Saturday, July 27, 2019, 8:09 AM | | |
Next Game: Today, 6:10 PM (ABC-7): LHP Jon Lester (9-6, 3.87 ERA) vs RHP Chase Anderson (3.90 ERA).
Friday's Game Recap:
Hoping like hell to hang onto first place, the Cubs ventured into Miller Park last night for the opening of a three-game set with Milwaukee. The Cubs entered play tied with St. Louis for first, while the Crew lingered in third place, just two games back.
Joe Maddon would send Kyle Hendricks to the mound, while Brewers' manager, Craig Counsell, countered with Gio Gonzalez.
It took until the sixth, but the Cubs finally drew first blood. Albert Almora Jr. would break up Gonzalez's no-hitter with a single, then David Bote broke it open with a two-run blast to the left.
You asked for a hit. We gave you TWO.

We spoil you. #EverybodyIn pic.twitter.com/wwHoWXbZfB

— Chicago Cubs (@Cubs) July 27, 2019
Hendricks was done after five, which is enough to make anyone nervous, as that meant the bullpen got a chance to derail the progress. Kyle Ryan and Steve Cishek tried to give it back in the sixth, but Cishek got out of a bases-loaded jam to keep the Cubs up 2-0.
Before Cishek was done in the seventh, he'd leave Brandon Kintzler with a man on second, two-out and Christian Yelich in the box. Kintzler would get the groundball that he needed, but unfortunately, Javier Baez was shaded toward second, and the ball found a hole, scoring Gamel. Kintzler would keep them there though; 2-1, Cubs.
Kintzler would get himself into a bit of a jam in the eighth, but nothing like the jam Pedro Strop created after first beaning Braun to load the bases, then giving up a two-RBI hit that would prove fatal.
Josh Hader would come on in the ninth, and that'd be all she wrote. Cubs lose another road game by a final of 3-2, and along with it, kiss first place goodbye, as the Cards beat the Astros, 5-3.
Cubs News, Notes and Commentary:
Cubs/Brewers Probable Pitchers: Sunday, 1:10 PM (ABC-7): LHP Jose Quintana (8-7, 4.42 ERA) vs RHP Zach Davies (8-3, 3.17 ERA).
Cubs/Cardinals Probable Pitchers: Tuesday: RHP Yu Darvish (3-4, 4.54 ERA) vs RHP Adam Wainwright (7-7, 4.63 ERA). Wednesday: RHP Kyle Hendricks (7-8, 3.41 ERA) vs RHP Mile Mikolas (7-10, 4.19 ERA). Thursday: LHP Jon Lester (9-6, 3.87 ERA) vs Jack Flaherty (4-6, 4.24 ERA).
Whoa, Zo! This makes twice that I was proven wrong in the last 48 hours (man, that stinks…). Per Theo Epstein, Ben Zobrist is attempting a comeback and will start a rehab assignment soon. The rough timeline is set for a month. Glad to see Ben coming back, and I think that despite the amount of time he has left this season, he'll be a huge influence in the clubhouse, if not on the field.
Zobrist had told team he'll be ready to start his return. Could start a rehab as early as next weekend

— Sahadev Sharma (@sahadevsharma) July 26, 2019
Theo said MLB allows a 30-day window for non-suspended players on restricted list to play in Minor League "rehab" games. Zobrist will need to be reinstated by end of 8/31 to be eligible for postseason.

— Jordan Bastian (@MLBastian) July 26, 2019
Roster moves: The Cubs have acquired lefty-reliever, Derek Holland, from San Francisco, for cash and cash consideration in return (that never made any bit of "cents" to me).
Maddon on Derek Holland pic.twitter.com/a0h9c2e97l

— Mark Gonzales (@MDGonzales) July 26, 2019
To make room for Ian Happ (Holland is not available yet), the Cubs announced yesterday that reliever, Tim Collins was designated for assignment.
Per #Cubs PR, Holland has limited left-handed hitters to a .182avg.
.276obp, .195 slugging & .471 OPS, allowing only one extra-base hit, & a double, in 89 plate appearances.

— Kelly Crull (@Kelly_Crull) July 26, 2019
Holland is a top echelon clubhouse guy with a Ryan Dempster sense of humor.

— Bruce Levine (@MLBBruceLevine) July 26, 2019
Next question: Who leaves when Holland DOES get there? And, by the way, we still have to make room for Cole Hamels in a week or so. Stay tuned; this is going to get interesting- especially if Theo isn't done yet.
This feels like more of a way to upgrade on Collins than anything else. They had to make a move for Happ and this guards against Collins not coming back after the DFA. Just keeping lefty depth and still looking to upgrade bullpen.

— Sahadev Sharma (@sahadevsharma) July 26, 2019
Happ plays: Well, it didn't take long to insert Ian Happ into the lineup, but I suppose no one would ever know unless they rolled the dice. With Kyle Schwarber struggling immensely with lefties, Happ's switch-hitting skills do make more sense; but then again, Garcia switch-hits as well.
Ian Happ on improvements leading up to promotion pic.twitter.com/JbYLKsGkF0

— Mark Gonzales (@MDGonzales) July 26, 2019
Is Almora trade bait? I've speculated that bringing Happ up now, was to showcase him for prospective buyers; but is it possible that this move was made to replace Albert Almora Jr.?
I had a bit of an epiphany yesterday afternoon, just before game time. Over the winter, Joe Maddon said that he felt Happ was ready to be an everyday player, and while Almora was improving, he wasn't quite to that point. Happ was sent to Iowa when they broke camp, and Almora is the one who's gotten to play nearly every day (appearing in 97 games so far). Interestingly, during Happ's pregame interview with the media, he mentions how playing 100 games or so in Iowa has helped condition his body.
Happ: "It was definitely difficult to be away from the team" pic.twitter.com/AqpTq4iH7r

— Mark Gonzales (@MDGonzales) July 26, 2019
Happ watch: Defensively, Happ made a beautiful sliding catch to end the first, but offensively, he didn't show much. In three at-bats, Happ (in order) struck out, flew out to right, and flew out to left. I can hear the jeers now, "But Ken, give him a break, this was his first game back." Maybe, but his "wicked offense" in Iowa is supposed to be why he was promoted. I wish the guy well, and I just don't think he's a guy that's going to excel in the majors. Nothing personal there, it happens. If I'm wrong, I'll admit it (reluctantly).
Hamels rehab: Cole Hamels threw another bullpen session yesterday, apparently feeling well after his rehab start on Tuesday. The I-Cubs have scheduled to have another rehab start- hopefully his last- on Sunday. If all goes well and Hamels is healed, he could be back in the lineup by the next Cubs/Brewers series.
Maddon said it's possible that — barring any setbacks — Cole Hamels could start vs Brewers on next homestand. Given Monday's team off-day, Aug. 2-3 would be the target date range.

— Jordan Bastian (@MLBastian) July 26, 2019
MLB's proactiveness: Things like depression and anxiety don't single people out, and they certainly don't miss affecting the people that most people think of as invincible. Good to see MLB being proactive instead of reactive. Kudos.
Mental health resources are so crucial for everyone to have — personally and professionally. Baseball players are no exception. Tremendous to see extraordinary progress by @MLB in this area. https://t.co/TLBaJuf4Zh

— Jon Morosi (@jonmorosi) July 26, 2019
Magic Number: With the Cubs playing their next eight games against the Brewers and the Cardinals, this number needs to change dramatically, if the Cubs have any shot at winning the division.
Game 103 @Cubs magic numbers:

STL: 61
MIL: 58
CIN: 54
PIT: 52#EverybodyIn

— CUBS MAGIC NUMBER (@CubsNumber) July 26, 2019
Baseball Quotes: "Hitting is an art, but not an exact science." -Rod Carew
He hits from both sides of the plate. He's amphibious. -Yogi Berra pic.twitter.com/5fFUNEXNxg

— Baseball Quotes (@BaseballQuotes1) July 26, 2019
Cubs Birthdays: Celebrating yesterday, were Brandon Morrow (35) ex-Cubs Alex Burnett (32) and posthumously, Lou Jackson (84), Hoyt Wilhelm (97), and Phil Powers (165).
THIS WEEK'S NL CENTRAL SCHEDULE:
(Wins are in green, losses in red)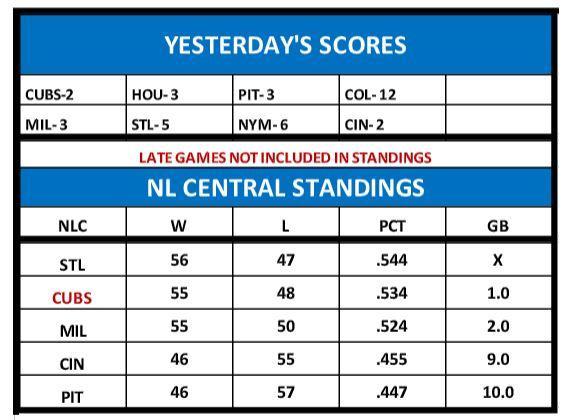 Tags: Cubs Baseball
,
,
Kyle Hendricks
,
Albert Almora Jr
,
David Bote
,
Kyle Ryan
,
Steve Cishek
,
Brandon Kintzler
,
,
Pedro Strop
,
Jose Quintana
,
Yu Darvish
,
Ben Zobrist
,
,
Cole Hamels
,
Kyle Schwarber
,
Brandon Morrow
,
Joe Maddon
,
Theo Epstein