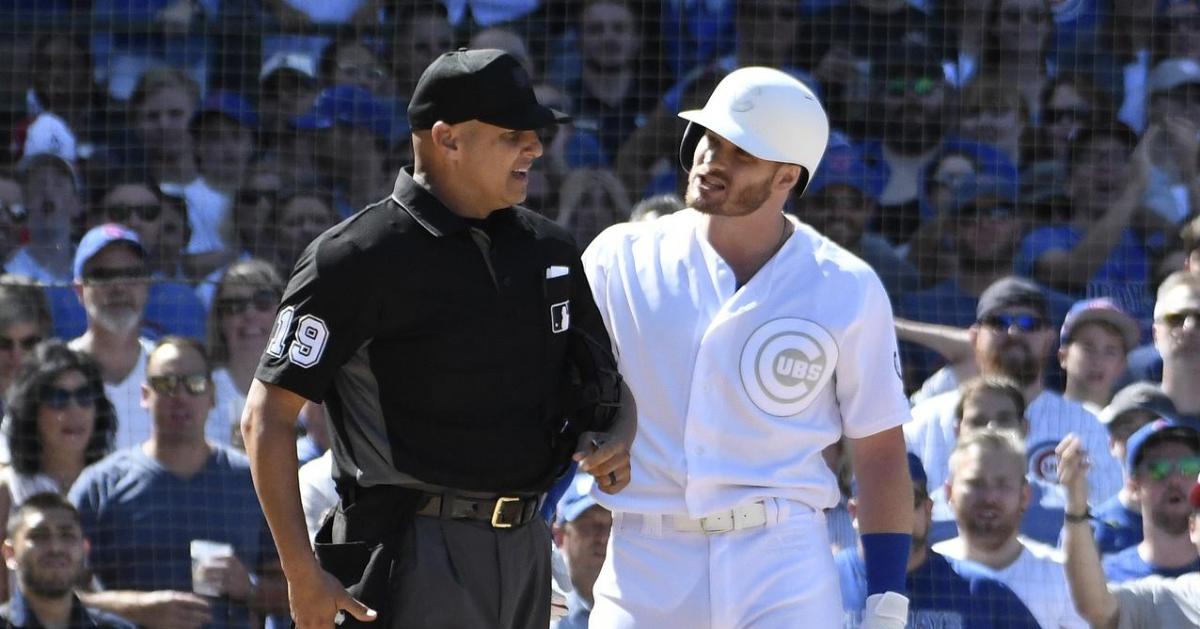 | | |
| --- | --- |
| Cubs Odds and Ends: Cubs latest meltdown, Final thoughts on Players' Weekend | |
---
| | | |
| --- | --- | --- |
| Monday, August 26, 2019, 5:24 PM | | |
The Cubs' Latest Meltdown
It wasn't just the bullpen that caused issues for the Cubs this weekend; it was an entire team meltdown. I'm not suggesting this is going to be a long-lasting slump, at least let's pray it isn't, but for some reason, this weekend we went from "All circuits are go," to "Sorry, all circuits are dead," after a five-game win streak had the Cubs looking like contenders again.
Over the weekend, the Cubs' starters (Jon Lester, Jose Quintana, and Cole Hamels) combined for only 13.1 innings pitched, while allowing a combined total of 18 hits, 13 runs, 12 earned runs, five walks and a pair of home runs, while only striking out eight between them. While Lester and Hamels have struggled recently, this is highly uncharacteristic of Q- especially as of late.
Starting Rotation ERA over the series: 10.00.
As usual, the bullpen wasn't without issues of their own (I never said they weren't partially to blame, I just said you couldn't pin it all on them). Hits, walks, runs, home runs, hit batsmen and wild pitches, they did it all. No matter which pitcher or what game you choose, everyone was guilty of something at one time or another, with the sole exception being Brandon Kintzler, who was perfect for 1.1 innings on Sunday. Some were indeed better than others, but this stuff all adds up.
The entire pen appeared over the weekend, with the division of labor as follows: Pedro Strop (Fri/Sat), 1.2 IP; Tyler Chatwood (Fri/Sat/Sun): 3.1 IP; David Phelps (Fri/Sun): 2.0 IP; Derek Holland (Fri): 1.0 IP; Kyle Ryan (Sat/Sun): 0.2 IP; Steve Cishek (Fri/Sat/Sun): 2.0 IP; Rowan Wick (Sat): 1.2 IP; Brandon Kintzler (Sun): 1.1 IP; Craig Kimbrel: 1.0 IP.
Over those 13.2 innings, the Nationals knocked the Cubs bullpen around to the tune of 11 hits (1 HR) for 10 ER, while drawing 11 walks, and taking an additional three free passes from batters who got plunked. There were also a pair of wild pitches (Chatwood, Strop) that each allowed a run to score. About the only good thing that the Cubs' pen accomplished was racking up a dozen strikeouts, but still, that's less than one per inning pitched.
Bullpen ERA for the series: 13.66.
Then there's the offense (or lack thereof for most of the weekend). I thought maybe we were done having this conversation for the year, but apparently not. While Anibal Sanchez and Joe Ross are certainly respectable pitchers (Sanchez by far, the better of the two), the Cubs had to face Stephen Strasburg on Sunday, as they attempted to keep themselves from being swept. This is never an easy task.
Stephen Strasburg is nasty, y'all.

— Tim Stebbins (@tim_stebbins) August 25, 2019
The Cubs only managed 17 hits and ten runs over the weekend (average of 5.7 hits and 3.3 runs per game), while going a combined 17 for 100 at the plate (.170 team batting average). The Cubs were 5 for 20 (.250) with runners in scoring position, failing to move runners in scoring position a total of eight times with two outs. For the entirety of the series, the Cubs would leave a total of 35 men on base.
The walks were down (in part due to the terrible ball and strike calls), as the Cubs gathered only 11 for the weekend, but the strikeouts were flowing freely, with Chicago collecting a total of 32 of them.
Somehow, no matter how poorly the Cubs' offense performs, Nicholas Castellanos finds ways to contribute, day in and day out. Castellanos went 2 for four on Friday with an RBI, then backed that up by going 2 for five on Saturday with another (two-out) RBI. Sunday wasn't nearly as productive for Nick, as he went 1 for 5, but he still managed to elude the o'fer.
The Cubs are on the board because of (who else?) Nick Castellanos. RBI single through the hole on the left side to score Caratini from second.

Castellanos has hit safely in 18 of his 22 games with the Cubs.

— Jordan Bastian (@MLBastian) August 24, 2019
While the Cubs (excluding Castellanos) batted .140 for the weekend (12 for 86), Castellanos churned out a 5 for 14 effort, good enough for a .357 average over the series (2 RBI).
It didn't help matters that the Cubs played some sloppy defense at times over the weekend. When Anthony Rizzo racks up two errors in one game (one throwing, one catching), you know something's not right. Lester was also charged with a fielding error on Friday, though that's not particularly alarming.
Javy will always be Javy, but when it came to making the highlight reel for the weekend, he'd be joined by Tony Kemp, who turned in some fantastic defense at second, along with Kyle Schwarber, who was making catches in left that you'd expect from Albert Almora Jr. and/or Jason Heyward.
For whatever reason, the Cubs can't seem to get the engine firing on all cylinders at once- at least with any consistency- and this is a problem they've had all season. Now that they're down to just 32 remaining games, they find themselves 2.5 games behind St. Louis, and only 2.0 games above third-place Milwaukee. The Cubs' elimination number now stands at 31 and can go down by increments of two, should the Cards win, and the Cubs lose. Just remember though- according to some, those games in April and May don't matter (heavy sarcasm added).
My final thoughts on Players' Weekend
Let's start with thank God, it's over. Not that I minded- especially with the humor and creativity that some interjected- but I must have read no less than 500 comments on social media, from fans, players and the media members that cover baseball. Not to be excluded, I wrote my own commentary about the absurdity of Players' Weekend, illustrating the stupidity of what the entire concept has morphed into to, over the last three seasons.
While I focused on the insanity of having 30 teams dress identically (15 in white, 15 in black), and some of the nicknames that left me shaking my head, I failed to think about a few things that some of our readers pointed out.
Harry G. wrote to me on Twitter, saying, "Read your screed, Ken, and couldn't agree more with it. One point you failed to mention is the $$$ being made by MLB from this weekend promotion, from way overpriced jerseys and other thematic merchandise being sold as souvenirs." Great point, Harry.
While I'm certainly not going to be offering my credit card to MLB for one of these jerseys (or other pieces of memorabilia), I'm sure plenty of others will be doing so- although maybe I will, as this could be MLB's version of the Ford Edsel. I do find it hard to believe with all of the negative complaints I read that sales of these jerseys will be good, but they'll undoubtedly sell more than a few.
Had the Cubs been the road team this weekend and wore black, I may have considered such a purchase, but there's a 0% chance that I'll have anything with the hideous whites they wore. In addition to previously describing the Cubs and other teams dressed in white as looking like "Good Humor ice cream men, wearing Star Wars Stormtrooper helmets," I failed to mention that the white belts were reminiscent of what officers in the U.S. Navy wear, while the overall look of the helmets also reminded me of what USDA Meat Inspectors don themselves in, before entering a meat locker. I'm not sure how to describe the metallic silver looking Cubs' logo, other than it reminded me of what something shaded by a pencil looks like, as the light catches it. #Awful.
Nick on twitter points out that MLB has started a trend of having a different uniform for every holiday and occasion; I think he's right.
This whole trend of a uniform for every holiday is irritating. Then these stupid uniforms. It is all a joke.

— Nick (@M4lkal17) August 25, 2019
Right of the bat (no pun intended), every team has their standard home and away jerseys, along with an alternate away jersey- as in the Cubs' blue road jerseys. Then they have the pink for Mother's Day, the camouflage for Memorial Day, the jerseys for players weekend, and any others I may have missed- that's six by my count, and no telling how many I've let my mind delete.
I do like the concept of honoring the military and the moms- especially when the pinks double as a reminder for breast-cancer awareness, but there's certainly got to be some other way to honor these holidays and causes, short of dressing the players in pink and OD green. While MLB certainly isn't depending on private donations or government funding for these things, you'd think they might go with patches on the players' jerseys (honoring whatever).
At least this whole mess surrounding Players' Weekend is over with for another year, and hopefully, MLB figures out how to make it better looking for next year- unless they do away with it. At the bare minimum, they should police the nicknames, disallowing the stupid emojis and some of the nicknames that look and sound unprofessional. C'mon MLB, you're better than this.

Tags: Cubs Baseball
,
,
Jose Quintana
,
Cole Hamels
,
Brandon Kintzler
,
Pedro Strop
,
Tyler Chatwood
,
Kyle Ryan
,
Steve Cishek
,
Rowan Wick
,
Anthony Rizzo
,
Kyle Schwarber
,
Albert Almora Jr
,
Jason Heyward