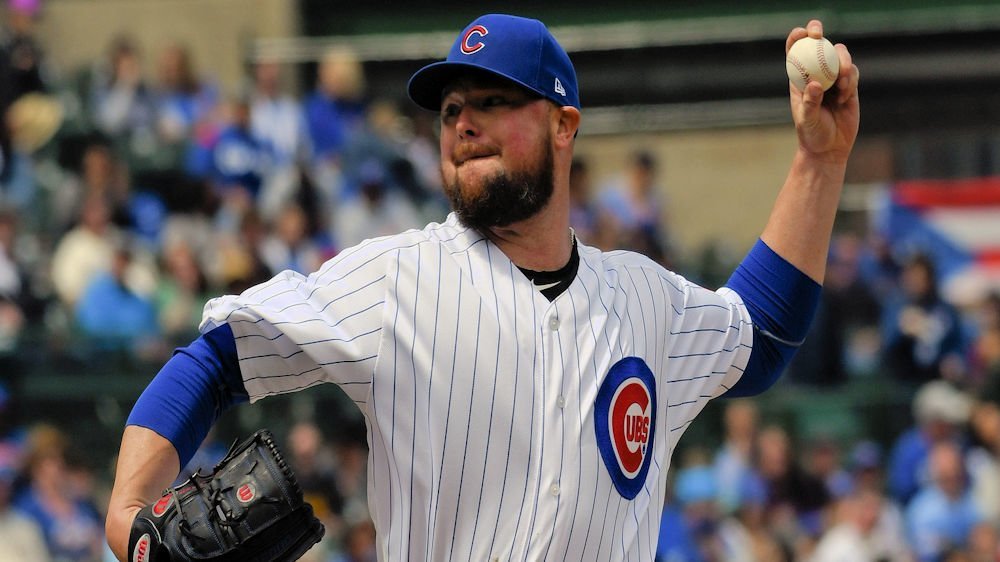 | | |
| --- | --- |
| Cubs Odds and Ends: Lester's tough outing, Team options, 2020 Cubs Free agents | |
---
| | | |
| --- | --- | --- |
| Wednesday, August 7, 2019, 8:04 PM | | |
The season's taking a toll on Lester:
If the plethora of physical injuries that the Cubs have suffered recently isn't enough, the season now seems to be starting to wear on the players mentally as well.
"I'm pretty much the weakest link in the rotation right now, and I got to figure out a way to right that ship and flat out do better"- Jon Lester
Cubs' ace, Jon Lester made that comment after he took a beating in Tuesday's 11-4 loss to the Oakland A's. Lester's second inning included hurling 41 pitches, which resulted in a total of 11 hits and eight runs- two of them being homers. To make matters even worse, Joe Maddon had nobody warming in the bullpen at this point.
Although Lester would get through the third inning unscathed, he'd get pounded for an additional three runs in the fourth, finally being removed after being recording the 12th out, on a total of 94 pitches. This four-inning outing also resulted in Lester's ERA climbing from 3.86 to 4.46- something that isn't exactly easy for a guy like Jon to swallow. Every pitcher has a bad outing, but this was beyond bad- especially for Lester- who's carried this team on his shoulders for four years.
Cubs talk today at 925 and 1 on ESPN 1000. Rubber game v Oak. Last night was a stinker. Story in here: RT @ESPNChiCubs: Roughed-up Lester: I'm 'weakest link' in rotation https://t.co/SaiSNdgvdV

— Jesse Rogers (@ESPNChiCubs) August 7, 2019
Earlier this year, I heard an unfounded rumor that Lester might retire after this season (extremely unlikely), and while I didn't believe it then, I'm starting to believe that it's at least a small possibility now. Jon always seems disgusted, both with himself and his teammates, and hardly a game goes by without him showing absolute contempt for the umpiring. The game has changed, the balls are juiced, Lester's velocity is down, and his age is going up. When you start to factor in peripherals like an eight-run inning with no support (whether from the offense, the bullpen or the manager), it's easy to see how Lester's frustration could result in early retirement. Jon has just one year to go on his current contract, and I'd love to see him stick it out, but it wouldn't surprise to see him hang it up either.
Lester is just one of 25 men on that roster, and while he's possibly the most outwardly emotional guy in the clubhouse, you know others must feel the same. Willson Contreras let out a scream of anger, followed by tears of disgust when he suffered his hamstring injury last week, and Albert Almora Jr. cried in agony when a foul ball from his bat injured a child in Houston. You've seen Jason Heyward snap bats in two, while others can be spotted shaking their heads in disgust.
I think guys like Nicholas Castellanos and even Taylor Davis add a little bit of sunshine, as their approaches and attitudes toward the game undoubtedly resonate among the team, but it's going to take a lot more to pick up Lester and some of the others. The Cubs have mental skills coordinators, and it may be a perfect time to have those guys start working overtime, as the grind of the season is beginning to show.
Time to start considering team options:
It's hard to believe that the season is already two-thirds over and that teams are undoubtedly already considering which team options on players will be exercised. It's never too early to plan, and the Cubs have some choices to make.
Cubs' starters with team options: MLB Trade Rumors is generally on the ball about the things that they report. In their recent article they explore which teams may be exercising team options for starting pitchers. They claim the Cubs are likely to pick up Jose Quintana's $10.5M option ($1M) buyout) but will not likely on Derek Holland's $6.5M option, and instead, opt to pay his $500k buyout.
I have little doubt that Q will be re-signed, as the Cubs face losing Cole Hamels, but what they do with Holland remains to be seen. They could use a lefty-specialist, especially with the collapse (and subsequent trade) of Mike Montgomery, but as always, a million other names will appear before the start of next season.
The article did fail to mention Kendall Graveman, who has a $3M team option for 2020. Graveman has been on the Cubs IL for the entirety of this year, as he continues to recover from Tommy John surgery. I have to believe that the Cubs will pick up this option, as they knew Graveman's situation when they signed him. He could, of course, be flipped, much as the team did with Drew Smyly last year, but I believe the Cubs signed him as an insurance policy to cover injuries or other potential vacancies in 2020.
Cubs' relievers with team options: MLB Trade Rumors went on to predict the reliever's options as well. The Cubs' Tony Barnette has a $3.5M option for 2020 that MLBTR doesn't feel will be exercised, but they say it's too soon to tell what the Cubs may do with David Phelps ($1M option with incentives) next year. Ah, then there's the injury-plagued Brandon Morrow, who has quite the sweetheart deal: a $12M option, or a $3M buyout. MLBTR says they don't think Morrow will be re-signed, but I'm saying "NO WAY" to the Cubs buying into another $12M IL stint.
Then, there's Rizzo: I can't even begin to imagine the circumstance that would stop the Cubs from exercising their $14.5M option on Anthony Rizzo for 2020 (they also have a team option for 2021 worth $14.5M). Rizzo has been the heart and soul of this team for six seasons now, and no there's absolutely no reason to think that his role won't continue.
Beyond the issues of deciding which team options to pick up, the Cubs also need to start considering what to do with anyone of the guys who'll gain free agency in 2020. That's a subject for another day, but I will tell you that (among others) the list includes the names Brandon Kintzler, Pedro Strop, Cole Hamels, and Steve Cishek. Stay tuned- this should get interesting over the next couple of months.

Tags: Cubs Baseball
,
,
Willson Contreras
,
Albert Almora Jr
,
Jason Heyward
,
Taylor Davis
,
Jose Quintana
,
Cole Hamels
,
Mike Montgomery
,
Kendall Graveman
,
Tony Barnette
,
Brandon Morrow
,
Anthony Rizzo
,
Brandon Kintzler
,
Pedro Strop
,
Steve Cishek
,
Joe Maddon