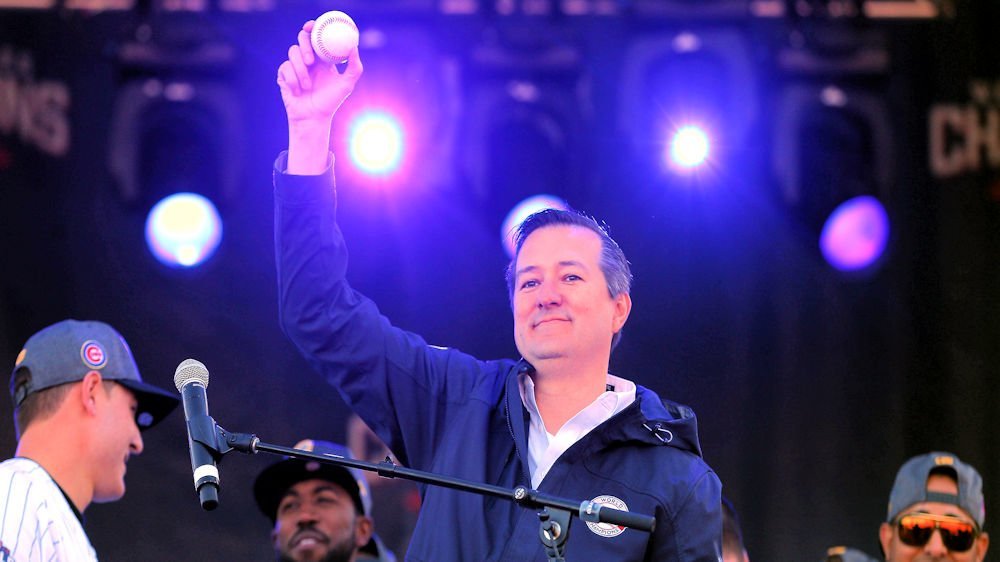 | | |
| --- | --- |
| Cubs Odds and Ends: Tom Ricketts speaks out, Latest "buzz" on Altuve and the Astros | |
---
| | | |
| --- | --- | --- |
| Saturday, January 18, 2020, 12:01 PM | | |
Tom Ricketts speaks out
During an interview with The Athletic's Patrick Mooney, Tom Ricketts says that "There's no magic free agent out there, anyway. You look at what happened last year with the Padres [referring to Manny Machado] or the Phillies [referring to Bryce Harper], and it doesn't always solve your problems."
"First of all, payroll doesn't solve all your problems. The top payrolls last year didn't even make the playoffs, and we were one of them." -Tom Ricketts
Nobody was asking for a "magic free agaent", Tom. But a dependable bench bat or reliever or two would have gone a long way to help improve the baseball team. https://t.co/X1g6IO3iQz

— Brad Robinson (@bradrobinson8) January 17, 2020
Ricketts maintains that the Cubs will continue to remain among the top spending teams in baseball and states that the team has "developed the resources here to be consistent on that."
"We've gotten away from talking in terms of windows. We'd like to be consistent. We want to have a team that can win the division every year. We put a lot of resources to work. I think we have a great team now, and who knows what happens between now and the opening day of spring training." -Tom Ricketts
Ricketts on Cubs Con: When asked about why the Ricketts family wasn't hosting a panel again this year, Tom says, "We used to do like a family panel, but toward the end, it really wasn't all that valuable or interesting, We did get low ratings. I'll be around all convention. I walk around. I talk to people every day. We'll have a lot of accessibility for the fans. But, frankly, we just think the panel time could be better used to talk about baseball."
Ricketts will participate in Ryan Dempster's show and says the Cubs may reconsider a family panel in the future, so long as there's an interest.
Marquee Network: Ricketts says that the Cubs new network has irons in the fire for carriers and hopes that Comcast will end up carrying the Marquee Network.
I did have a bit of an epiphany this morning: The Dodgers, Yankees, etcetera all have their own networks, but MLB TV still carries all of their games, so I'm assuming this should be an option for seeing the Cubs. The downside is that MLB TV doesn't carry pregame or postgame programming, nor would they be airing all of the extra stuff that the Cubs have promised with their new TV deal.
The Astros cheating scandal is growing legs
If electronic sign stealing wasn't enough, new reports say that certain members of the Astros (specifically Jose Altuve) were wearing buzzers under their jerseys to alert them of which pitch was coming next. Thus far, the rumors have been unsubstantiated.
from MLB with so much coming out publicly about Altuve HR to end ALCS and other incidents: "MLB explored wearable devices during the investigation but found no evidence to substantiate it." That investigation, MLB said, includes 2019.

— Joel Sherman (@Joelsherman1) January 16, 2020
All of a sudden, the following gif has gained attention, as Jose Altuve didn't want his jersey ripped off after delivering a home run in the ALCS.
According to MLB Trade Rumors (and I'd agree), it looks as if Altuve is screaming to his teammates not to rip off the jersey, as he's wearing a device.
"I've got a piece on, no!" ??

pic.twitter.com/0D2iGNkDw7

— Baseball Quotes (@BaseballQuotes1) January 16, 2020
Now, look at the following closeup of Altuve's jersey. It appears as though something is protruding near his right shoulder.
Uh oh. https://t.co/v2X2e3jRSK

— Tim Stebbins (@tim_stebbins) January 17, 2020
The Astros may very well have gotten away with one this time, but this is all the more reason for Rob Manfred to start punishing players for their involvement.
In the wake of the accusations against Altuve, Yankees' outfielder Aaron Judge went back and deleted a tweet from 2017, which congratulated Altuve on his MVP Award.
If the buzzers are real, Altuve has to go.

For life.https://t.co/IbZiSEKeUB

— 12up (@12upSport) January 17, 2020
Despite issuing a directive that their players would not publicly comment on the scandal, Dodgers' outfielder Cody Bellinger weighed in, advocating punishment for players who may have worn such devices.
For the sake of the game I Hope this isn't true.. if true, there needs to be major consequences to the players. That Completely ruins the integrity of the game!!!

— Cody Bellinger (@Cody_Bellinger) January 16, 2020
Dodgers' pitcher Alex Wood responded to Bellinger's tweet, saying, "Amen!!! The fact that there [haven't] been any consequences to layers is wild."
Earlier in the day, Wood tweeted that he "would rather face a player taking steroids than face a player that knew every pitch that was coming."
According to an article in the Los Angeles Times, "MLB said its investigation included interviews with 68 witnesses, including 23 current and former players. The report declared that "most of the [Astros] position players" took part in the illicit scheme along with bench coach Alex Cora. But the only player mentioned in the report was Carlos Beltrán, who has since retired, and the league did not discipline any players."
All I know is David Bote wasn't afraid of his jersey getting ripped off when he hit a walk off grand slam.

Play the game right. pic.twitter.com/u7AKjAuOla

— Cubs Live (@Cubs_Live) January 16, 2020
And this can all go unpunished? C'mon, MLB! You did great with the way you handled Hinch and Luhnow, but it's time to do more. While players were given immunity for cooperating, it would now appear as though they only partially complied with your requests for info, craftily leaving out the really bad parts that would implicate themselves at a much deeper level.
I may as well end it with this…
There's no quit on Twitter. ?? ??. pic.twitter.com/84u0SIbElt

— Paul Lo Duca (@paulloduca16) January 16, 2020