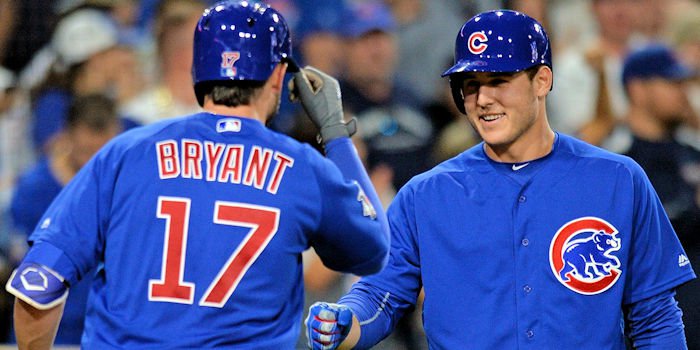 | | |
| --- | --- |
| Cubs by the Numbers: Bryzzo rated No. 1 and No. 2 hitters, Lester's still the man, more | |
---
| | | |
| --- | --- | --- |
| Tuesday, May 14, 2019, 5:26 PM | | |
A few weeks have gone by since I last calculated the stats and player rankings, and boy, have there been both improvements and changes. There's been some lights-out pitching by guys who were struggling, lightning offense by slumping stars, but one thing's for sure- it's all coming together.
If you need a tutorial on how my rating system works, check out the first edition of my stats column.
Cubs' Offense: The Basics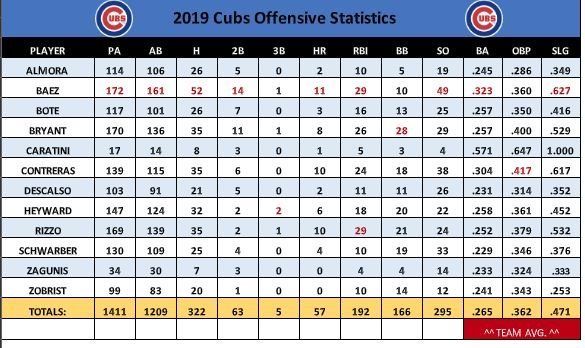 Less than a month ago (April 19 to be exact), I wrote the following words in the 3rd edition of my stats and rankings column: "The current state of the Cubs' offense is indescribable at this point; it's absolutely working, yet there's no logical reason why that is so. Literally, 33.3% of the offense is in a deep funk (Kris Bryant, Albert Almora, Jr., Anthony Rizzo, and Kyle Schwarber), but the other 2/3 is firing on all 8-cylinders, and then some." Boy, have times changed.
I don't even know where to begin with the major offensive improvements and contributions that KB has made over the past few weeks. Clutch hits, game-winning homers, and grand slams don't even begin to scratch the surface. Bryant's currently carrying career bests in wRC+ (149), wOBA (.400), BB% (16.5 BB %) and strikeout rate (17.1%). Bryant has now reached base in 22 straight games, and there's no end in sight.
Rizzo has come to life, and even though his batting average (.252) is still 71 points behind Javier Baez (.323), he's tied with Javy for the most RBI (29 each). His ten homers this season are tied with Willson Contreras for second best on the team (Baez leads with 11), and his SLG is still above .500.
While not quite as impressive, Schwarber and Almora have picked up the pace, now combining for a .237/.316/.362 slash line with six dingers and 20 RBI between them. What's most impressive about the pair, are Schwarber's 19 walks (Almora has 5), and the 15 extra base hits between them. Neither is known to have a ton of patience at the plate (more so Schwarbs than Almora), so to see them taking their walks is a bonus.
There's not much more to say about Javier Baez than what's already been said. With Rizzo's absence on Sunday (back stiffness), Javy now leads the team in plate appearances (172) and at-bats (161), along with hits (52), doubles (14), homers (11), RBI (tied for 1st with 29), and (when excluding Victor Caratini's limited playing time), Baez also ranks first in batting average (.323) and slugging (.627).
Cubs' Offense: Player Rankings & Ratings
Quick recap: Positive points per occurrence for hits, doubles, triples, homers, RBI, stolen bases, walks and sacrifices (flies/bunts). Negative points per event for strikeouts and grounding into double plays. Every stat for each player is set proportionately to the stats of his teammates. The numbers are then totaled, giving you the players rating.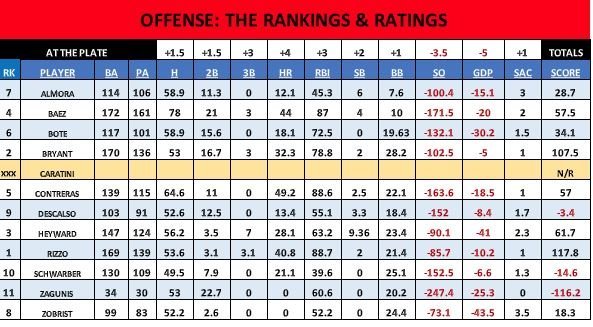 So how do they rank? Bryzzo's recent barrage of walks and hits have helped them make a charge to the top of the rankings during this "grading period," while Javy's strikeouts have caused him to drop from #1 down to #4. Almora jumped three spots to #7, and Schwarber's efforts have moved him into the top 10. Please note that Victor Caratini wasn't factored in this week, as he has so few plate appearances, the results would have been skewed.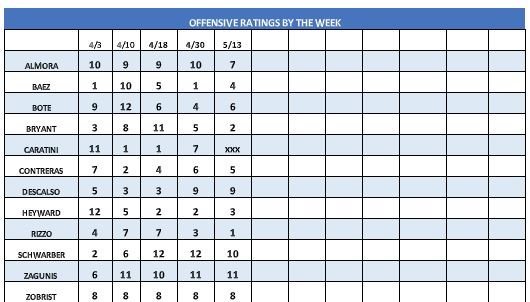 Cubs' Pitching: The Basics
There's but one word to describe the Cubs' starting rotation: Amazing. Jon Lester's 1.16 ERA this season is the best in MLB, Cole Hamels is averaging just under 7.0 innings per start, and Kyle Hendricks has already pitched a complete game. Except for Yu Darvish (we'll get to him in a minute), the Cubs' rotation has been unstoppable.
Darvish's outings have been the only dark cloud that continues to hang over this rotation, and no matter what he tries to tweak, nothing seems to work. Although he ranks third in strikeouts (44), he's dishing out walks (33) like there's no tomorrow. The one logical solution is to insert Tyler Chatwood back into the rotation and make Darvish a middle-reliever. He's averaging just over 4.5 innings per start, and he's actually on pace to walk more guys this year than Chatwood did last year. I digress.
The bullpen is another facet of this team that has come a long, long way in a short amount of time. Walks, hits and most importantly, runs, are way down, and their ability to get out of jams seems to improve daily. Take note of Brandon Kintzler's 0.696 WHIP, and while you're at it, look at his 1.93 ERA over 18.2 innings of work. Even with Mike Montgomery and Carl Edwards, Jr.'s numbers bogging down the pen's combined ERA and WHIP, they show vast improvement (overall) since I last tallied the stats.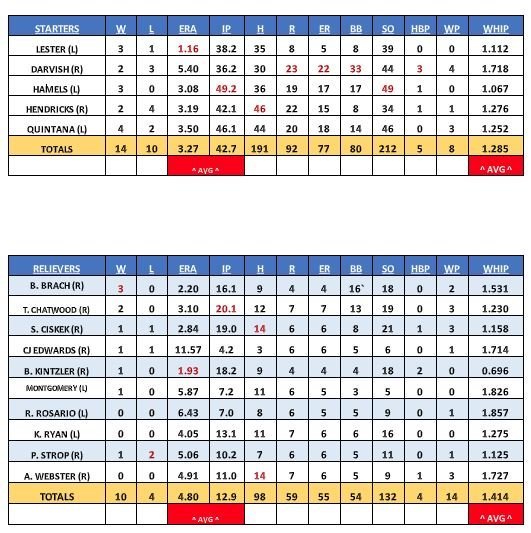 Cubs' Pitching: Ratings and Rankings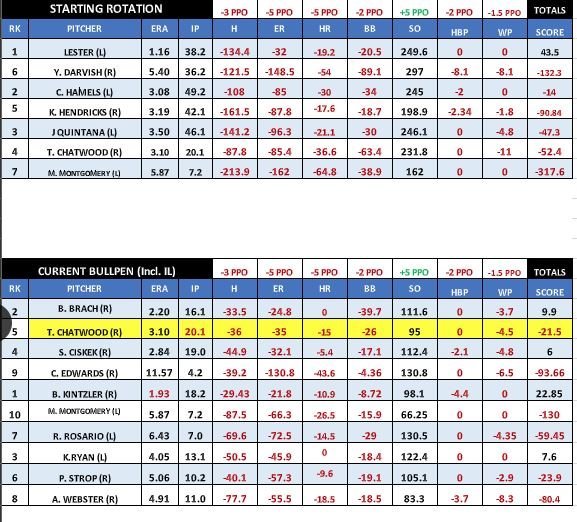 Who could doubt that with a 1.16 ERA, Jon Lester wouldn't come out on top of the rankings, even if it was Cole Hamels that he'd be replacing this week? In terms of how the starters rank, things remained relatively unchanged this week, with only Big-Jon moving up or down by more than one spot.
The bullpen ranking saw a little more noticeable movement- Brad Brach jumped from #6 to #2, and Carl Edwards, Jr.'s solid outings since returning from Iowa helped him move from rock-bottom into the top-10. Although he only moved up one spot, Brandon Kintzler ranks number 1 this week, and Pedro Strop dropped two spots to #6.
The pitcher that I've watched closer than anyone this year has been Tyler Chatwood. I had written him off last year and cursed Theo for ever signing him, but he has undoubtedly turned a corner. He's moved up from 8th to 5th in the bullpen rankings, and although he's still ranked #4 among the starters, his rating scores have been improving. There's still a long way to go for Chatwood to rank as #3 among the starters, but it's refreshing to know that if someone goes down, Chatwood could handle the call.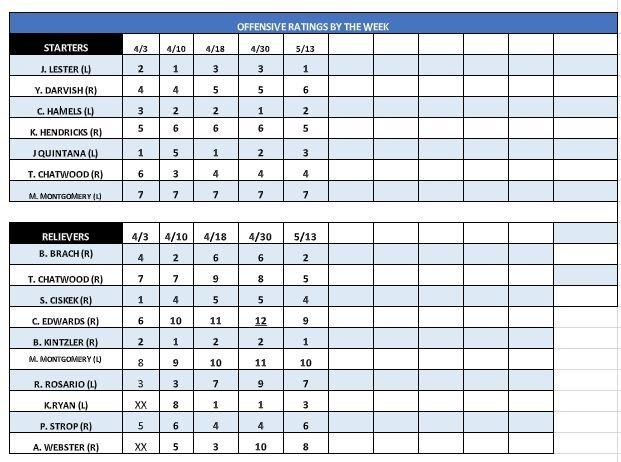 That's about it for this week. Stay tuned, and I'll be doing this again with the next round of updated stats on the Cubs' next day off (May 30); the article will then post on May 31, before the start of that day's game. Feel free to send me your feedback: ken@cubshq.com.

Tags: Cubs Baseball
,
,
Anthony Rizzo
,
Kyle Schwarber
,
,
Willson Contreras
,
Victor Caratini
,
,
Cole Hamels
,
Kyle Hendricks
,
Yu Darvish
,
Tyler Chatwood
,
Brandon Kintzler
,
Mike Montgomery
,
Pedro Strop