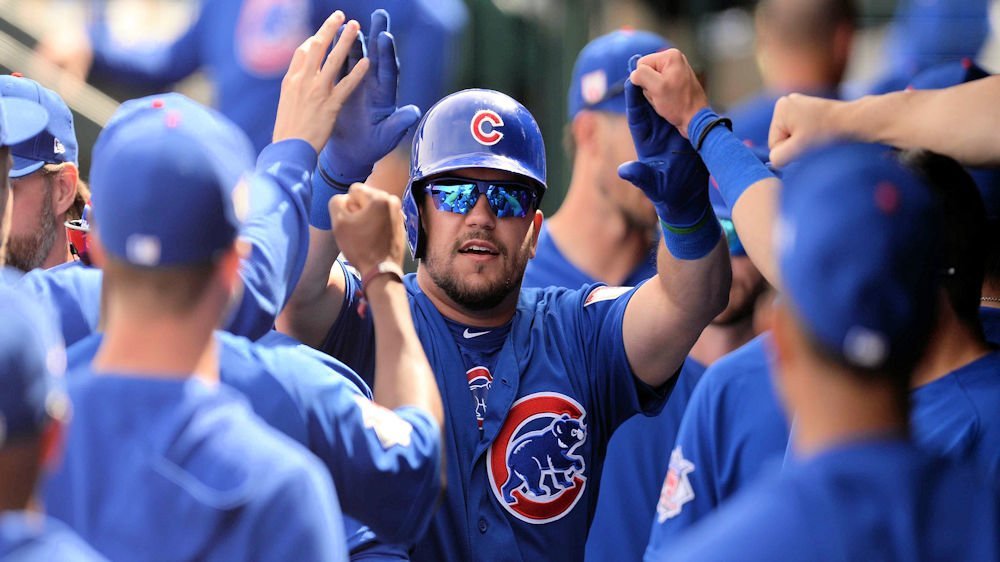 | | |
| --- | --- |
| Cubs clobber Padres scoring 24 runs, Cubs DFA Duensing, sign lefty, and MLB Notes | |
---
| | | |
| --- | --- | --- |
| Monday, March 25, 2019, 8:16 AM | | |
Upcoming Cubs games (CDT): Today: 8:05 PM: Red Sox @ Cubs (TBD). Televised: Cubs.com, NBCSCH, ESPN+, MLB TV, RedSox.Com. March 26, 2:05 PM: Red Sox @ Cubs. SDP: Porcello (0-1, 3.38 ERA) vs Cubs TBD. Televised: MLB TV, RedSox.com, NESN.
Cubs' Opening Day: 3 days. March 28 @ Rangers; (Lester vs. Minor). Game time: 3:05 PM Central. (WGN, MLB.TV).
Cubs' Home Opener: 14 Days. April 8 vs. Pirates: Game time: 1:20 PM Central. (ABC-7, MLB.TV)
Sunday's Game Recap: After last night's loss to Colorado, the Cubs sent a predominantly minor league squad to face the Padres yesterday afternoon. Mike Montgomery got the start for Chicago, while lefty, Mike Porcello took to the hill for the Pads.
By the second inning, the Cubs had scored seven times, enough to win, but they went out with a bang, scoring 26 runs in eight innings. Final Cubs-24, Padres-6.

Albert Almora Jr.: According to Inside Edge, Almora had the highest percentage in MLB of "non-routine" plays made last year. With the path now cleared for him to be the regular center-fielder, Almora has a chance to silence his nay-sayers. Watch for a breakout season from him in 2019.
Brian Duensing: In the next of Theo Epstein's "perform or be gone" moves, the Cubs designated Brian Duensing for assignment on Sunday, then signed LHP Tim Collins to a one-year, MLB deal. The Cubs are interested in trying to retain Duensing (if he clears waivers), but because he was out of minor league options, the DFA was the only means to remove him, other than by trade. If Duensing is retained, the Cubs will then send Collins to Triple-A. Maddon said he wants two lefties in the pen, so Kyle Ryan and Randy Rosario are in the running with Mike Montgomery.
Epstein said the following recently to the media about the possibililty of changes in the roster before the season.
"It is appropriate to be in an opportunistic mindset," Epstein said. "That does not mean anything is going to happen. There are players we have an eye on and teams we continue to talk to. We have been talking to those clubs all spring. It is likely that the 25-man we have here in camp is the group we break with."
Tim Collins: After signing his contract with the Cubs on Sunday morning, Tim Collins was suited up for the game, name on his jersey, and pitching in the fifth inning of the Padres/Cubs game. Collins had a clean inning, striking out one.
Addison Russell: Although Russell still has a 28-game suspension to serve, MLB rules state that during his last week of suspension, he may play in the minors to get ready for his return.
Joe Maddon: According to Bruce Levine (670 The Score), Maddon says the Cubs are now looking for help in center via either a trade or through the waiver wire.
Cubs looking for CF help via trade or Waivers . Joe Maddon talked about OF options like Descalso . That is fine on a corner but not in CF .

— Bruce Levine (@MLBBruceLevine) March 24, 2019
Victor Caratini: When Maddon was asked about the Cubs still adding depth at the catcher's position, Maddon said, "Victor's had a great camp. He's really come on strongly. He's absolutely a Major League Baseball player. But again, we're still having different conversations. And if Victor is there, I'm really happy with that."
Cub Birthdays: Celebrating yesterday were ex-Cubs Starlin Castro (29), Chad Gaudin (36), Jamie Arnold (45), and posthumously, Jim McCauley (156).
Sunday's MLB Scoreboard: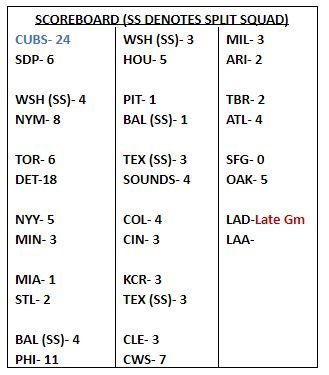 REMAINING SPRING SCHEDULE:
MONDAY (EST): 1:05 PM: RED WINGS @ MIN. @NYM @ BAL, TIGERS FUTURES @ DET, TBR @ PHI. 3:05 PM: COL @ ISOTOPES. 5:05 PM: NYY @ WSH. 7:05 PM: KCR @ STORM CHASERS, MIL @ TOR. 7:20 PM: CIN @ ATL. 8:00 PM: STL @ REDBIRDS, CLE @ TEX, PIT @ HOU. 9:05 PM: BOS @ CUBS. 9:40 PM: CWS @ ARI, OAK @ SFG. 10:07 PM: LAD @ LAA, SDP @ SEA.
TUESDAY (EST) 12:35 PM: DET @ TBR. 1:10 PM: CIN @ ATL. 2:05 PM: COL @ MIN, CLE @ TEX, PIT @ HOU. 3:05 PM: BOS @ CUBS. 3:40 PM: CWS @ ARI. 4:10 PM: SDP @ SEA. 7:05 PM: MIL @ TOR. 9:45 PM: OAK @ SFG. 10:10 PM: LAA @ LAD.
WEDNESDAY: NO GAMES SCHEDULED.
THURSDAY: MLB OPENING DAY.
News from around MLB:
Astros: Speaking about his recent extension, Justin Verlander says, "I wasn't scared of free agency or what's going on, I just thought this was a good situation. If it ain't broke, don't fix it."
Brewers: In a surprising move, the Brewers have traded veteran catcher, Erik Kratz has been traded to the Giants for shortstop CJ Hinojosa.
Reds: Along with other roster cuts on Saturday, the Reds optioned former Cubs' reliever, Anthony Bass, to minor league camp. He's upbeat though and hopes that MLB offers will still come in from other teams this spring.