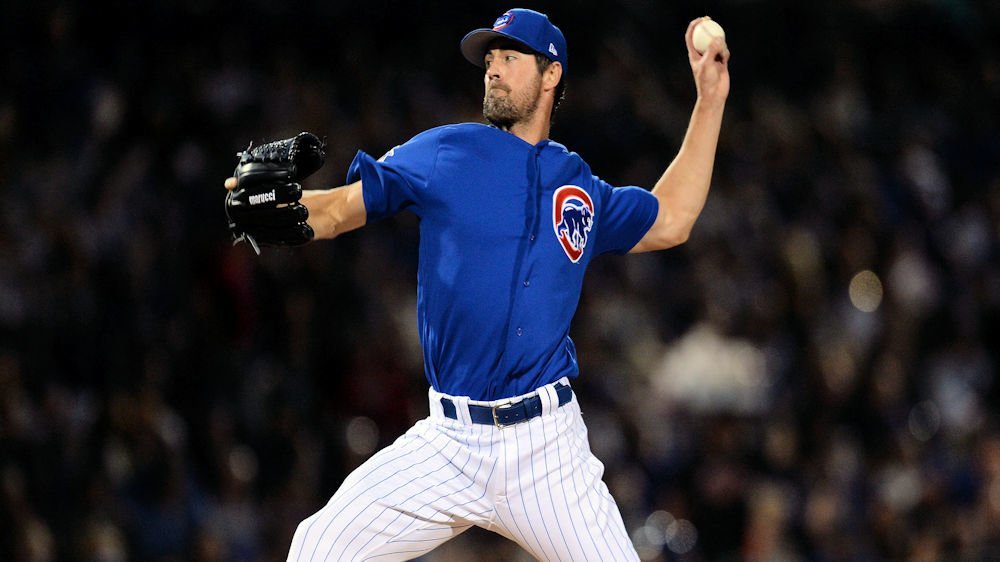 | | |
| --- | --- |
| Cubs comeback for the rare tie against Dodgers | |
---
| | | |
| --- | --- | --- |
| Thursday, March 21, 2019, 8:24 AM | | |
After losing a comeback-bid to the Royals last night, the Cubs (15-11) returned home to face the Dodgers (12-11). The Dodgers sent lefty, righty, Justin May (No record) to the mound, while the Cubs countered with lefty, Cole Hamels (2-0, 5.00 ERA). Julio Urias was scheduled to start for LA, but he was a late scratch. He would later appear in relief.
The Cubs would trail from the top of the first until the bottom of the seventh when they tied the game at four, and that's just how it would stay, as the Cubs settled for their first tie this spring.
T1: Rough start for Cole Hamels, as his second pitch sailed out of the park. Hamels would regroup, sending the next three down in order on just nine pitches (strikeout, and two flyouts). Cubs trail 1-0.
B1: (LAD: RHP-May) Ben Zobrist's groundout was followed by Kris Bryant's walk, but Anthony Rizzo hit into a 6-4-3 double-play to end the inning.
T2: Hamels would give a leadoff double, followed by a walk. A flyout would give the Cubs an out, though it advanced a runner to third. A grounder to Javy Baez would get a force at second, but a run scored. The pitcher would reach on a fielding error by Zobrist, but a groundball for the third out would limit the damage. Cubs trail 2-0.
B2: (LAD: RHP-May) Javier Baez fanned to start the frame, but Kyle Schwarber's single followed Willson Contreras' single on a hit-and-run, would move Schwarbs to third. Jason Heyward would fan, but Cole Hamels helped himself, with an RBI single to left. Ian Happ's strikeout would end the inning. Cubs trail 2-1.
T3: Hamels struck out the leadoff man but followed that up by allowing a solo homer, and then a single. A pair of pop-flies would end the frame. Cubs
trail 3-1.
B3: (LAD: RHP-May) Cubs go down in order on a trio of groundouts (Zo, Bryant Rizzo).
T4: Hamels got a lucky break on a bloop to right. Zobrist, Rizzo, and Happ all chased it, it was Happ's ball, but he elected not to make a play, thinking it was foul (it wasn't). Barnes rounded first, Happ fired to Contreras (covering first), and Barnes was tagged out. After collecting a strikeout, Hamels would give up a single to the pitcher before inducing a pop-up to end the inning.
B4: (LAD: RHP-Kelly) Baez would reach on a fielding error (shortstop), followed by Schwarber's single to shallow, right-center (Baez to third). Contreras would bounce to the pitcher and Baez would be caught in a rundown. Baez, stalling as long as he could before being tagged out, allowed Schwarber was able to make it to third, but Contreras got thrown out trying to take second. Heyward's strikeout would end the inning. Cubs trail 3-1.
T5 Hamels would be tagged for a leadoff double to Turner, who would then take third on a wild pitch and score on a sac-fly. A hard line-out to KB would be followed by a walk, with a fly out ending the inning. Cubs trail 4-1.
B5: (LAD: LHP-Urias) Hamels would leadoff (flyout), with a long flyball to left that almost went out (the previous pitch (foul) was nearly a homer to right). Happ's flyout and Zo's groundout would end the inning.
T6: With his pitch count still low (65), Hamels would return, finally retiring the side in order (groundout, and two strikeouts). Total now, 76 pitches.
B6: (LAD: LHP-Urias) KB made good contact but was robbed by Bellinger on a long fly ball. Rizzo wasn't having any of that, sending a blast over the right-centerfield wall, bringing the Cubs to within two. Baez and Schwarber would go down swinging to end the inning. Cubs down 4-2.
Safe travels! #TeamRizzo pic.twitter.com/WEmL1fWbMV

— Chicago Cubs (@Cubs) March 21, 2019
T7: Lefty, Mike Montgomery would takeover for Hamels, issuing a leadoff single, then hit a batter. Monty would strikeout the next man to end his evening and would be replaced by RHP Junichi Tazawa. Tazawa would strikeout the first batter he faced, but on the swing, Contreras would try to back-pick the runner at first. A bad throw would allow both men to advance (throwing error- Contreras). Tazawa would strike out another to end the inning without harm.
B7: (LAD: LHP-Urias) Contreras would pop-out to short, followed by Heyward's walk. Happ's grounder would follow Johnny Field's single to left to short. What would have been a double play, resulted in an errant relay-throw to first, allowing Happ to reach, while Heyward scored. Zo would break his 0-3 night with a bloop single to center, which was misplayed (error), resulting in Zobrist taking second, while Happ scored (Zo was replaced by pinch-runner, Zack Short), while Happ scored. (LAD: RHP-Vasquez). Vimael Machin would then walk, but Cristhian Adames would ground out to end the inning. Game tied: 4-4.
T8: Tazawa would return, ringing up his third consecutive strikeout, before being replaced by right-hander, George Kontos. A leadoff walk was followed by a single. Kontos would then induce a 6-4-3 (Hoerner-Short-Adames) to end the inning. Game tied 4-4.
B8: (LAD: RHP-Allie) Nico Hoerner would start with a groundout to first, followed by Mark Zagunis, who would draw a walk. Zagunis would take second on a delayed steal, but Taylor Davis and DJ Wilson both fanned to end the inning. Still tied 4-4.
T9: Lefty, Kyle would finish the night, taking the first two by strikeout and flyout. Ryan would give up an infield single but would take the next man by strikeout to end the frame.
B9: (LAD: RHP-Long) The Cubs would start the ninth with a pair of strikeouts (Johnny Field, Donnie Dewees), but Zack Short would draw a two-out walk. Short would swap second, but Machin's groundout would end the game, tied 4-4.
The Cubs will take on the Giants at 3:05 PM (EDT) tomorrow from Sloan Park, with Kyle Hendricks (1-0, 5.06 ERA) taking the mound vs. TBD for San Francisco.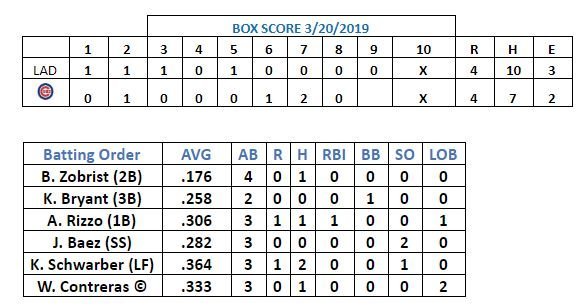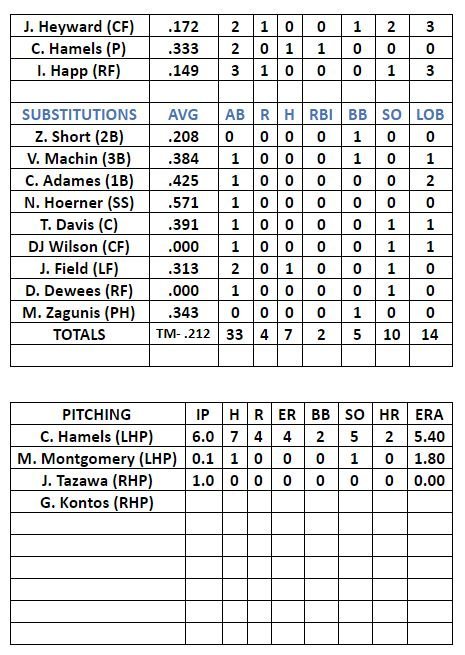 Final: #Cubs 4, Dodgers 4. #SpringTraining pic.twitter.com/d39BkuQokt

— Chicago Cubs (@Cubs) March 21, 2019

Tags: Cubs Baseball
,
Cole Hamels
,
Ben Zobrist
,
,
Anthony Rizzo
,
,
Kyle Schwarber
,
Willson Contreras
,
Jason Heyward
,
,
Mike Montgomery
,
Mark Zagunis
,
Taylor Davis
,
Kyle Hendricks