| | |
| --- | --- |
| Cubs commit 6 errors in loss, Benches clear, Bryant quits Twitter, standings, and MLB news | |
---
| | | |
| --- | --- | --- |
| Tuesday, April 2, 2019, 7:57 AM | | |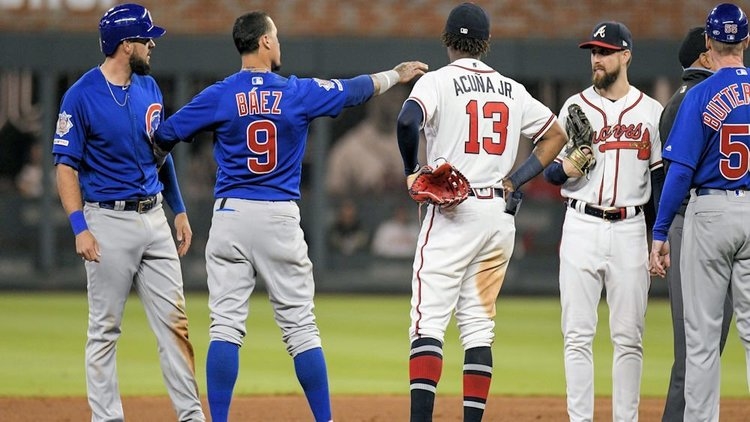 REMINDER The Cubs have an off-day today.
Next Game: Wednesday, April 3: 6:20 PM (CDT), Cubs @ Braves. Jon Lester (1-0, 3.00 ERA) vs RHP Julio Teheran (0-1, 5.40 ERA)
Cubs' Home Opener: 6 Days. April 8 vs Pirates: Game time: 1:20 PM Central. (ABC-7, MLB.TV)
Cubs News & Notes:
Monday's Game Recap: Looking for the first solid outing by a Cubs starter this season, it was the Professor's turn to try Monday as he faced off against Braves' southpaw, Sean Newcomb. Despite scoring 28 runs in their Opening Series, the Cubs fell short due to pitching woes, and had to settle for a 1-2 record to start the season.
There isn't much of a recap to write for this one. The Cubs, as a team, played worse than I can remember seeing them play in a long, long time. Hendricks got rocked, every guy in the infield committed an error (Anthony Rizzo racked up two on the same play), and Mark Zagunis chalked one up, on what should have been an easy foul-out. Mental errors on the bases cost a couple of chances, and oh, those pesky double-play grounders. The final score was 8-0, as the Cubs fell to 1-3 and land squarely in last place for the time being.

Game notes (4/1/2019):
(1) Javy Baez: If there was one good thing that happened last night, it was that Baez extended his hitting streak to four games. (2) The last time the Cubs' committed six errors in a game, it was 2006. (3) Credit to Jason Heyward for a couple of great plays in right. (4) Mark Zagunis had the worst possible error scenario last night: He dropped an easy pop-foul, and the next pitch to the same batter went flying out of the park. Zagunis made up for it some with a pair of doubles, but limited offense during "opportunity hitting" situations, would fail to materialize them into runs. (5) Javier Baez, diplomat late in the game, David Bote did his best to break up a 6-4-3 double-play. Swanson (SS) took offense to Bote's slide, and the jawing started. Quick to the rescue, Javy calmed both sides, though the benches did clear. (6) Off-day today, which I think the Cubs desperately need to be able to regroup for Wednesday. You can tell me how it's too early in the season to worry or complain, but I think it's becoming blatantly obvious that there are problems that need to be addressed.
Here is the entire benches clearing incident involving a double play turned at 2nd on David Bote. Looks like it was an 'unwritten rules' type of situation with @Braves up 8-0 on @Cubs in the 8th. #GoCubsGo pic.twitter.com/JbhaB9VQTF

— Billy Krumb (@ClubhouseCancer) April 2, 2019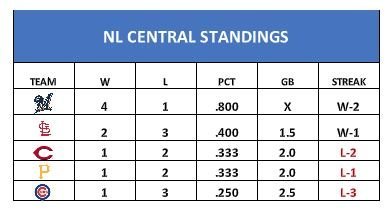 CUBS NEWS AND NOTES:
Javier Baez: Javy Baez is only the third Cub in the last 100 years to complete a 3-game series with at least 6 hits, five runs, 2 HRs, 6 RBI and two stolen bases, joining Joe Marty in 1937 vs. Phillies and Andre Dawson in 1987 vs. Astros.
Ouch: The Cubs' allowed 23 runs vs. Texas. The most in any season-opening series since 1989 (24 in 3-game series vs. Philadelphia).
Kris Bryant: KB says that he's over the negativity on Twitter. "I delete Twitter during the season," he said recently. "One thing can stick with you. It's crazy how much it's changed. Just since I got drafted [in 2013], it's changed. Back then, you could go through it, and there were negative things, and there [was] some good stuff. Now it's straight negativity. Nothing good comes from it."
Tony Andracki: I'll always give credit where credit is due, and NBC Sports Chicago's Tony Andracki nailed this. In his article from yesterday, Tony addresses 7 of the things that the Cubs taught us in March.
Cub Birthdays: Birthday wishes (yesterday) to ex-Cubs Daniel Murphy (34), Paul "Jake" Jaeckel (77), and posthumously, Frank Castillo (50) and Hal Reilly (125).
NL CENTRAL SCHEDULE (March 31 – April 6, 2019)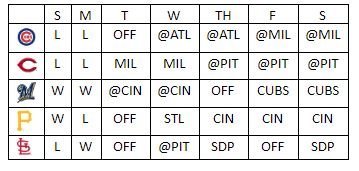 MONDAY'S SCOREBOARD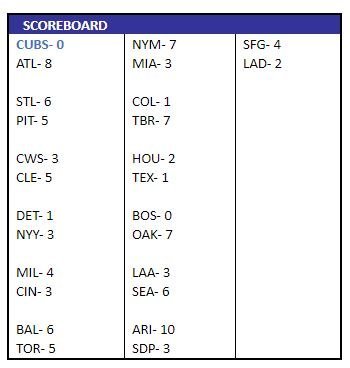 MLB News:
Condolences: Former Padres (Twins and Giants) pitcher, Greg Booker, passed away Saturday in Burlington, NC after a long battle with melanoma. He was 58.
Blue Jays: Toronto's starters have a 0.00 ERA through their first 4 games. The only other team to start a year that strong was the 1976 Brewers.
Phillies: The Harper effect- The Phillies drew 130,476 fans over their first three home games this season. It is the highest through the first three games at Citizens Bank Park to start a season since 2012 (135,684).
Red Sox: Talk about your World Series hangover. Boston's pitching staff is sporting a collective 7.36 ERA so far, this season. Even worse, is the D-Backs' staff who has already allowed 14 homers in the opening series.
Yankees: NY has placed Giancarlo Stanton on the 10-day IL (biceps strain).