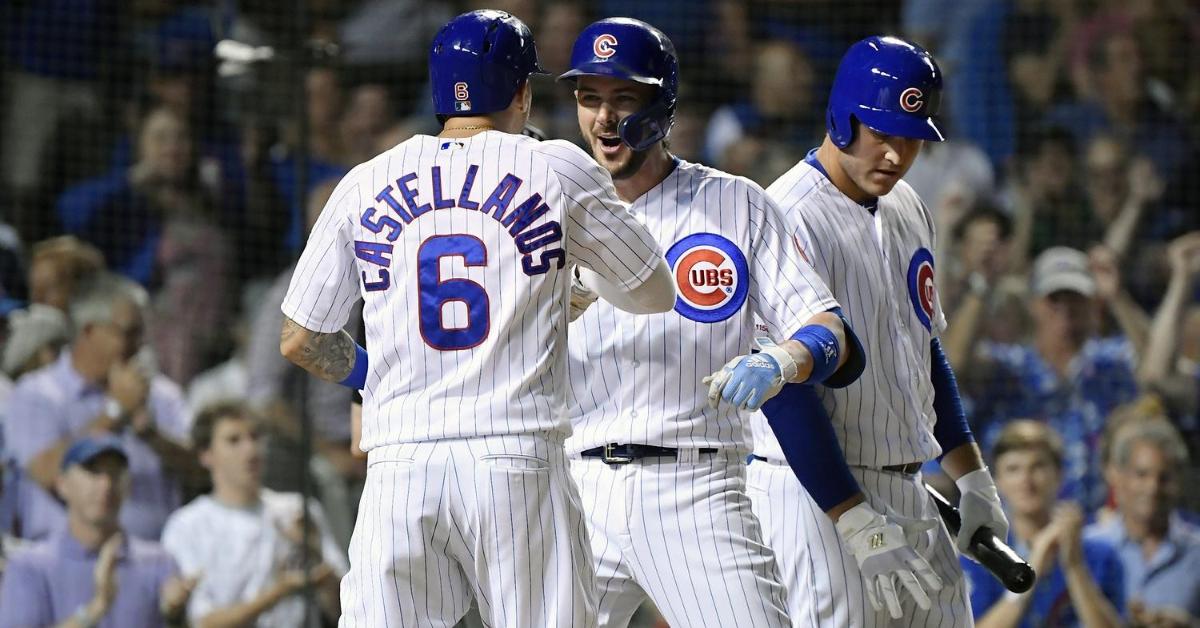 | | |
| --- | --- |
| Cubs depth back at full health for stretch run | |
---
| | | |
| --- | --- | --- |
| Friday, September 6, 2019, 3:13 PM | | |
The Cubs have yet to display their best nine since acquiring Nicholas Castellanos on July 31st. He has been one of the Cubs' best players or even one of the league's best since coming to the north side from the lowly Detroit Tigers.
Since Castellanos came aboard, the Cubs have periodically been without many of their stars. Before Willson Contreras went down with an injury on August 3rd, he played only a handful with the newcomer Castellanos.
Anthony Rizzo missed a few games due to a nagging tight back. Kris Bryant has been dealing with knee soreness over the last month and a half. Javier Baez injures his thumb and has yet to see consistent playing time since. Contreras and Ben Zobrist just recently returned, the former from injury and the latter from personal leave. Yu Darvish has been nursing a forearm injury causing him to miss a start and Craig Kimbrel, among others in the bullpen, have been on a constant carousel either to and from the injured list or to and from Iowa.
The Cubs, however, finally have the death to cover these injuries. With a larger pitching staff the Cubs can explore various ways to get high leverage outs earlier in the game to save Brandon Kintzler, Steve Cishek or whoever else Joe Maddon chooses to employ in the ninth inning whether it be the pair of veterans, Pedro Strop, or even a choice between Kyle Ryan, David Phelps, Brad Weick, Rowan Wick or even Tyler Chatwood.
The Cubs have seven players who have made saves this season, and even more, have closed down games at some point in their career. Kimbrel is available to come back on Thursday against the Padres, but the Cubs should be able to fill his shoes until then.
It is never ideal when the Cubs have to plug in players for stars like Bryant, Rizzo or Javy but the Cubs have enough depth to withstand their minor absences. David Bote plays an adequate third base for Bryant, and the Cubs could choose to use Ian Happ'a versatility and offensive prowess in that spot as well. Happ could make the shift to first base as well, or Victor Caratini or even Ben Zobrist could handle the workload. As for Javy, they have a World Series Winning shortstop in Addison Russell still on the roster, despite his offseason issues and struggles- he is perfectly capable at playing shortstop while Javy gets right.
The Cubs finally having depth was best described by their skipper Joe Maddon.
"We still have nine good names in the lineup regardless," Maddon said. "It'd have been nice to see what it looks like with everybody, but it just didn't want to occur today. I'm thinking, 'OK, we're just missing Javy today,' and then that went away, too."
The Cubs were as close as they've been all year to being at full strength, displaying their best nine. Since they are currently unable to do so, let's take a look our self at the Cubs best nine (eight).
Ben Zobrist (2B)
Nicholas Castellanos (RF)
Kris Bryant (3B)
Anthony Rizzo (1B)
Javier Baez (SS)
Kyle Schwarber (LF)
Willson Contreras (C)
Jason Heyward (CF)
BENCH: Ian Happ, Daniel Descalso, David Bote, Robel Garcia, Addison Russell, Tony Kemp, Victor Caratini, Jonathon Lucroy, Albert Almora.
Across the lineup, there is a steady dose of balance between lefty and righty players. The Cubs layer average guys with power guys- and many of them have a pretty good grasp of the strike zone as well. Defensively, there are some flaws- but they are in general made up for by gold glove winners or addressed late in games. The Cubs have a bunch of guys with 20 plus home runs as well.
On the bench, Happ has both offensive and defensive utility that have value for the Cubs. Daniel Descalso has yet to be the player he was expected to be, but still has that potential of working a Zobrist like at-bat. David Bote has the versatility and a history of crushing left-handed pitching that he has yet to unleash this season entirely. Robel Garcia has holes in his game, but the power that can play at any level. Addison Russell plays gold glove caliber defense and was once a 95 plus run producer. Tony Kemp was brought to the team to bring speed, versatility, and contact and has done just that. Both Victor Caratini and Jonathon Lucroy are capable back-ups with offensive potential behind the plate. Finally, Albert Almora plays gold glove defense despite being an average-at-best hitter as of late.
The Cubs will most likely choose to bring 13 or 14 players to a potential postseason roster.
I would anticipate the Cubs choose to keep both Ian Happ and Tony Kemp because of how much they value each player's versatility. Albert Almora seems to be a candidate to make the team as he displays defensive value like no other player on the roster has. Addison Russell will need to be on the team as Javy's back up or the second basemen against lefties. Finally, Victor Caratini would round out the roster, and if the Cubs chose 14 position players, Jonathan Lucroy might be the guy. If not him, David Bote would be the next guy up, in my opinion, leaving Robel Garcia, and Daniel Descalso out of the mix.

Tags: Cubs Baseball
,
Willson Contreras
,
Anthony Rizzo
,
,
,
Ben Zobrist
,
Yu Darvish
,
Brandon Kintzler
,
Steve Cishek
,
Pedro Strop
,
Kyle Ryan
,
Rowan Wick
,
Tyler Chatwood
,
David Bote
,
,
Victor Caratini
,
Addison Russell
,
Kyle Schwarber
,
Jason Heyward
,
Daniel Descalso
,
Robel Garcia
,
Joe Maddon