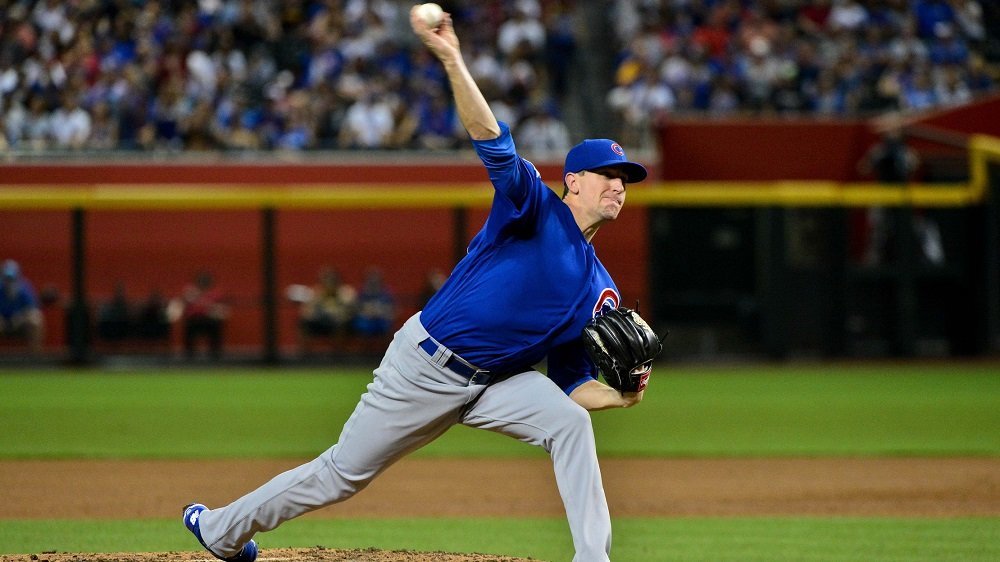 | | |
| --- | --- |
| Cubs fall to Brewers, Catcher depth, Maddon camp, and MLB notes | |
---
| | | |
| --- | --- | --- |
| Monday, March 11, 2019, 7:52 AM | | |
Upcoming games: The Cubs have an off-day today but will return tomorrow to host the Reds at 9:05 PM Central (Pitchers TBD).
Cubs' Opening Day: 17 days. March 28 @ Rangers; (Lester vs TBD). Game time: 3:05 PM Central. (WGN, MLB.TV).
Cubs' Home Opener: 28 Days. April 8 vs Pirates: Game time: 1:20 PM Central. (ABC-7, MLB.TV)
Sunday's Game Recap: An early 5-0 lead would dissipate on the way to a Cubs' loss against Milwaukee. Kyle Hendricks would pitch into the fourth inning, throwing a steady stream of curveballs, but it wouldn't be enough, as the Cubs fell by a final of 7-5.

Cole Hamels: The Cubs lefty is not a fan of the experimental rule changes, saying, "That's Manfred."
Backstop Wanted? According to The Athletics' Patrick Mooney, the "Cubs are still looking for catching depth after Martin Maldonado signs with KC." While I'd agree that they lack a veteran at the position, but while Contreras and Caratini are both still young (as is Taylor Davis at age 29), both of the Cubs current backstops are growing with each day. If they wanted to add a vet, Matt Wieters and other FAs could have offered experience and leadership for a reasonably and comparatively minimal price.
Willson Contreras: It's still early spring, but Willson Contreras is already gunning down baserunners- like yesterday, when he erased a would-be base-stealer at third.
What leadoff double? pic.twitter.com/fDophB1K5b

— Chicago Cubs (@Cubs) March 10, 2019
Tommy Hottovy: During an in-game interview with the Cubs new pitching coach, Tommy Hottovy says that the starters have some say as to what games they'll pitch in spring training. Things like which opponent, or whether a guy wants to test his breaking stuff against a desired lineup for the opposition, play into the decision. Hottovy also says (laughing) that during his very first mound visit, Rizzo came sprinting to the mound from first, determined to hear every word that Hottovy said, while "pumping him up" with compliments on his suggestions to the pitcher. Hottovy also figured Rizz would try to get the ball to pitch a frame.
Who'll bounce-back? NBCS Cubs has asked a question; "Who's most likely to bounce back: Chatwood, Duensing, or Kintzler?" In my humble (and often disregarded and ignored) opinion, there's only one logical answer: Tyler Chatwood.
Brandon Kintzler didn't have a bad year, just a bad second-half after coming to the Cubs. Kintzler's wasn't used properly by Joe Maddon in 2018, so far him, it's just a matter of getting the kinks worked out as to when and how he's used.
Duensing got clobbered last year (7.65 ERA), but you have to remember- he's starting to get old (now age 36). He hasn't looked bad this spring (ERA of 0.00 in four innings), but he's never been a stellar pitcher. He'll improve this year, but I wouldn't expect an ERA below 4.50-5.00.
Chatwood's control is better, walks and wild-pitches have become virtually nonexistent, and he has renewed confidence in 2019. He won't win a Cy Young (if he gets back in the rotation), but I'd bet he drops his ERA to 3.95 or lower and walks 50% fewer batters this year.
Camp Maddon: Few can argue that Joe Maddon has made camp "interesting" this spring, after all, we've already seen mimes, but Joe Went next level yesterday with a dunk-tank.
It's a splash for Cubs clubhouse assistant Dan Mueller: pic.twitter.com/JFAUqaMAUp

— Mark Gonzales (@MDGonzales) March 10, 2019
Cubs' YouTube: Today's the day the Cubs will unveil their new YouTube channel to give fans a look at what's in store for their new Marquee Network which goes into effect next year. On Sunday, the team released a short video to show some of the new segments including 'Mic'd Up', 'Catching up with Andrew Belleson', 'the Offseason', 'Bae vs. Ballplayer', 'Cubs top 10', 'The Breakdown', 'Call to the Bullpen', 'Make it Cubs', 'Cubs & Pups', and more.
Tomorrow. ?? #EverybodyIn pic.twitter.com/1WPfUbbhHP

— Chicago Cubs (@Cubs) March 10, 2019
Tim Dillard: Tim Dillard isn't a former Cub, although his dad is. He's a former pitcher for the Brewers, who now plays for Texas. I have never seen a funnier, more vibrant athlete in my life. Between Tim's Twitter surveys on random topics, his rambling thoughts and his HILARIOUS videos, he's sure to give you a smile. This was too funny to bury in the "Other MLB" stuff below. Give Tim a follow on Twitter @DimTillard, and I guarantee he will leave you laughing.
Happy #MAR10Day!@AlSandoval22 | @JoeyGallo24 pic.twitter.com/UGbYko7Iva

— Tim Dillard (@DimTillard) March 10, 2019
Cubs' birthdays: Happy birthday to ex-Cubs Donnie Murphy (36), Darcy Fast (72), Joe Campbell (75), Bill Heath (80), and posthumously, Gene DeMontreville (146) and Ed Lytle (157).
Sunday's Scoreboard: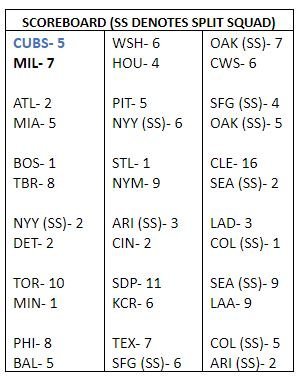 MONDAY (EST): CUBS OFF-DAY… 1:05 PM: TBR @ PHI, PIT @ ATL, DET @ MIN, NYM @ HOU, WSH @ STL. 4:05 PM: CIN @ CLE, LAA @ TEX (SS), SFG @ LAD, CWS @ MIL, OAK @ COL. 9:40 PM: KCR (SS) @ SEA. 10:05 PM: KCR (SS)@ TEX.
TUESDAY (EST): 1:05 PM: DET @ BOS, NYM @ MIA, MIN @ PIT, STL @ ATL, TBR @ TOR. 4:05 PM: CWS (SS) @ KCR, SEA @ CWS (SS). 6:35 PM: HOU @ WSH, BAL @ NYY. 9:05 PM: SDP (SS) @ CIN (SS). 9:40 PM: TEX @ ARI, OAK @ SDP (SS). 10:05 PM: CIN (SS) @ CUBS, MIL @ SFG.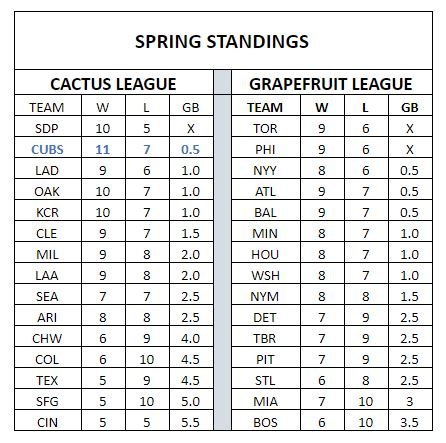 Other news from around MLB:
Angels: In Saturday's game against the Cubs, top Angels' prospect, Jo Adell, suffered a pair of injuries on the same play, when he slipped and tripped while rounding second base. Adell has been diagnosed with a left-hamstring sprain and a right ankle sprain. The Angels have also made changes, reassigning catchers Kenner Piña, Julian Leon, INF Jahmai Jones and OF Brandon Marsh to minor league camp.
Blue Jays: Vladimir Guerrero Jr., suffered a Grade 1 strain of left oblique Friday. The team estimates he'll need three weeks to recover.
D-Backs: Arizona has signed FA outfielder, Adam Jones.
Dodgers: LA has released RHP Josh Fields and recently designated him for assignment. The Dodgers have also optioned RHPs Yadier Alvarez, Josh Sborz, LHP Donnie Hart, and have reassigned RHP Mitchell White, INFs Omar Estevez, Gavin Lux to minor league camp.
Padres: While many teams are talking about being more aggressive on the base-paths, San Diego is saying talk is cheap. In just 16 spring games thus far, the Padres have already swiped a total of 36 bases, for an average of 2.25 per game.
Twins: Minnesota has added former Mets' and Marlins' IF/OF Jordany Valdespin to their minor league roster.