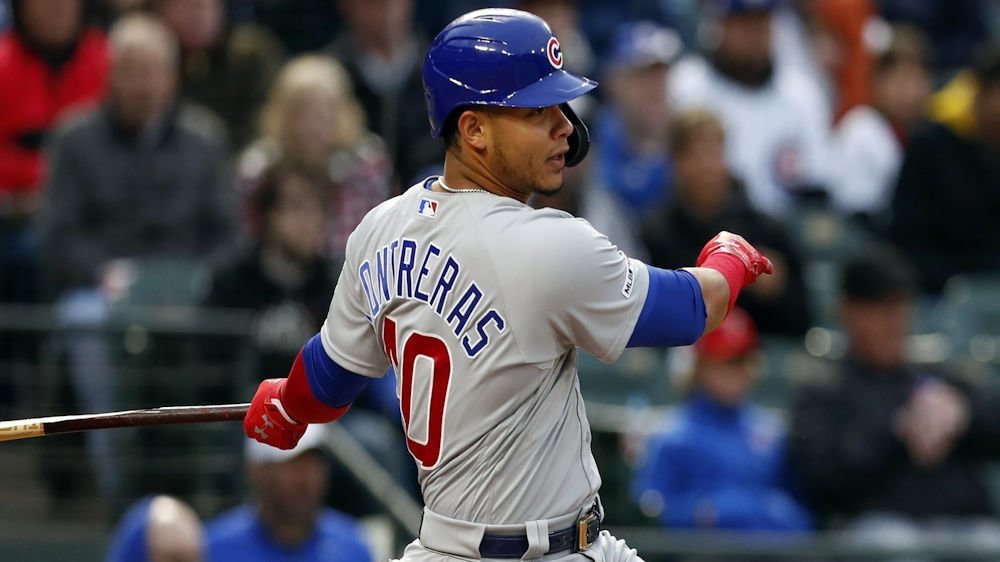 | | |
| --- | --- |
| Cubs fall to Rangers, Darvish's bizarre outing, Contreras on fire, latest MLB news | |
---
| | | |
| --- | --- | --- |
| Sunday, March 31, 2019, 8:28 AM | | |
Next Game: TONIGHT: Cubs @ Rangers, 3:05 PM: Cole Hamels (0-0, 0.00 ERA) vs RHP Lance Lynn (0-0, 0.00 ERA).
Cubs' Home Opener: 8 Days. April 8 vs. Pirates: Game time: 1:20 PM Central. (ABC-7, MLB.TV)
Cubs News & Notes:
Saturday's Game Recap:
Joe Maddon called on Yu Darvish to be his number-two man this season, and Darvish wanted to face his former Texas teammates, kiddingly suggesting that he wanted to plunk a couple of them. Texas sent righty, Edinson Volquez to the mound to face a Cubs' offense that managed to tally 12 runs in the season opener.
The Cubs jumped out to an early 3-0 lead in the first. Yu Darvish a rocky first outing (60 pitches, 5 walks in the first 2 innings), but despite having run support behind him, and the ability to stay calm and pitch himself out of a couple of deep jams, Darvish managed to last only 2.2 innings (75 pitches) and was replaced by Steve Cishek in the third. With help from Kyle's first Schwar-bomb of the season, the Cubs managed to rebuild their three-run lead and were able to hold it until Carl Edwards Jr got himself in trouble, culminating in a 3-run homer by Gallo in the eighth.

Cubs in 60: Darvish struggles in Texas #CubsIn60 pic.twitter.com/xYe46vDOBl

— Cubs Talk (@NBCSCubs) March 31, 2019
Darvish Notes: Who says you never get a second chance to make a first impression? With the stands filled with more Cubs' fans than Rangers' fans, Darvish's first inning (35 pitches, three walks, 3 K's) ended with the entire stadium chanting, "YUUUUUU!" Shrug off the walks- they caused no harm other than to Darvish's WHIP (until the second). His breaking balls look great, his attitude is positive, and until he walked his second man in the first inning, he was all smiles. Another pair of walks in the second yielded a run, bringing the pitch count to 60. By the third, he was still walking batters, and when the pitch count hit 75, he was done. Of note: Darvish threw 57 pitches before a ball was ever put into play (possibly an MLB record, but there's no official stat on that).
In my opinion, Maddon needed to leave him alone, despite the walk-rate and pitch count, so long as the Cubs were leading, tied, or trailing by no more than one. Darvish had confidence problems last year and pulling him that early is going to rattle his confidence again. Darvish absolutely owned his poor performance in a post-game video-interview. I initially speculated that maybe his finger was bothering him (blister), but Darvish denies that in the interview.
Darvish makes no excuses: pic.twitter.com/3gIxTVMCD7

— Mark Gonzales (@MDGonzales) March 31, 2019
Game 2 Notes: (1) Anthony Rizzo has now drawn four walks in just two games. If this keeps up, he's liable to see his OBP skyrocket from last year's numbers. I'm sure he'd rather be hitting, but this is a good sign that he's grown more patient and is seeing the ball better. (2) Kris Bryant's swing looks phenomenal. (3) Javier Baez keeps tallying the RBIs and hits, and now he's started swiping bases. (4) Brandon Kintzler looks solid (as I told you he would) and Edwards looked atrocious, hence the "L" next to his name in the box score. (5) While Jason Heyward struggled offensively tonight, he did show-out a little defensively, with a laser-throw that he fired from right field to third base. (6) Willson Contreras had an unbelievable game both behind and beside the plate. He gunned down a would-be base-stealer at third and went 3 for 5 (2 doubles) with a pair of RBIs. (7) Jose Quintana: Q went four innings in relief, and while he did give up a couple of runs, he managed to fan eight batters. (8) The Cubs managed to strand a total of 15 men on base last night, often leaving a runner at third.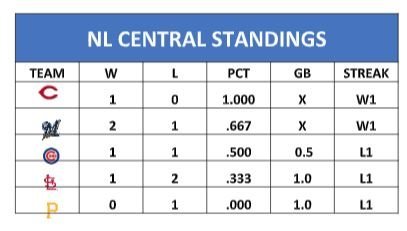 Joe Maddon: The Cubs' skipper says that he opted for David Bote over Daniel Descalso yesterday because he favored the Bote/Volquez matchup. Descalso is expected to be in the lineup today.
Starting Rotation: Maddon has not yet announced his starter for the 5th game of the season. Cole Hamels will pitch today, Kyle Hendricks will pitch Monday, but Tuesday is an off-day, so either Jon Lester or Jose Quintana could start Wednesday against the Braves. (NOTE: Maddon chose to use Quintana in relief last night, assuring that Lester will start in Atlanta.)
Kris Bryant: For those wondering about KB's glasses last night and during the opener, Bryant says the wind was affecting his contact lenses, and that he plans to wear the glasses, when necessary, throughout the season.
Dixon Machado: The Cubs seem to be interested in continuing to add middle infield depth, and their latest move, signing recently released infielder, Dixon Machado, was no exception. Machado struggled at the plate in his 233 plate-appearances for Detroit in 2018, slashing only .206/.263/.290. He homered just once, though he did hit 13 doubles and a triple while tallying 21 RBI. From the defensive side, it's a different story. Machado played five games at third in 2018 and 64 games at second (577.1 total innings) while committing only six errors total. In his MLB career (3 seasons) Machado has played SS, 2B, and 3B, for a total of 664.2 innings, and has only compiled a total of 7 errors, or one mistake about every 95 innings.
A look ahead; Cubs vs. Braves: With the Cubs traveling to Atlanta for a 3-game series beginning on Monday, the Braves find themselves missing some essential pitching help. Starter, (RHP) Mike Foltynewicz has been sidelined with an elbow injury and is not expected to return until at least mid-April. Starter, (RHP) Kevin Gausman is out with shoulder issues and not expected to return until April 6th (vs. Miami). Closer, (LHP) AJ Minter, has also been out with shoulder injuries but may be able to return as soon as Thursday (April 4th), which is the Cubs last day in Atlanta.
PECOTA: 79 wins for the Cubs? Realistically, they're on pace to win. NBCS Cubs has already started keeping track.
Let's check that PECOTA magic number ?? pic.twitter.com/LoFlGi6Puf

— Cubs Talk (@NBCSCubs) March 30, 2019
Cub Birthdays: Celebrating yesterday (posthumously) were ex-Cubs James "Ripper" Collins (115), Ed Sicking (122), Herman Bronkie (134), George Van Haltren (153), and Tom Burns (162).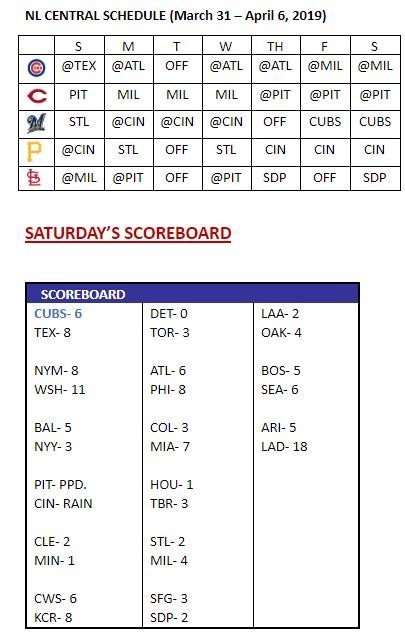 MLB News:
Umpiring milestone: Ted Barrett will work his 3,000th game tonight. Quite a career, considering Barrett, in his younger days, almost made the US Olympic boxing team.
Angels: The Halos will be without outfielder, Justin Upton for 8-12 weeks, due to turf toe.
Padres: Although new to the team, Eric Hosmer and Manny Machado met with Padres' owner Ron Fowler over dinner recently, lobbying for the promotion of young prospect, Fernando Tatis, Jr. Fowler liked the suggestions, as Tatis Jr., 20, made the Opening Day roster, as did top pitching prospect, Chris Paddack, 23.
Phillies: Bryce Harper, much to the delight of Philly fans, clobbered his first home run as a Philly yesterday; a 465-foot blast into the second deck at CBP. (Gonna take an awful lot of those to equal what he's being paid).
Rays: Tampa has acquired RHP Aaron Slegers from the Giants for cash considerations.
Twins: The Twins became the second team in MLB history (since 1893) to have their starting pitchers record 10-plus strikeouts each in the first two games of the season. The only other team to do it was the D-backs in 2001 (Randy Johnson and Curt Schilling).

Tags: Cubs Baseball
,
Cole Hamels
,
Yu Darvish
,
Steve Cishek
,
Anthony Rizzo
,
,
,
Brandon Kintzler
,
Jason Heyward
,
Willson Contreras
,
Jose Quintana
,
David Bote
,
Daniel Descalso
,
Kyle Hendricks
,
,
Joe Maddon