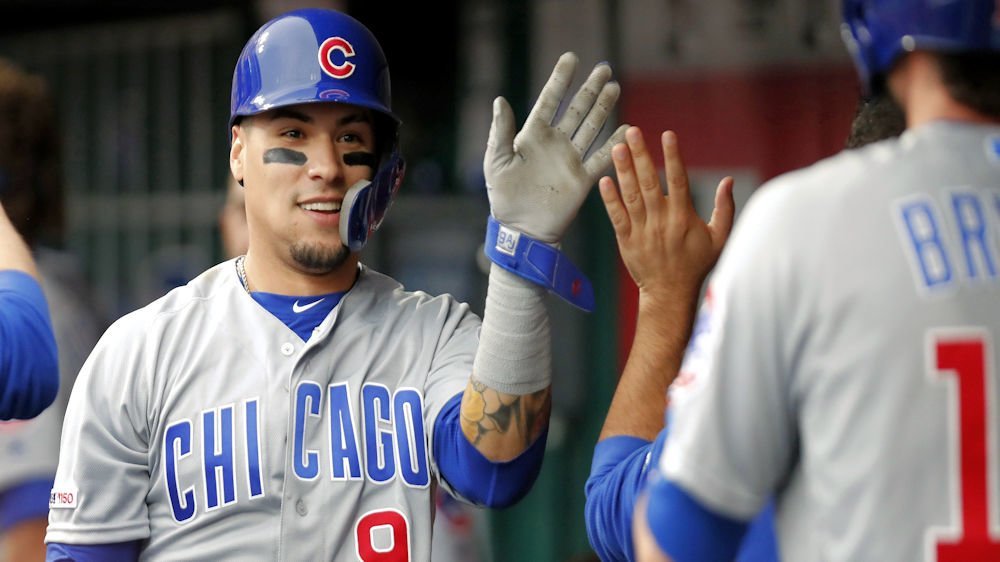 | | |
| --- | --- |
| Cubs fall to Reds, Baez and KB's streak continues, Darvish on Arrieta, J-Hey's slump, more | |
---
| | | |
| --- | --- | --- |
| Friday, May 17, 2019, 7:29 AM | | |
Next Game: Today, 6:05 PM CDT: Cubs vs Nationals. LHP Cole Hamels (3-0, 3.08 ERA) vs RHP Max Scherzer (2-4, 3.64 ERA).
CUBS NEWS AND NOTES:
Thursday's Game Recap: A great start for the Cubs turned disastrous in the bottom of the fifth. Jose Quintana had been solid through four, and the Cubs managed to tag Louis Castillo for a pair of runs in the first. Up 2-0 entering the Reds' half of the fifth, Mother Nature got herself involved. As the rain started falling heavier, Quintana gave up a homer to Peraza, followed that up with letting Castillo and then Votto single. Back to back wild-pitches allowed the Reds to secure a 3-2 lead before the rain forced a delay.
The game was stopped for a couple of hours, but it really didn't matter, as the Cubs failed to score anything over the next four innings. Tyler Chatwood allowed one run, and disgruntled fans will ultimately, somehow blame him for the loss, but the reality is, the Cubs' offense faltered again, the Reds out-hit them 3:1 and Q got rocked in the fifth. Final score: Reds 4; Cubs-2.

Cubs/Nationals Probable Pitchers: SATURDAY: LHP Jon Lester (3-1, 1.16 ERA) vs RHP Stephen Strasburg (3-3, 3.63 ERA). SUNDAY: RHP Kyle Hendricks (3-4, 2.86 ERA) vs RHP Jeremy Hellickson (2-1, 5.52 ERA). Watch for my series preview before the start of today's game.
Bryant/Baez continue the streaks: We're always hearing about Bryant and Rizzo, or "Bryzzo," but Kris Bryant and Javier Baez are becoming quite the pair, hence my new name for them: "Bryez." With KB's leadoff walk in the first last night, followed just a few pitches later by Javy's double, the two each extended their streaks. KB now has 25 games in a row under his belt for reaching base, while Baez is on a tear with his personal best 14-game hitting streak.
Maddon on Luis Castillo: "He pitches like Javy plays shortstop."
Luis Castillo improved to 5-1 with a 1.90 ERA in the Reds' win over the Cubs. Castillo is the first Reds pitcher with at least five wins and an ERA under 2.00 in his first 10 starts of a season since Johnny Cueto in 2011 (5-2, 1.84 ERA). @EliasSports

— Jon Heyman (@JonHeyman) May 17, 2019
Trouble with the 9-spot? ESPN's Jesse Rogers got a little curious after the Reds' starter last night, Luis Castillo, singled solidly off of Quintana in the fifth:
After Luis Castillo hit I looked up Cubs v opposing pitchers since the beginning of last year. They rank 2nd (worst) in allowing the opposing pitcher to get on: OBP against of .173. They're tied for most walks to the opposing pitcher.

— Jesse Rogers (@ESPNChiCubs) May 17, 2019
Heyward's struggles: Unfortunately for the Cubs Jason Heyward's struggles at the plate continue. Including Wednesday night's game, where J-Hey went 0 for 5, Heyward has slashed just .158/.247/.303in his last 20 games. Certainly not what we expected to see after his amazing stats during the first 20 games.
Maddon on Heyward's slump: "I went back over his at-bats." Maddon said. "He's hit so many balls hard as outs recently. The line drive against [Josh] Hader. The other line drive directly at [Christian] Yelich the other day. Some really, I mean, well-struck. Not rollover ground balls. Some hard ground balls that have been caught. He's been a little bit unlucky, too. Line drive at the left fielder. So, if you just got a little lucky with all that stuff, his numbers actually wouldn't be that bad."
Darvish's goal: Yu Darvish was more than happy with his performance the other night, and why shouldn't he be? He struck out 11 and walked nobody, although he managed to go just over five innings. Darvish says what he wants more than anything is a good start at Wrigley. He said, "I always struggle during homestands, So I really need this… in Wrigley."
Darvish vs Jake Arrieta: Much has been made about the showdown between Yu and Big-Jake, but Darvish seems to have much respect for Arrieta. Darvish says, "I really just want to see his stuff- the sinker and cutter- because he's nasty. Top five in MLB. That means I can study his stuff. I'm looking forward to seeing him."
Cubs/Cards abroad: Word is, the Cubs and Cards have agreed to play a series in London next year. The series would have been played in St. Louis otherwise. No word on the dates yet.
Waiting on a friend? Thanks to the rain delay, the Dodgers equipment made it to Great American Ballpark long before the Cubs left town. While I'm certain that Bellinger, Verdugo, and Kershaw were in their motel rooms relaxing, their unfortunate equipment guy got stuck for a few hours, while waiting to take occupancy of the visiting team's clubhouse.
Cubs out. Dodgers in. pic.twitter.com/h8k84vNUr2

— Jordan Bastian (@MLBastian) May 17, 2019
Cub Birthdays: Celebrating yesterday, were ex-Cubs Bob Patterson (60), Mitch Webster (60), Rick Reuschel (70), and posthumously, Albert "Rube" Walker (93) and Howard Fitzgerald (102).
NL CENTRAL SCHEDULE (May 12 – May 18, 2019)
(Wins are in green, losses in red)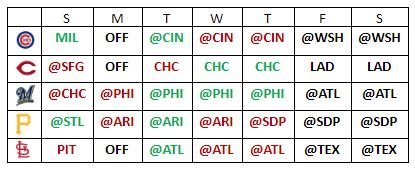 YESTERDAY'S NL CENTRAL SCOREBOARD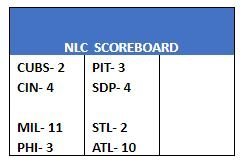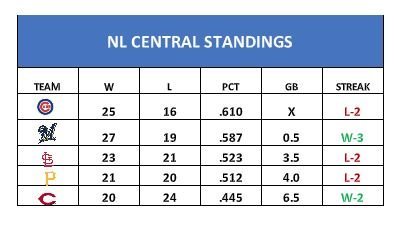 Tags: Cubs Baseball
,
Cole Hamels
,
Jose Quintana
,
Tyler Chatwood
,
,
Kyle Hendricks
,
,
,
Jason Heyward
,
Yu Darvish
,
Jake Arrieta