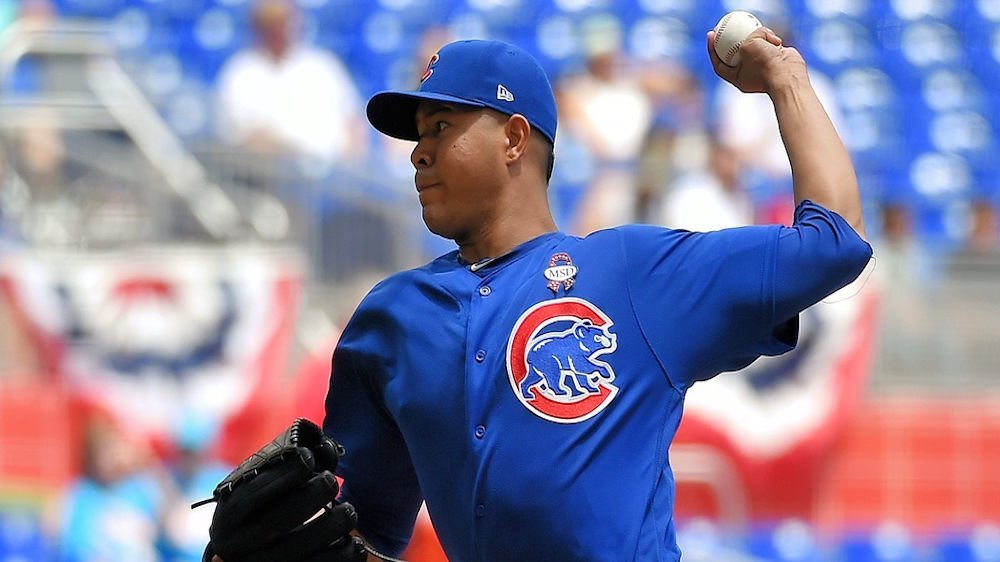 | | |
| --- | --- |
| Cubs lose to Rockies on St. Patrick's Day | |
---
| | | |
| --- | --- | --- |
| Sunday, March 17, 2019, 6:16 PM | | |
The Cubs (14-9) returned home this afternoon to host the Rockies. Lefty, Jose Quintana (1-0, 0.00 ERA) would get his third start of the spring, as he faced-off against righty, Chad Bettis (0-0, 3.86 ERA). Q would bat for himself while the Rockies used a DH.
Quintana would struggle in the 4th and Duensing would disintegrate in the 6th, as the Cubs fall to Colorado by a final of 7-2.
T1: Quintana got right to work, retiring the first two batters (flyout, groundout). A two-out walk to former Cub, Daniel Murphy, would prove harmless, as Q finished the inning with a flyout.
B1: (COL RHP: Bettis) Ben Zobrist would fan to start the inning, but Javier Baez would get on with a single to right, then swipe second using a classic Javy swim-slide. Anthony Rizzo would walk, followed by Kris Bryant who grounded out to third, advancing the runners. Kyle Schwarber's flyout would end the frame, but not before he ran Bettis' pitch count to 20. Game tied 0-0.
T2: Quintana needed only ten pitches to retire the side on a groundout and two strikeouts.
B2: (COL RHP: Bettis) Jason Heyward's groundout would be followed by Albert Almora Jr.'s single to left. With a hit-and-run on, Victor Caratini came through with a single to left, advancing Almora to third, then Quintana's bunt would bring Almora home (Caratini to second). Zo's groundout would end the inning with the Cubs up 1-0.
T3: Q would get the first two (strikeout, pop-foul), but a well-executed bunt would give Colorado their first hit. An ensuing groundout would end the inning.
B3: (COL RHP: Bettis) Cubs go down in order on two groundouts (Baez, Rizzo) and Bryant's strikeout.
T4: Quintana would have problems in the fourth, giving up a leadoff homer (Daniel Murphy), a one-out single and ground-rule double (Almora affected by the sun) and a two-out walk. A one-out, RBI groundout would give the Rockies a 2-1 lead. Both the inning and Quintana's day would end on a flyout. Cubs trail 2-1.
Cubs lefty Jose Quintana on facing four left-handed hitters pic.twitter.com/RjJz8SLtY0

— Mark Gonzales (@MDGonzales) March 17, 2019
B4: (COL RHP: Bettis) Groundouts out by Schwarber and Heyward would start the frame, but Almora would hit a two-out single, then swiped second. Caratini would draw a walk, but Jared Young (PH for Quintana) would groundout to end the inning. Cubs down 2-1.
T5: Brandon Kintzler (RHP) would give up a leadoff double, followed by a strikeout with the runner stealing third. Murphy would reach on a fielders choice, when Rizzo and Caratini combined to erase the runner trying to score. (3-2 put-out). Kintzler would end the inning with a K.
B5: (COL RHP: Bettis) After Zo's flyout, Bettis was replaced by RHP Carlos Sheen, who would get Baez by strikeout and Rizzo by groundout. Cubs trail 2-1.
T6: Kintzler would give up a leadoff single, but a 6-4-3 would solve that issue (Machin-Short-Court). With two out, Maddon would bring in right-hander, Steve Cishek would throw one pitch to end the inning on a groundout.
B6: (COL LHP: Dunn) KB would fan, followed by Schwarber who was hit by a pitch (replaced by PR- Phillip Evans). Heyward's flyout and Almora's pop-out would end the inning. Cubs trail 2-1.
T7: Lefty, Brian Duensing would allow back-to-back singles before recording an out on a 4-3 force-play (Zack Short-Vimael Machin). Next, an infield single would score a run, followed by a double which scored another. Zack Short fielded a grounder and fired to home, but not in time, costing a run while leaving runners on the corners with one-away, ending Duensing's day with the Cubs down 5-1. Lefty, Kyle Ryan, would finish the inning with a flyout (that scored a run, although Johnny Field made a beautiful diving catch) and a groundout, all on just seven pitches. Cubs trail 6-1.
B7: (COL LHP: Musgrave) Caratini would go down on strikes, but Johnny Field would provide hope with a solo-homerun. Machin's flyout and Short's strikeout would end the frame. Cubs down 7-2.
Johnny Field goes DEEP for the Cubs' 2nd run of the game!

STREAM: https://t.co/OENsQotpIO pic.twitter.com/TyNFs9tZGl

— Cubs Talk (@NBCSCubs) March 17, 2019
T8: Kyle Ryan would be greeted by a leadoff home run, increasing Colorado's lead to 7-2. Ryan would retire the next three on a strikeout and two groundouts.
B8: (COL RHP: Oberg) Ryan Court's strike would be followed by Cristhian Adames' single to left. Evans would fan and Mark Zagunis would groundout to end the inning. Cubs losing 7-2.
T9: RHP Junichi Tazawa would take the mound in the ninth, and strike out the first two before giving up back-to-back singles. A flyout would end the inning.
B9: (COL LHP: Horacek) Batting for Tazawa, Tyler Payne would groundout to start the frame. Francisco Arcia would go down swinging, and Field would fan to end it. Cubs lose 7-2.
The Cubs will have an off-day tomorrow, followed by a split-squad and two games on Tuesday. At 2:05 PM Central, the Mariners' will send a minor league squad to face the Cubs at Sloan Park, as their MLB team is in Japan, preparing to open the regular season with a series there against Oakland. At 8:05 PM Central, the other half of the Cubs' squad will travel to Sunrise Stadium to face the Royals. All pitchers for both games have yet to be determined.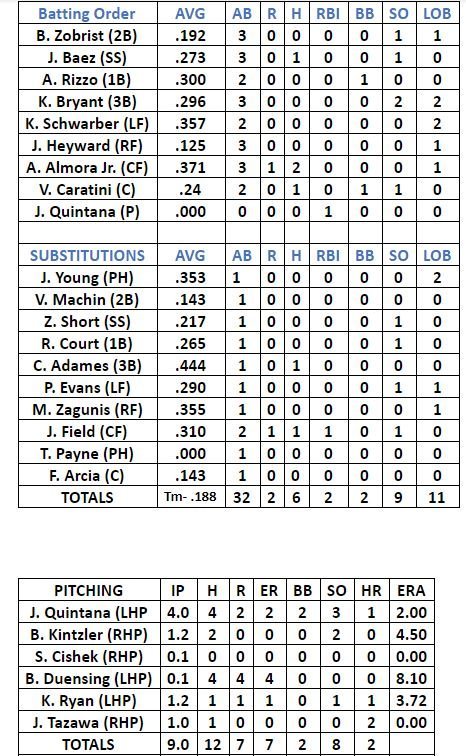 Final: Rockies 7, #Cubs 2. #SpringTraining pic.twitter.com/NxAVFI6I4g

— Chicago Cubs (@Cubs) March 17, 2019