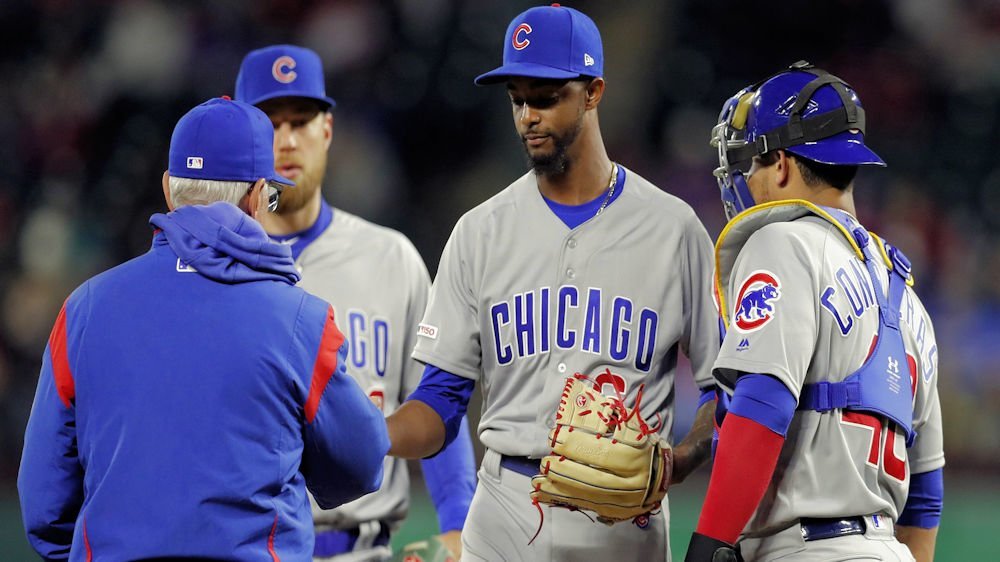 | | |
| --- | --- |
| Cubs odds and ends: Edwards' dilemna, Descalso's implosion, Happ's future, more | |
---
| | | |
| --- | --- | --- |
| Monday, June 10, 2019, 6:01 PM | | |
Could a much-improved Carl Edwards Jr. face being optioned again?
Since returning to the Cubs from Iowa on May 6th, Carl Edwards Jr. has been impressive: 2.03 ERA, 13.1 IP, four hits, three walks, 15 strikeouts, 1 HR, a .525 WHIP, .093 opponent batting average, .149 opponent OBP, .186 opponent slugging percentage. Covering May 6-June 9, the .093 opponent batting average and .149 opponent OBP are the best in MLB among pitchers to face at least 40 batters.
Unfortunately, unless the Cubs can make trades (Brad Brach, Kyle Ryan, etc.) Edwards may very well be demoted to Iowa again when Craig Kimbrel arrives. Unlike other pitchers in the pen, the Cubs can protect Edwards until a roster spot opens up, whereas optioning someone like Kyle Ryan would allow him to elect free-agency immediately.
If a player has been previously outrighted to the minors, as is the case with Ryan, the player can immediately select free-agency, regardless of whether he has minor league options remaining, if he doesn't wish to accept the minor league assignment.
Understanding minor league options can be complicated, but Edwards is the only Cubs' pitcher (not already in Iowa or below) who can be optioned and do nothing about it, based on his service time.
The Cubs will undoubtedly be searching for more left-handed relief help before the July 31st trade deadline, as Mike Montgomery and Kyle Ryan are the only two southpaws currently in the pen, and neither's been impressive. Ryan has been lackluster, but Montgomery wants to be a starter, and right now, there's no room for either. I thought Montgomery might have been dealt over this past winter, but with the amount of established, unsigned free-agent starters, it didn't happen.
Cut the losses and move on from Daniel Descalso
I was excited when the Cubs' signed Daniel Descalso as a free-agent over the winter, hoping that a fresh, veteran face would add both leadership and depth. I really didn't think the Cubs were going to give Addison Russell another shot after his suspension ended, and I hoped the Descalso would fill a void in the field while adding a more consistent bat to the offense. Boy, I was wrong on this one.
Descalso has now appeared in a total of 53 games, with the Cubs posting a 26-27 record when he's appeared. Descalso hasn't had a two-hit game since April 17th, and he's only had a total of six games in which he's had two or more hits. Surprisingly, he does have a triple and two home runs, but his last RBI came on May 20th- nearly three weeks ago- when the Cubs played Philly. While Descalso slashed .263/.349/.408 from Opening Day until April 30th, he's only managed a .088 batting average since then, going 6 for his last 68 plate appearances with 20 strikeouts, only eight walks and 3 RBI.
Even better yet, he's signed through the end of the 2020 season. Although he wasn't as expensive as some of the other free-agent signings in recent year's past, he'll still cost the Cubs a minimum of $5M and as much as $7.5M, broken down as follows: $1.5M for 2019, $2.5M for 2020, and either a $3.5M team option for 2019, or a $1M buyout.
If there's any saving grace to this contract, it's that there is not any form of no-trade clause involved, meaning that he could be dealt at any time, but then the question becomes; who would take him? Waiving him is an option, but he'll undoubtedly clear waivers, leaving the Cubs on the hook for the entire balance of $5M, should they choose to release him. By all accounts, Daniel Descalso is a very likable guy, who possesses leadership abilities, but friendly isn't what scores runs or win games.
With the recent addition of Carlos Gonzalez, the Cubs have found that veteran leadership that they'd lacked since the retirement of David Ross, and CarGo appears to have motivated the team. After signing Gonzalez to a minor league deal on June first, the Cubs quickly promoted him after just one game in Iowa. Since that time, the Cubs have posted a 6-1 record and undefeated in games in which Gonzalez has started. By the way, Gonzalez makes the league minimum of $555,000.00, only $355,096 of which is considered a luxury tax salary.
By no means is $5M pocket change, but it makes no sense to hang onto a guy who's non-productive, as playing him won't advance the team's agenda, and benching him only serves to tie up a roster spot. It took Jason Heyward, Yu Darvish, and Tyler Chatwood better than a full year to get things turned around, but can the Cubs afford to sit and wait on Descalso?
The four signs that indicate Happ is done in Chicago
This all started coming out of spring training when the Cubs broke the news to Ian Happ that he'd be spending his spring in Iowa. It wasn't so much Happ's fielding that got him a demotion; it was an inability to produce at the plate. Being a switch-hitter is great, but if you can't deliver consistently from either side of the plate… Social media gets peppered with Happ updates from time to time, most detailing a great game, maybe even a great week, but between every update comes a lull, when Happ has once again failed to perform (offensively) with any consistency.
1. Bypassed for a promotion: Just a few days before signing Carlos Gonzalez, Ian Happ had perhaps his best chance of 2019 to be promoted back to the major league version of the Cubs, but it failed to happen. Instead, the Cubs selected the contract of Jim Adduci, leaving Happ to continue to play as a minor leaguer. Adduci didn't last very long, which leads me to the next reason.
2. Carlos Gonzalez: Carlos Gonzalez was never intended to be an everyday player, hell, he wasn't even signed to a major league contract, but that hasn't stopped him from getting to Chicago and playing all but two games since that time. The Cubs have a bunched up outfield roster as it is, and the infield depth chart is equally as crowded. Where Carlos Gonzalez has proved consistency in his career, Happ has shown consistent inconsistency, leaving him on the outside looking in.
3. The emergence of David Bote and Victor Caratini: Coming out of their rookie seasons, both Caratini and Bote have continued to develop and strengthen, while Ian Happ has regressed. Caratini offers effective, switch-hitting abilities, and serves as not only a backup catcher, but also as a backup to Anthony Rizzo while possessing the ability to play both third base and left field as well. The positions that Caratini can't play, Bote can, and he's played anywhere and everywhere in the past, right down to catching.
4. The Cubs need bullpen help: Ian Happ has struggled, but he does possess the ability to be good down the road, especially if being given the opportunity to play regularly somewhere. While the Cubs look to strengthen their bullpen- especially in the area of left-handed relievers, Happ has become prime trade-bait. Although he's only signed through 2019 with the Cubs, he's controllable through 2023, making him especially enticing to other teams in search of (as of now) a young utility man. His age and salary (almost 25 and $604,000.00) make him even more appealing to other teams while making him worth more to the Cubs in terms of trades.
For the record, I wish all of the players mentioned in this article, nothing but the best for their future careers and personal lives, whether playing for Chicago or with someone else. I don't dislike any of them personally, and this has nothing to do with personality- it has to do with winning ballgames.

Tags: Cubs Baseball
,
Kyle Ryan
,
Randy Rosario
,
Mike Montgomery
,
Daniel Descalso
,
Addison Russell
,
David Ross
,
Jason Heyward
,
Yu Darvish
,
Tyler Chatwood
,
,
Jim Adduci
,
David Bote
,
Victor Caratini
,
Anthony Rizzo