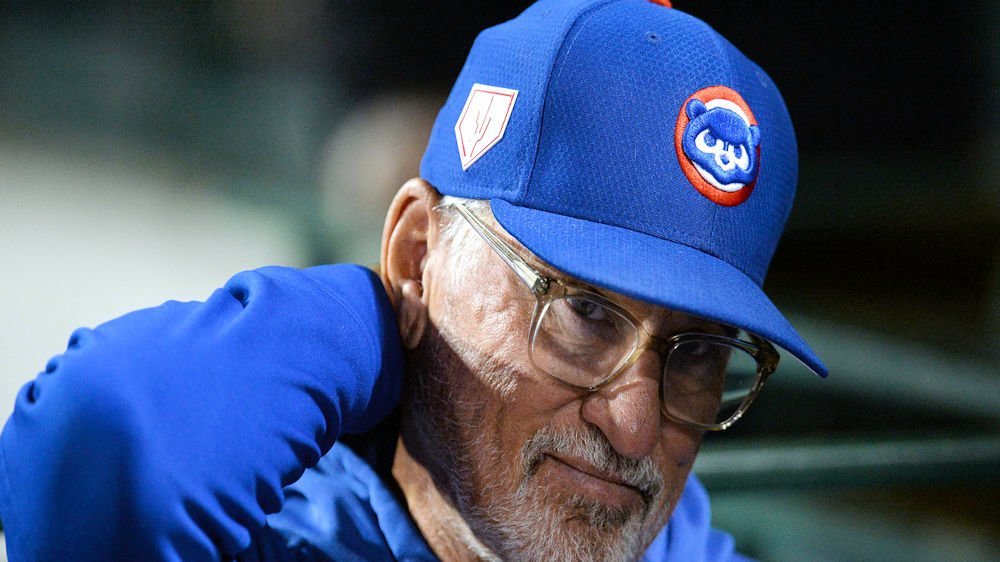 | | |
| --- | --- |
| Cubs odds and ends: Leadoff ideas, Pitching signing, KB's streak, A-rod no thank you | |
---
| | | |
| --- | --- | --- |
| Sunday, May 19, 2019, 6:43 PM | | |
From time to time I need to clear some clutter from my desk (and my mind). Here's the latest handful of noteworthy odds, ends, and miscellany that I wanted to share with our readers.
The Elusive Leadoff Man:
Joe Maddon likes to mix things up, that much is certain, as last year he trotted out a total of 152 different batting orders (160 when including pitchers). This year has seen almost an equal amount of variations (37 batting orders in 42 games), yet there somehow seems to be more consistency. Kris Bryant, Anthony Rizzo, Javier Baez, and Willson Contreras have batted in the #2 through #5 spots for a good part of the season (with good results), and Maddon is finally back to hitting the pitcher ninth. For the most part, the #6 through #8 spots have been mix-and-match, but that leadoff spot, perhaps one of the most important in the order, continues to be filled by committee.
Albert Amora, Jr., Daniel Descalso, Jason Heyward and Ben Zobrist (before taking leave) have all spent a reasonable amount of time there, and now Kyle Schwarber has been inserted into that role. Granted, things may have to change depending on who the opposing pitcher is, but Maddon still only has two basic choices at leadoff: Using a left-handed batter or a righty.
In 43 games this year, Almora has hit in the leadoff spot a total nine times and has produced a .279/.279/.395 slash line. Descalso has owned the #1 spot 11 times, producing a .167/.314/.262 line. Zo has been the leadoff man 14 times this year, and while he's only managed to slash .167/.222/.167, some consideration must be given to the fact that his mind was elsewhere, due to his marital issues and impending divorce. More recently, Heyward has had six shots at producing in the leadoff spot but has failed miserably, slashing .097/.125/.258, and Kyle Schwarber has now had three chances at the job, in which time he's slashed .182/.357/.455.
Combined, Almora, Descalso, Heyward, Zobrist, and Schwarber have only managed to slash .178/.259/.307, but again, Zo's situation must be taken into consideration, and Schwarber's sample size is small. Those factors notwithstanding, the Cubs have had a serious issue producing hits and baserunners from the leadoff spot, since Dexter Fowler vacated his position after gaining free-agency. Bryant, Rizzo, Baez and Contreras and doing well in their respective #2-5 slots, so tampering with that to find a good leadoff man may not be wise either. Who's left? David Bote? Maybe. Addison Russell? Most likely not. Mark Zagunis? Not a chance in hell. I suppose if Maddon can't get anyone to produce in the leadoff spot, he could get creative and try batting the pitcher first… No manager would ever do so, but if you're giving up an almost automatic out with the leadoff spot and then the nine spot, may as well kill two birds with one stone (wink).
Another questionable signing
On Saturday, the Cubs claimed 26 (almost 27) year-old, RHP Chandler Shepherd off waivers from Boston and optioned him to AA Tennessee.
In eight games this season with one of Boston's minor league affiliates (Pawtucket), Shepherd was 0-5, with a 10.01 ERA. The righty had made a total of seven starts and had one relief appearance (total of 29.2 IP), during which time (brace yourselves) he gave up 53 hits, 43 runs (33 of which were earned), 11 homers and 16 walks. Although he did fan 30 of the 163 batters that he faced (18.4%), his 2.236 WHIP is absolutely insane.
In case you may be wondering, those stats (per nine innings) work out to: 16.1 hits, 3.3 homers, 4.9 walks, and 9.1 strikeouts. His strikeout to walk rate is 1.88 (not awful, but not terrific either), and he's also plunked five men and threw one wild pitch.
It would appear that the various teams that Shepherd has played for have tried to use him in every aspect imaginable. Throughout six seasons, Shepherd has appeared in 180 games (none of which were in the majors), making 42 starts and 138 relief appearances, 63 of which were closing situations. His career record stands at 21-32 (.396), and he's accumulated 42 saves along the way.
I enjoy watching Theo piece things together for the sake of depth, but I don't understand his mindset here. He has no MLB experience, and from what I can tell, he has no trade value, so it's not like Theo can channel his inner Jerry Dipoto to work some magical wheeling and dealing. I'll certainly wish him well, but this kid has a long way to go before he can make any real impact.
Bryant: Streak or no streak?
The short answer is that it did, in fact, end last night. Here's why:
There seemed to be some confusion as to whether Kris Bryant's streak extended to 27 games last night (as I reported after hearing Len Kasper say the same), or whether it had now ended. On Saturday, KB reached on a fielder's choice, after beating out a relay throw to first on what could have been a double-play, but that was his only time on base.
My understanding (and Len Kasper's) was that the streak continued so long as he reached base, with how he did so, being irrelevant. Hits walks and HBP count, but there appeared to be some uncertainty about whether reaching on an error or a fielder's choice counted. After KB reached via error the other night during his first at-bat, Kasper reported that his streak had just continued. Bryant subsequently homered in that game so the streak would have continued with or without him reaching by error, leaving some ambiguity.
Official at-bats had no bearing on the streak, as walks and HBP count, so why then, would one not assume that reaching by an FC or error would be any different? I reached out to MLB's Jordan Bastian for some clarification, and this was his reply: "The streak ended. For an on-base streak, only things that add to on-base percentage count. So, hits walks, hit-by-pitch. Fielder's choice plays or reached on errors go in the books as 0-for-1, so they do not count towards an on-base streak." Bummer, but there's the answer for those who may have been confused.
Really, A-Rod?
I make no bones about it- I can't stand Alex Rodriguez (and I know a lot of you share the same feelings). Yes, he was great ballplayer, but his arrogance is second to none. Watch as he downplays Kris Bryant's three-homer night, all because A-Rod had five such games in his career. By the way, I really love (heavy sarcasm) how he manages to say that he "is pretty good" (present tense), as opposed to saying he "was" good (past tense).
"What can I say, I'm pretty good."

The humblest of brags nfrom @AROD. pic.twitter.com/b5cFCtQYeU

— FOX Sports: MLB (@MLBONFOX) May 18, 2019
Time to let it go, Rodriguez, you haven't played since 2016, and it's been four years since your last full season. You did plenty for the game when you played, but you are God-awful in the booth. Rant over.

Tags: Cubs Baseball
,
,
Anthony Rizzo
,
,
Willson Contreras
,
Daniel Descalso
,
Jason Heyward
,
Ben Zobrist
,
Kyle Schwarber
,
Dexter Fowler
,
David Bote
,
Addison Russell
,
Mark Zagunis
,
Joe Maddon