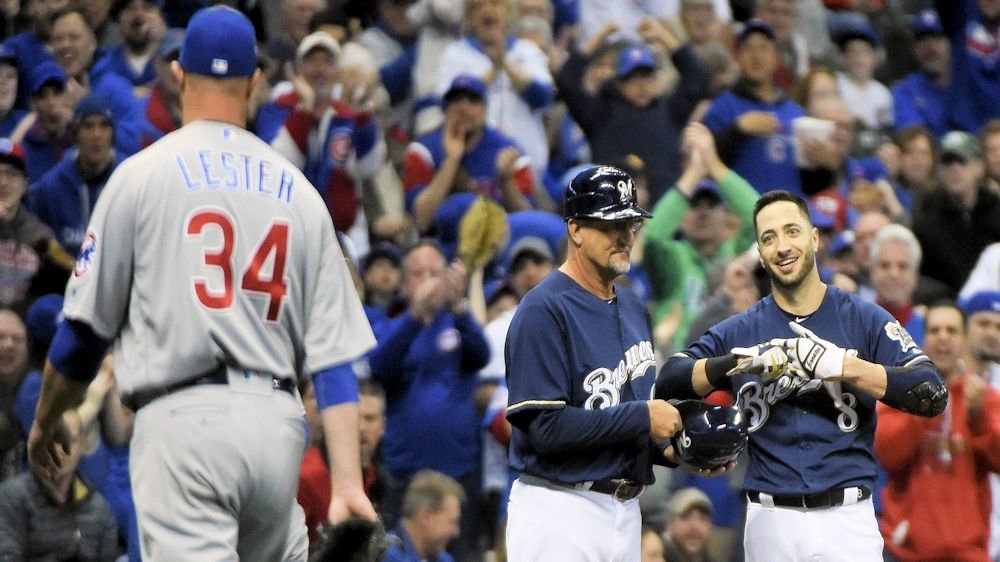 | | |
| --- | --- |
| Cubs vs Brewers Series Preview: TV times, Starting pitchers, more | |
---
| | | |
| --- | --- | --- |
| Friday, May 10, 2019, 11:21 AM | | |
The Brewers took 2 of 3 from the Cubs in early April, but this time things seem different. Both teams have been on fire, but the Cubs have gone 6-1 over the last the course of the current homestand, won their last nine series, and are now in first place. Chicago has now gone 12-3 over their last 15, while the Brewers have 10-5 over the same period. During that time, the Crew has outscored their opponents 72-60, while the Cubs have outscored their opposition 88-50.
The Pitching
The Cubs' three starters this series (Jose Quintana, Cole Hamels, and Jon Lester) have combined for 19 starts this season, posting a collective ERA of 2.73 throughout 110.1 innings. The trio has fanned a total 117 batters and allowed only 36 earned runs while walking 32.
The Cubs bullpen has slipped a little lately with wild-pitches, walks and hits, but overall, they are still pitching well. The current ERA of relievers on the 25-man roster is 4.95, but bear in mind that Carl Edwards, Jr. (14.73 ERA) and Mike Montgomery (5.87 ERA) are weighing that down. Brandon Kintzler has been a beast, as has Brad Brach and, to a lesser extent, Steve Cishek.
For the Crew, it'll be Gio Gonzalez, Zach Davies and Jhoulys Chacin on the bump, challenging a Cubs' offense that is eager to hit often. The Brewers' threesome has combined for 17 starts and a 3.07 ERA (32 ER/90 IP) and striking out 63 while walking 35.
The Brewers pen has endured some struggles this season with Houser (6.14 ERA), Claudio (4.00 ERA) and Albers (4.50 ERA), but Hader (2.95 ERA), Guerra (2.11 ERA) and Jeffress (2.08 ERA) have all been lights-out. Numbers can be deceiving though, as Milwaukee's entire pitching staff (4.58 ERA) ranks 11th in the NL, while the Cubbies (3.67 ERA) currently rank 3rd.
The Offense
Here we go, the battle of the bats. Christian Yelich vs. Javier Baez, Jesus Aguilar vs. Anthony Rizzo, Mike Moustakas vs. Kris Bryant, Yasmani Grandal vs. Willson Contreras and Ryan Braun versus a drug test for steroids. Both teams can score runs and score them often, but when it comes to run differential, the Cubs clearly come out ahead- almost laughably so. For all of their might "and Braun," the Brewers have only managed a +2 run differential in 39 games, while the Cubs have posted a +57 run differential in just 35 games.
The Cubs are currently slashing .267/.364/.481 as a team (excluding pitchers), while the Crew's batting just .249/.329/.445 as a whole. Ironically, the Cubs have tallied 189 RBI to the Brewers' 187 this season, so the Crew is obviously having issues somewhere (either pitching or defense), as the run differential between the two teams is +55 in favor of Chicago.
In the home run department, Baez (11), Rizzo (7), Bryant (7) and Contreras (9), have been on a tear, while Yelich (16), Braun (7), Grandal (6) and Moustakas (9) have been doing the heavy lifting for Milwaukee. The Brewers do rank #1 in the NL for homers (65), while the Cubs rank 4th (54), but the Crew places behind the Cubs in runs scored, doubles, triples, and RBI. It's important to note that of Yelich's 16 dingers, only one has been hit while on the road.
Mound Matchups
Friday: LHP Gio Gonzalez (0-0, 2.61 ERA) vs LHP Jose Quintana (4-1, 3.40 ERA). Game time 1:20 PM CDT; Televised on NBC Sports Chicago and MLB Network.
Because Gio Gonzalez only recently signed with the Brewers, he's had limited starts (2), and innings pitched (10.1) this season, but has fared well, despite getting two no-decisions. Gonzalez has posted a 2.61 ERA this year, allowing three earned runs, while striking out 9 and walking just one. His WHIP is a very admirable 0.968, but again, he's only hurled ten innings. Historically, Gonzalez has done well against the Cubs, holding them to a .153 batting average, but he's never faced Albert Almora, Jr., David Bote, or Kyle Schwarber. Jason Heyward has done the best against him, batting .235 in 17 at-bats with 4 RBI. Bryant and Contreras have each tagged Gonzalez for a homer.
Jose Quintana has always done well against Milwaukee, with the lone exception being his start there last month when he gave up eight runs in just three innings. Q has only given up a total of 24 RBI to this Brewers' roster (including a total of 7 home runs) but has managed to hold them to a batting average of .223 over 242 at-bats. Lorenzo Cain, Hernan Perez, and Christian Yelich are the trouble spots, collectively batting .332 against Quintana, with a pair of homers and 8 RBI throughout 105 at-bats.
Saturday: RHP Zach Davies (4-0, 1.56 ERA) vs LHP Cole Hamels (3-0, 3.38 ERA) Game time 1:20 PM CDT; Televised on ABC-7 and MLB Network.
Zach Davies has certainly been a force to be reckoned with this season, posting a 1.56 ERA which ranks second-lowest in all of MLB, among starters who qualify. Davies has seen a lot of the Cubs, and Chicago hasn't done great against him as a team, though a handful of players have him all figured out. For 200 team at-bats, the Cubs have posted only a .216 average with six homers and 22 RBI. Bryant has clobbered Davies (.368 in 38 at-bats) as has Addison Russell (.364 in 22 at-bats). Rizzo, Contreras, and Baez are batting a combined .278 with two homers (both belonging to Contreras) and 7 RBI (Rizzo-2, Contreras-5).
Sunday: RHP Jhoulys Chacin (3-3, 5.03 ERA) vs LHP Jon Lester (2-1, 1.41 ERA). Game time 7:05 PM CDT; Televised on ESPN.
The series finale will feature a struggling Jhoulys Chacin, who has had issues with consistency all season. He's allowed 22 earned runs in 39.1 innings, giving up 30 hits and 2o walks to date. Chacin's 29 strikeouts have been his savior, so far, although he's had little trouble with putting the Cubs away in the past. Baez is batting .267 (15 at-bats) against Chacin, but he's the only Cub with 10 or more at-bats who's above .215. Russell's .667 average (3 at-bats) pulls the team average up to .181 (77 total at-bats), but without him, the Cubs bat only .120 in 74 combined at-bats against Chacin.
Several Brewers have done well against Jon Lester, with Cain and Braun being the real problems. Cain has batted .429 (14 at-bats) against Big-Jon, while Braun has tagged him for a .412 average in 17 at-bats. Moustakas and Aguilar have also done well, with a combined .343 average against Lester, in 12 at-bats. Lester doesn't qualify to be ranked as a starter yet this season (due to his IL stint), but his 1.41 ERA is real, no matter how many innings he's tossed (or hasn't tossed).
This is going to be a tough series and one that could go either way. I think the Cubs can take 2 of 3, but they've got to tag the starters early for runs because the Brewers bullpen has been unbelievably reliable. The Cubs are putting up their three best starters, and these guys need to chew up innings, because if these games go to the pens early, the Cubs may have a problem. The Cubs have had success against Hader and Jeffress in the past, but those usually aren't patterns that continue.
Cole Hamels says this "rivalry" is far more about the fans than it is about the players or teams, but I'm OK with that. The Cubs made light-work out of their true team rivals a week ago, now let's see them pound on the team (and its fans) who developed a serious attitude and arrogance problem following Game-163.

Tags: Cubs Baseball
,
Jose Quintana
,
Cole Hamels
,
,
Mike Montgomery
,
Brandon Kintzler
,
Steve Cishek
,
,
Anthony Rizzo
,
,
Willson Contreras
,
David Bote
,
Kyle Schwarber
,
Jason Heyward
,
Addison Russell