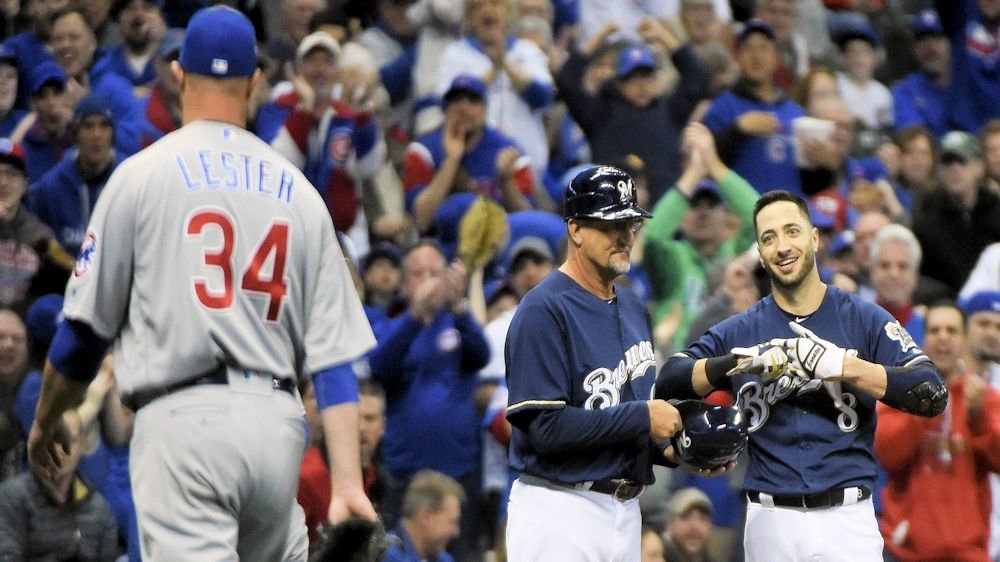 | | |
| --- | --- |
| Cubs vs Brewers Series Preview: TV times, Starting pitchers, more | |
---
| | | |
| --- | --- | --- |
| Friday, July 26, 2019, 3:20 PM | | |
Here's a bit of a scary fact- if the Cubs can't figure out to win road games by the time of the first pitch in Milwaukee, they face falling as low as third place in the standings by the middle of next week. St. Louis is tied with the Cubs, and Milwaukee is sitting two games back in third place. Who do the Cubs play over the course of the next week? Milwaukee and St. Louis- with both series being away from Wrigley.
"Ken, you're a moron who knows nothing about baseball," said the person who responded to me last year after I wrote that the Cubs wouldn't make it to the NLCS. I'm telling you (again), as great as this team could be, they're in some serious trouble, as there's some disconnect between the components necessary to win."
Injury Report:
CUBS: Cole Hamels: 10-day IL (oblique strain); Kris Bryant: Day-to-day, right knee.
BREWERS: Corbin Burnes: 10-day IL (shoulder); Lorenzo Cain: Day-to-day (knee); Jhoulys Chacin: 10-day IL (oblique); Corey Knebel: 60-day IL (elbow); Brandon Woodruff: 10-day IL (oblique).
The Pitching
The Brewers took a significant hit when they lost Brandon Woodruff this week, as the team expects him to be out at least six weeks. Meanwhile, Corbin Burnes and Jhoulys Chacin remain sidelined, leaving a hole in the pen, as well as another vacated starter's role.
The Cubs are only down Cole Hamels, as Jon Lester will make a start this weekend, but oh, that aching bullpen. With time running down, Theo Epstein has yet to sign that deal that will send the Cubs to the promised land, and the clock continues to tick.
If the Cubs are going to make progress in this series, the starters will need to go deep, as there isn't a lot of reliable options in the pen, once you get past Brandon Kintzler, Kyle Ryan and Craig Kimbrel.
The Offense
The Cubs continue to struggle with the concept of station to station hitting, with a vast majority of their RBI in San Francisco coming from the long ball. No team can sustain winning games when they rely so heavily on home runs, and if the Cubs plan to make any progress in this division, they'll need to start hitting for contact, rather than for power.
They've now recalled Ian Happ, a move which may have been made as much out of frustration and desperation, as it was anything else. While I believe that they may be showcasing Happ for prospective buyers who demand MLB-readiness, he couldn't possibly do any worse than Martin Maldonado, or Daniel Descalso have been doing.
Mound Matchups
Friday: RHP Kyle Hendricks (7-8, 3.41 ERA) vs Gio Gonzalez (2-1, 3.60 ERA). Game time 7:10 PM CDT; NBC Sports Chicago and MLB TV.
Kyle Hendricks will be seeking his 60th career win with this outing, but he, too, has struggled on the road, posting a 3-6 record with an ERA nearing 5.50. The flip side to that is that he's always done well against the Brewers, having earned himself a record of 8-6 (3.22 ERA) in 20 starts. The Professor has yet to win this month (four starts) because, despite a 3.60 ERA, he's not getting run support early- a recurrent theme for the Cubs.
Gio Gonzales had just returned from the IL (shoulder inflammation), before his last start. With the mess that the Crew has going on with their rotation being injured (Woodruff, Burnes), a good start for Gonzalez is imperative for them, if they hope to stay relevant in the standings. Gonzalez has had one start (last Saturday) since returning from the IL, but Craig Counsell played it safe, limiting him to just 73 pitches.
Gonzalez has done well against the Cubs, holding everyone (except Albert Almora Jr.) to an average of under .250.
Saturday: LHP Jon Lester (9-6, 3.87 ERA) vs RHP Chase Anderson (5-2, 3.90 ERA). Game time 7:10 PM CDT; ABC-7 and MLB TV.
Big Jon missed his last start (vs. the Giants) due to a fever, triggering Joe Maddon to use Tyler Chatwood, but Lester is ready for this start.
The problem for Jon is that despite a 5-3 record (2.35 ERA) vs. the Brewers, most of this roster has hit him very well, so again, run support will be essential. Lester has been becoming increasingly frustrated while on the mound, both with the umpiring and his teammates' performances in the field. Lester has also accepted a lot of the responsibility for himself, stating that he needs to be throwing better pitches.
Chase Anderson is certainly doing his part to keep Milwaukee in the race, allowing two or fewer earned runs in his last six outings. He's worked a total of 62.2 innings against the Cubs, over which time he's earned himself a 2.73 ERA.
Joe Maddon would be wise to pay close attention to how he sets up his batting order in this one. Javier Baez is batting .067 in 15 at-bats, Anthony Rizzo .048 in 13 at-bats, yet Willson Contreras has smoked Anderson for a .538 average in 13 plate appearances.
For as critical as I've been about Ian Happ, I'd encourage Maddon to start him in this series, as Kyle Schwarber, Jason Heyward and Almora have combined for a .155 batting average (combined 8 for 52). Ironically, Anderson is the one guy that Martin Maldonado has hit well, as he's gone 3 for five against him.
Sunday: LHP Jose Quintana (8-7, 4.42 ERA) vs RHP Zach Davies (8-3, 3.17 ERA). Game time 1:10 PM CDT; ABC-7 and MLB TV.
Quintana has been hot, earning wins in his last four outings, despite some shaky appearances. Four straight wins match Q's personal best, so this outing is for both the team and Q's resume', as he'll be a free agent in just a few short months. Quintana has had success with the Brewers, despite taking a shelling early in the season while pitching in Milwaukee.
Bullpen woes have cause Quintana to take a couple of beat-downs this season, as Maddon had no one dependable enough to use in early relief. If Maddon had been able to replace Q when he should have in those games, you'd be looking at a guy with an ERA under 4.00.
Zach Davies is also a guy who had some mixed success with the Cubs, including inflicting heavy damage on Schwarber and Heyward. This may be another good game to start, and more craftiness on Joe's part with the lineup and order may help. The rest of the team, save for Descalso, has done exceptionally well, with Kris Bryant leading the pack against Davies with a .366 average in 41 at-bats.
I'm not a huge advocate of Bryant playing the outfield, but this would be an excellent game to have him in left, with Happ in right. Davis Bote has only faced Davies three times, but he is 1 for 3, a start at third for him would make sense, as would starting Garcia at second.
Series Prediction:
I hate to bet against the Cubs, but I think this entire next week is going to spell trouble for them. It took a lot of restraint to predict that the Cubs would lose a series to the Giants, especially after the homestand Chicago had just put together, but low and behold, they walked out with only one win out of three games, and their tails between their legs.
Unfortunately, I see this one headed the same way. Brewers take this series 2-1, with the one win coming on Sunday. I do, however, think the Cubs will avenge themselves vs. Milwaukee next weekend at Wrigley, let's hope they aren't in third place by then.
Next up: Red Birds in the boring city of St. Louis, beginning Tuesday night.

Tags: Cubs Baseball
,
Cole Hamels
,
,
,
Brandon Kintzler
,
Kyle Ryan
,
,
Daniel Descalso
,
Kyle Hendricks
,
Albert Almora Jr
,
Tyler Chatwood
,
,
Anthony Rizzo
,
Willson Contreras
,
Kyle Schwarber
,
Jason Heyward
,
Jose Quintana
,
Joe Maddon
,
Theo Epstein