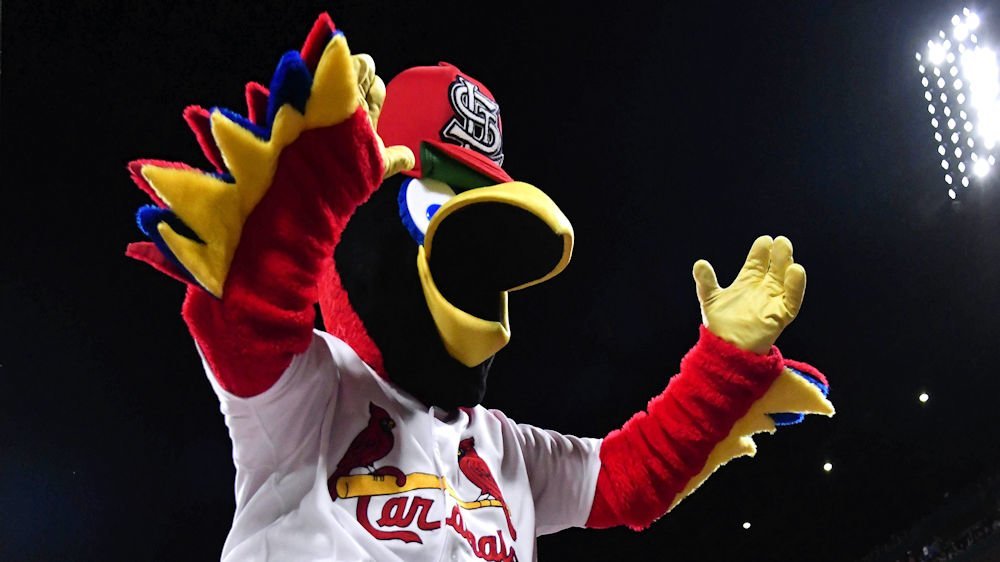 | | |
| --- | --- |
| Cubs vs. Cardinals Series Preview: TV times, Starting pitchers, Predictions, more | |
---
| | | |
| --- | --- | --- |
| Thursday, September 19, 2019, 2:12 PM | | |
This is it, the final regular-season series to be played at Wrigley Field in 2019. It won't be long before the ivy turns brown and falls on the faded grass- always a depressing scene- but for now, the Cubs have to face the Cards while they, the ivy and the grass still have some life left in them.
Here we go- Cubs-Cards in the first of two series between the top-two NL Central contenders, which is undoubtedly going to decide the division. For the last few years, the Cards have pushed hard to get back to the postseason, with their last appearance coming in 2015, while the Cubs are trying to keep themselves from being eliminated for the first time since 2015.
Throughout July, the Cards and Cubs had been running neck-and-neck, trading places in the standings for the top-two positions. On July 31st, the teams were knotted, each at 57-50. By August 7th, the Cards had dropped to third place, 3.5 games out, but when the Cubs hit the skids, the Cardinals lunged, resuming sole possession of first place on August 16th, and they haven't looked back since.
Injury Report:
CUBS: Javier Baez (thumb); Addison Russell concussion list- may be activated during this series); Anthony Rizzo (ankle sprain).
CARDS: Matt Wieters (calf strain); Jordan Hicks (elbow); Tony Cingrani (shoulder); Lane Thomas (fractured wrist).
Series Overview:
Pardon me while I flashback to the 80's for a minute, but in the words sung by Nena, "This is what we've waited for, this is it, boys, this is war." (You youngins will have to look that up…. And while you're at it, look up "youngins" as well.)
For the last couple of weeks, gaining any ground on St. Louis has been next to impossible, and the Cubs have had an equally hard time distancing themselves from a very hot, though Yelich-less, Brewers club, who could find themselves the true winner of this series, if the Cubs and Cards decide to trade punches for the next four days.
While the Cubs dismantled Pittsburgh, their pitching is weak, and their clubhouse is in shambles. Next, they fought Cincinnati, and while the Reds have much better starters, they still don't compare to a Cards team who's managed to go next level with their starters and offense.
Cardinals file....
2.81 ERA this month is @MLB's lowest
1.96 ERA from starters this month is @MLB's lowest
Flaherty, Hudson, Wacha, Wainwright combined 1.25 ERA this month.
.543 winning percentage for remaining opponents, highest among all contenders

— Richard Justice (@richardjustice) September 17, 2019
On the other hand, there's this…
Four pitchers from the Opening Day bullpen are now with other teams. Plans A, B and C for the closer role have gone awry in different ways.

And the Cubs' bullpen has been the NL's best in September. They bailed out Hamels Monday for a 5th straight win: https://t.co/lolGNdr3h5

— Jordan Bastian (@MLBastian) September 17, 2019
The Cubs' have been steaming along, despite a severe downward trend by Jon Lester, and Cole Hamels, who'll pitch Saturday. I hate to say anything bad about Lester or Hamels, but Jose Quintana, Yu Darvish and (of course) Kyle Hendricks, have emerged as the Cubs three best starters this season, and it's good to see that trio up against a very tough Cardinals' offense.
Mound Matchups
Thursday: RHP Kyle Hendricks (11-9, 3.26 ERA) vs RHP Jack Flaherty (10-8, 3.05 ERA). Game information: 6:15 PM CDT; Televised on FOX.
The Professor has seen the Cards a total of three times this season, and he's been phenomenal in all three starts. On May 3rd, Hendricks pitched a complete game shutout (4 hits, three strikeouts, 0 walks). On June 9th, Kyle hurled seven innings of one-run ball, allowing eight hits, while fanning three and walking no one. On July 3rd, he hurled another seven innings of scoreless ball on seven hits, while whiffing seven and not allowing a free pass. The Cubs are 3-0 in those three starts, and they'll need the Professor to put on another pitching clinic in this one.
The Cubs have won Hendricks' last five starts, outscoring their opponents (SFG, NYM, SEA, SDP, and PIT) 40-11. Hendricks has averaged almost six innings per start over the last five, pitching to an ERA of 2.73 in those outings.
Flaherty has been a beast this year, carrying a WHIP of just over 1.000. He's faced the Cubs four times in 2019, with the Cards going 2-2 in those starts. The Cubs have managed to amass nine runs on 14 hits and eight walks against Flaherty, but he's punched out 26 batters in the process. Flaherty and Hendricks squared off together on May 3rd- the day Hendricks tossed the complete game.
Friday: LHP Jose Quintana (13-8, 4.37 ERA) vs RHP Michael Wacha (6-7, 4.76 ERA). Game information: 1:20 PM CDT; Televised on FOX.
Q has seen the Cards twice this year, first on Cinco De Mayo, then again on June 1st. The Cubs split the two decisions, with Quintana lasting six innings in the first outing (W), then only 4.0 innings in the loss. Quintana has only allowed four earned runs between the outings (combined 12 hits, four homers, three walks, eight strikeouts), with both of his starts being home games.
Because of the way that Mike Shildt has flipped around his rotation, Wacha has only faced the Cubs one time this year (May 4). That day (at Wrigley), the Cubs managed to tag him for five runs (4 ER) on six hits and three walks in five innings (four strikeouts), while on their way to a 6-5 win.
Shildt seems to be limiting Wacha's innings, as the last three starts have only yielded a total of 11 innings, despite Wacha giving up only two earned runs on 12 hits, while striking out six and walking (or would that be "waching"?) two.
Saturday: LHP Cole Hamels (7-7, 3.92 ERA) vs RHP Dakota Hudson (16-7, 3.35 ERA). Game information: 1:20 PM CDT; Televised on WGN, SAP WGN, MLB Network (out of market only).
The Cubs can't afford to lose any of these games, although at least one loss is almost inevitable, so I'm just going to go ahead now, and bank on Hamels being the weak link again in this series. Cole has been a gift to the Cubs, but he's just not been the same since his injury, followed by his bout with the flu.
The Cubs have gone 1-1 in Hamels' two starts against the redBirds this season, and those were two of Hamels' best performances of the year. Lasting seven innings in the first outing, Hamels shutout the Cards, allowing an unearned run on two hits and as many walks. Run support was an issue, as the Cubs lost this one by a final of 2-1. In his second outing, Hamels pitched eight, shutout innings, giving up three hits and a walk, while striking out 10, as the Cubs won 3-1.
Somehow, Dakota Hudson has missed the opportunity to face the Cubs this season, which may be a good thing, as this kid is on fire. The Cards have won seven of Hudson's last eight starts, outscoring their opponents 46-12 in the process. Since August 14th, Hudson's lasted no less than six innings per start, and St. Louis has been giving the run support to keep him in the game.
Sunday: RHP Yu Darvish (6-7, 4.02 ERA) vs RHP Miles Mikolas (9-14, 4.29 ERA) Game information: 1:20 PM CDT; Televised on NBC Sports Chicago and TBS (out of market only).
There's nothing left to say about Yu this year, other than that I'd expect to see him moved up in the rotation in 2020. He's become a strikeout machine- now with 217 on the year. Ironically- due to a bad start to the year, Darvish still leads the Cubs' pitchers in terms of walks issued (56) and home runs allowed (32), but he also leads the team in innings pitched (170.1), while leading the Cubs' starters in terms of fewest hits allowed (133). His stats certainly don't paint a portrait of "the guy you need to depend on," but Yu has definitely become "the man."
The Cubs are 2-1 in Yu's three outings against the Cards this season, with Darvish lasting 16 innings between the three starts. They have tagged him for some runs (8 total), but each of Yu's outings against St. Louis this year have been one-run games. The Cubs failed to give Darvish any run support in the two losses, losing each game by a final of 2-1.
The Cubs are 2-1 with Mikolas on the mound for St. Louis this season, but they've only scored a total of five runs in those three games, with Mikolas on the hook for all five of them. Combined, Mikolas has lasted a total of 16.2 innings against Chicago this year, while giving up 16 hits (just one HR) and five walks, while fanning 10.
This month, the Cards have gone 2-2 in Mikolas' four starts, with Mikolas giving up ten earned runs on 20 hits and six walks while fanning 21 for 22 innings of work.
Series Prediction:
This is tough. I think the Professor beats Flaherty on Thursday, and Darvish beats Mikolas on Sunday, so long as he gets some run support, but the two games in between may cause problems. Barring some miraculous turnaround, I've ruled out a win for Hamels and the Cubs on Saturday, and I'm on the fence for Q and the Cubs on Friday.
I like Thursday's matchup (Hendricks vs. Flaherty), but beyond that, I don't like the way the rest of this is set up. I'd much rather see Darvish pitch against Hudson, with Hamels facing Wacha, leaving Q to dance with Mikolas, but it is what it is.
I think the Cubs and Cards will split the series 2-2, leaving the Brewers a chance to gain the most, with this being perhaps their best chance to make a final surge. Milwaukee will most likely pummel the Padres and Pirates this weekend (all games at Miller Park), with the opportunity to assume first place in the NL Central, if all goes right for them. Baseball- you gotta love it.
Next up: Cubs vs. Pirates at PNC Park (September 24-26), then the final series of the year at Busch Stadium, as the Cubs and Cards battle one last time from September 27- September 29. It's almost over, so enjoy it while you can.