| | |
| --- | --- |
| Cubs vs. Cards Series Preview: TV times, Starting pitchers, Predictions, more | |
---
| | | |
| --- | --- | --- |
| Friday, May 31, 2019, 1:07 PM | | |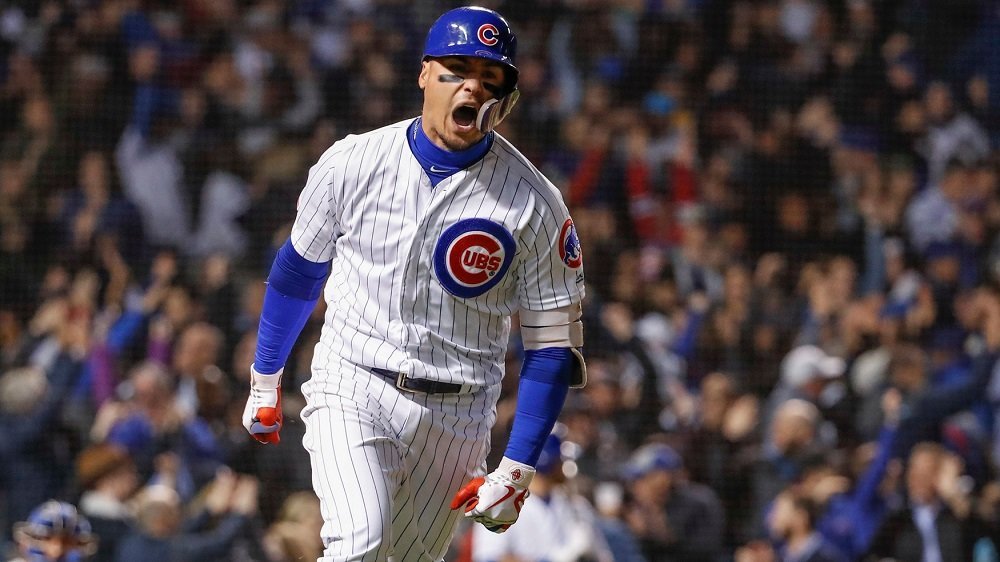 When the Cubs last met up with the Cards, it was May 3 at Wrigley Field. The Cubs were starting to turn things around at that time (16-12) but remained in second place, a game and a half behind the Cards who were 20-12. A sweep that series put the Cubs in first, and they haven't relinquished that spot since. Instead of battling the Cubs for first place during this series, the Cardinals are fighting to keep the Reds from taking fourth from them.
Since capturing the lead in the division, the Cubs have gone 15-11 (.577), while the Cards have pieced together a record of just 6-16 (.273). Over their last ten games, the teams have both struggled, with the Cubs going 4-6 and the Cards going 3-7.
The Pitching
Just a few days after the Cubs/Cards series in early May ended, ended, the Cubs' pitching staff began slumping, but nobody could have foreseen just how bad things have become. Lately, it seems that no starter is a sure-fire bet for a W, as opposing teams seem to be hitting every and any pitcher Joe Maddon can trot out to the mound (save for Kyle Hendrick who was brilliant Thursday night in Houston).
The Cards haven't done much better, allowing 66 runs over their last dozen games. The starting trio this weekend (Mikolas, Flaherty, and Wainwright) have combined for a 12-11 record and a 4.49 ERA, which may bode well for the Cubs, despite problems in the past with these three.
The Offense
There's no room for dispute here; the Cubs know how to manufacture runs, the troubling part is, they only seem to do so (most of the time recently) via the long-ball. Situational hitting (now known as opportunity hitting in the Cubs' organization) has gone by the wayside, but everybody and anybody is smoking home runs left, right and center. The Cubs tallied a total of 51 of them in May alone, and it wasn't just Javier Baez, Anthony Rizzo, Kris Bryant, and Willson Contreras, it was the entire team (save for a struggling Daniel Descalso).
In their last ten games, the Cubs have manufactured a total 50 runs and 23 homers, with three games of the ten being homer-free for Chicago. The Cubs now lead the NL with a total of 92 homers this season.
Moon-shots are beautiful, and having Bryant, Albert Almora Jr. and Russell hitting is undoubtedly a welcome, if not expected, sight, but the most significant offensive bonus (surprise) as of late, has come from Joe Maddon finally (almost) committing Kyle Schwarber as the regular leadoff hitter. Schwarbs has now gone 14 consecutive games in that spot, and he's raking. Although his batting average is down (.222), his slugging percentage (.556) and OBP (.328) are both in the "healthy" range. He's hit five dingers from that spot, drawn ten walks and has a double and triple, which have added to his 10 RBI. (See, Joe, stability can be useful). You can call those numbers unhealthy f you wish, but you'll be hard-pressed to show me better Cubs stats from the 1-hole this year.
Ah, those aching Cardinals… Would you believe they've scored 45 runs in their last ten games? The problem is, they've allowed the same number of runs. A zero run differential in the (ahem) boring town of St. Louis, has led the Crimson Pigeons to post a record of just 3-7 in their last ten.
When it comes to the ball leaving the yard, the Cards are no match for Chicago, ranking 11th in the NL with just 67 homers in 2019. One thing St. Louis does boast is speed, and they aren't afraid to use it. After swiping 30 bases so far this season, the Red Birds currently rank third in the NL, but the nine who've been caught-stealing, place St. Louis fifth in that department.
Mound Matchups
Friday: RHP Yu Darvish (2-3, 5.40 ERA) vs RHP Miles Mikolas (4-5, 4.76 ERA). Game time 7:15 PM CDT; Televised NBC Sports Chicago, FB Watch (out of market) and MLB TV.
Trying to prevent another sweep, Cards' manager, Mike Schildt switched his starting rotation around, so that Mikolas would face the Cubs. Mikolas has been able to silence the vast majority of the Cubs' offense, with only Rizzo and Baez having any significant success against him. Javy's managed a .273 average in 11 at-bats, while Rizz has knocked Mikolas around to the tune of a .364 average in his 11 at-bats. Mikolas has silenced the remainder of the Cubs' "big bats" though, holding Bryant, Schwarber, Contreras, Almora, and Heyward to a combined .167 average in a total of 41 at-bats. Victor Caratini and Daniel Descalso have each gone 1 for two against him (.500 each), which has caused the Cubs' team average (.226) against Mikolas to be somewhat falsely inflated.
Coming off two of his best overall outings this season, Yu Darvish will face a Cardinals roster that has little exposure to him, but even more limited success. Harrison has gone 2 for three against Yu, Martinez has gone 2 for 2, and Ozuna has hit .375 against Darvish in eight at-bats- that's the bad news. The good news is, the rest of the Red Birds have gone a collective 0 for 16 against him, although Gyorko and Munoz have never faced him.
Saturday: LHP Jose Quintana (4-4, 3.73 ERA) vs RHP Jack Flaherty (4-3, 3.77 ERA). Game time 7:15 PM CDT; Televised on FOX and MLB TV.
Jack Flaherty has been a thorn in the Cubs back-sides in the past, and there' no reason to think he'll be any different this weekend. On the whole, the Cubs have gone .164 against him (55 combined at-bats), though Rizzo, Contreras, and Almora have his number. Rizz has hit him the hardest, posting a .556 average n nine at-bats, while Contreras has tagged Flaherty for a .286 average in 7 at-bats. Smaller sample size, but Almora is 2 for four against him, and even Jim Adduci has gone 1 for 3. Flaherty has managed to vapor-lock Baez (0 for 7), Heyward (0 for 6) and Schwarber (0 for 6).
Jose Quintana has been among the Cubs' starters who's struggled in his last few outings, and I'm not sure that he'll fare better this time around. The Cards have pelted him for hits and runs in past meetings, with the team batting .346 against him in a total of 132 at-bats. However, Quintana won his last start against them on May 5th. The list of who Q has been able to contain is, unfortunately, a lot shorter than the list of who he hasn't, with Carpenter batting only .200 against him in 20 at-bats and Wong batting .111 in 9 at-bats; Q has never faced Wieters.
Sunday: LHP Cole Hamels (4-1, 4.02 ERA) vs RHP Adam Wainwright (4-5, 4.94 ERA). Game time 1:15 PM CDT; Televised on WGN, MLBN (out of market) and MLB TV.
The final game of this set will see Adam Wainwright try his luck against the Cubs' offense, but he hasn't done well against them in the past. While he's never faced Jim Adduci or Victor Caratini, the remainder of the team has had mixed results. The Cubs are batting just .210 (149 total at-bats) as a team against Wainwright, but those who've hit him have hit him hard. Heyward, Rizzo, and Russell have done the most damage, combining for a .320 average in 71 at-bats, with Rizzo facing him the most (.278 in 36 AB), but Russell hitting him the hardest (.389 in 18 at-bats). Javy has gone just .158 in 19 at-bats, while Almora (0-10), Bote (0-3) and Almora (0-10) have been the least effective.
Cole Hamels has seen, perhaps, the worst of the recent bad outings for Chicago, and this outing could get dicey. He's completely shut-down Bader, Dexter Fowler, Martinez, Molina, Munoz and Wong (combined 0 for 11), but Carpenter has ripped Hamels for a .417 average in 12 at-bats, Ozuna is hitting .304 against Cole in 23 at-bats, Gyorko's at .308 for 13 at-bats and Wieters has contributed a .300 average in 10 at-bats.
Series Prediction:
I think the Cubs will take this series 2-1, with either Hamels or Quintana pitching in the game they lose. Both guys are due (and thirsty for) a turnaround, but Q seems to look a lot closer to redemption than Hamels does. Between their recent losing streak and the sweep at Wrigley earlier this month, the Cards are going to be hungry and a substandard set of performances by the Cubs' pitching staff won't win this series.
Next up: The Makeup game between the Cubs and Angels on Monday, June third, followed by the Cubs vs. Rockies (at Wrigley Field), starting on June 4.

Tags: Cubs Baseball
,
,
Anthony Rizzo
,
,
Willson Contreras
,
Daniel Descalso
,
Albert Almora Jr
,
Kyle Schwarber
,
Yu Darvish
,
Victor Caratini
,
Jose Quintana
,
Jim Adduci
,
Cole Hamels
,
Dexter Fowler
,
Joe Maddon