| | |
| --- | --- |
| Cubs vs. Dodgers Series Preview: TV times, Starting pitchers, Predictions, more | |
---
| | | |
| --- | --- | --- |
| Thursday, June 13, 2019, 6:01 PM | | |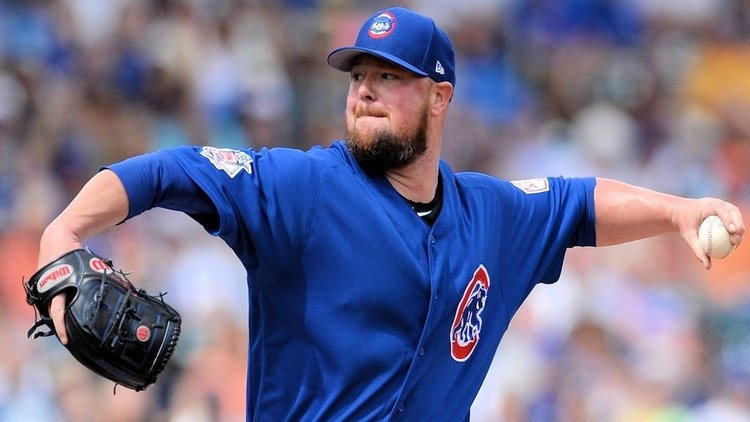 The Cubs did well when they hosted the Dodgers at Wrigley Field in late April, winning the series 2-1, but somehow this series seems to have a different feel to it. The Dodgers have been on a holy tear, distancing themselves from second-place Colorado by some 10.0 games at times, posting an insanely high run differential and destroying everything in their path.
The Cubs have held their own, teetering back and forth a little, but generally staying on the brink of first place in the Central. Their hot and cold streaks seem to come in extremes, and concerns over the bullpen linger in the minds of ownership, management, and players alike. They always seem to battle, though, no matter who the opponent and this series should be no different.
Injury Report:
The Dodgers are down a few key players but have compensated well. Most notably, Corey Seager, who pulled a hamstring in Tuesday night's game. Seager was to undergo an MRI yesterday. AJ Pollock is also out, due to a staph infection in his right elbow. He's already undergone surgery and is expected to be out for at least two months, though he remains on the 10-Day IL. LF/1B Matt Beaty is also on the 10-day IL for a left hip flexor strain and is likely to remain sidelined until the end of June. 1B/3B David Freese has been battling knee soreness and has been listed as day-to-day, as of Monday. Finally, lefty reliever Tony Cingrani is currently on the 10-day IL but is expected to miss the duration of the 2019 season, following surgery to repair the labrum on his left shoulder.
The Cubs remain relatively healthy, other than those who are dealing with extended stays on the IL. Steve Cishek did bruise himself yesterday, while warming up with Brandon Kintzler, and is expected to miss 1-2 games. Javier Baez's heel seems to have mended, and if not, he's not telling anyone. Kris Bryant threw a scare into teammates and fans, as he rolled an ankle rounding first the other night, but he's managed to stay in the lineup. Addison Russell suffered a contusion (deep bruise) on his right hand, which caused him to miss Sunday's game, but he appears to be healing as well.
The Pitching
The Cubs will be trotting out Jon Lester, Kyle Hendricks, Yu Darvish and Jose Quintana for this set, and while I have the utmost faith in three of the four, I'm a little concerned about Darvish. His starts have been better, but many fail to see this, as they focus only on hits, walks and runs, instead of the overall performances. My concern with Darvish this time around is purely from a psychological standpoint, as he'd allowed LA fans to get to him in the past. He's gained some confidence in himself and appears to have started looking at himself more as a Cub, rather than as a Dodger who failed in the World Series, which may help him get past the hecklers n Los Angeles this time around.
The Dodgers seem to have it all this year, but they have outdone themselves in the area of pitching. The four starters for this series (Kershaw, Hill, Buehler, and Ryu) have been virtually unstoppable, posting a group record of 24-4 with a combined ERA of just 2.53 over a total of 44 starts and 272-1/3 innings.
The Offense
It'll be hard enough for the Cubs to hit against some of the Dodger starters, and if they want any shot at winning, they must hit as they did yesterday with runners in scoring position. The Cubs exhibited a near-perfect balance of hitting for contact and hitting for power on Wednesday, netting themselves ten runs to show for it, but baserunners may be tougher to come by for these next four days.
Mound Matchups
Thursday: LHP Jon Lester (5-4, 3.56 ERA) vs RHP Clayton Kershaw (5-1, 3.00 ERA). Game time 9:10 PM CDT; Televised on NBC Sports Chicago+ and MLB TV.
Jon Lester had been improving but had a rough first inning in his last outing, allowing four runs. With run support behind him that day, the Cubs were able to battle back and defeat the Cards. Lester faced the Dodgers at Wrigley again on April 25th, allowing one run for five innings. Corey Seager has been the biggest thorn in Lester's rump, but Seager is now sidelined with a hamstring issue.
Kershaw lost his last outing (vs. San Francisco) but has been tough since returning from the IL. Several Cubs have had tremendous success against him (Carlos Gonzalez, Kris Bryant, Javier Baez), but Anthony Rizzo has destroyed him with a .462 average in 13 at-bats.
Friday: RHP Kyle Hendricks (7-4, 3.00 ERA) vs RHP Rich Hill (3-1, 2.40 ERA). Game time 9:10 PM CDT; Televised on WGN and MLB TV.
Kyle Hendricks has been unbelievable in his last three starts, pitching to a 2.05 ERA with 20 strikeouts with only two walks. Hendricks hasn't pitched at Dodger Stadium for nearly a year (June 27, 2018), but he took a beating in that one, giving up a half-dozen runs in just 2-2/3 innings. Hendricks has never faced nearly half of this roster, and only Freese and Hernandez have given him trouble out of the ones that he has faced.
MLB has been a little slow in posting the Cubs stats vs. Rich Hill, so the best I can do is give you some general info about him. Historically, he pitches to a 4.65 ERA in June and is at his worst when the Dodgers fail to provide support (two runs or less). He's posted a record of 0-0 vs. the Cubs (one previous start) allowing no runs in 6.2 innings of work. The best times to attack hill are in the first, fourth and fifth innings, as his ERA in each of those is above 4.09. The key to getting hits against Hill is to get the ball out of the infield, as batters have posted a .518 batting average when they can.
Saturday: RHP Yu Darvish (2-3, 4.98 ERA) vs RHP Walker Buehler (7-1, 3.35 ERA). Game time 8:10 PM CDT; Televised on ABC-7, MLBN (out of market only) and MLB TV.
The jury is still out on whether or not Yu Darvish is improving, but most who've watched closely can see that he is. Not by leaps and bounds, mind you, but rather in small, but noticeable increments. His number of innings have increased steadily (barring an occasional bad outing), his walk rate is lower, his strikeout rate is lower (not a bad thing, as he was focusing only on Ks), and his velocity is still in the mid to upper 90s. Let's also not forget that he's already surpassed (by 50%) the number of starts he made for all of last year and that he appears to remain healthy.
This will be Darvish's first start against his former teammates, though he has faced Freese (.200 in 5 AB), Hernandez (.333 in 3 AB), Martin (1 for 1) and Muncy (0-3).
Buehler's been just about the weakest link in the Dodgers' rotation- that is, if you can call a 3.35 ERA weak. In two starts this month, Buehler has pitched to a 0.60 ERA (15 innings over two starts) and has fanned 20 while walking just one. The more runs LA scores, the worse Buehler gets, pitching to a 6.09 ERA when the Dodgers give him six or more runs worth of support, but I'm not sure I would recommend spotting Los Angeles a half-dozen runs. Buehler is undefeated this year when the Dodgers score three or more and is 1-1 when they score two or less. However, Buehler has a 0.45 ERA when the team gives him two or fewer runs. Quite the conundrum.
Sunday: LHP Jose Quintana (5-2, 3.77 ERA). vs. RHP Hyun-Jin Ryu (9-1, 1.36 ERA). Game time 6:05 PM CDT; Televised on ESPN (oh, boy…).
Jose Quintana pitched the April 23rd Cubs/Dodgers game at Wrigley, lasting 7.0 innings and allowing just two runs. Q had a rough go of it in Denver this week, allowing four runs (three earned runs) in 4-2/3 innings.
The three guys that figure to give Quintana trouble are Taylor (.444 in 9 AB), Turner and Hernandez (each batting .286 with 7 AB apiece). Q has done well against Freese and Bellinger in the past and has downright miffed Martin in 9 at-bats.
Ryu's has logged 86.0 innings (13 starts) this year, allowing only 13 earned runs for a 1.36 ERA, while striking out 77 and walking five (no…not 25, not 15…FIVE). Bad news gets even worse when you learn that his ERA at home is 1.01 over six starts (44.2 IP). Opponents have batted just .172 against him at Dodger Stadium, and his strikeout to walk rate there is an insane 22.50.
Series Prediction:
I try to stay positive, but I can't see this series going very well for Chicago. This series has the potential to get very ugly, very fast for Chicago, as the Dodgers have been beasts, and it seems the Cubs have trailed them in nearly every stat, all year. I hate seeing players injured- no matter what jersey they wear- but the absences of Seager and Pollock could only serve to help the Cubs tremendously in this series. Unfortunately, I still can't see the Cubs winning this series, but I think they'd be happy with a 2-2 split, which is what I foresee being the case.
Next up, the Cubs open a 10-day homestand, beginning with the White Sox (2 games) in the series formerly known as the Crosstown Classic.

Tags: Cubs Baseball
,
Steve Cishek
,
Brandon Kintzler
,
,
,
Addison Russell
,
,
Kyle Hendricks
,
Yu Darvish
,
Jose Quintana
,
Anthony Rizzo