| | |
| --- | --- |
| Cubs vs. Giants Series Preview: TV times, Starting pitchers, Predictions, more | |
---
| | | |
| --- | --- | --- |
| Monday, July 22, 2019, 5:01 PM | | |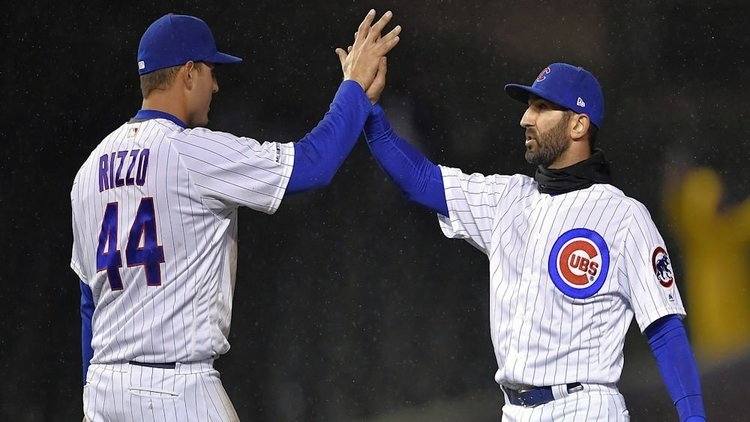 For the Cubs, this road trip may mean more than any other, so far, this season.
First and foremost, this trip is all about winning on the road. With their road record in shambles, the Cubs need right the ship before it completely founders, and they'd better hurry because they're taking on water. The Cubs have- been great at Wrigley Field (36-18; .667), but away from home, they've been horrible (18-27; .400). Furthermore, they're only 26-25 (.510) against teams who are better than 500, which is precisely the type of teams that they're about to start encountering, with 19 of the next 25 games being played on the road.
Joe Maddon has bought some time for himself with a good second-half start, but Theo Epstein's remarks, while somewhat encrypted at times, suggest that Joe's future, both long and short term, is just as fragile as that of some of the players. Remember Theo's words from last winter: "We need to value production over talent," and at no time did Epstein ever say those words pertained to players only. It's no secret, and the team knows it, Joe's time with the Cubs could be winding down, and the duration of his stay falls squarely on their shoulders.
Next, there's the division lead, now cut to 2.0 games after yesterday's loss and Milwaukee's win. The Cubs have been playing fourth and fifth place teams since the break so that 7-2 record should be no surprise; the real test starts now, as Chicago faces a Giants team who's now gone 8-2 in their last ten.
More critical to the Giants than their newfound, winning ways, is the fact that they're sitting on the fringe of a wildcard spot- now just 2.5 games out. No, they certainly won't advance past the Dodgers in October, but if ownership thinks they have a shot at any playoff run, they'll quickly slam the door on selling-off players, which is not what the Cubs need or want. Theo and company have designs on Will Smith, Tony Watson, and despite a no-trade clause that includes the Cubs, Madison Bumgarner.
While Will Smith seems (logically) to be the primary target, Madison Bumgarner could come into play, should he approve a trade to Chicago. What exactly would the Cubs do with MadBum- a straight rental, left-handed starter, who's being paid over $7M this year? Simple- insert him into what would become a six-man rotation and extend him the minute they can dangle enough years and enough cash in front of his nose. Cole Hamels is probably not going to play in Chicago next year, and Jose Quintana will also gain free-agency- hell, I've even heard some rumblings that Jon Lester may hang it up after this year. Locking down a decent lefty would behoove the Cubs at this point, and although Bumgarner's had somewhat of an off-season (5-7), he's still sporting a respectable 3.65 ERA.
Hitting the Giants hard and fast is the key to splitting this team at its seams, which will almost ensure that Farhan Zaidi sells, but think about this; other teams are also very interested in Smith, Bumgarner, and Watson- the Brewers being one of them. If the Cubs don't see getting any of their San Francisco based targets, do they play "soft" this series to help keep the Giants together, thus preventing a division rival from gaining some quality pitching? Hard to fathom, but stranger things have happened.
The Cubs are now also showing a keen interest in Tigers' closer Shane Greene. First question: Why in the hell would the Cubs want to sign a closer and a right-hander at that? Greene's 1.03 ERA and 22 saves may have something to do with it, but the Cubs have Craig Kimbrel. He's cheap ($4M this year), and controllable for another year-and-a-half. Maybe a setup man for Kimbrel; perhaps a backup closer. The bigger question is, should they get Watson (or Smith) and they manage to obtain Greene (as part of a multi-faceted deal to obtain Castellanos), who might they sling in return?
I'll digress now, but those are all things that fans need to keep an eye on. Theo tends to lay like a snake in the grass, then strike hard and fast- that is, if the snake still has a little venom left in him.
Injury Report:
CUBS: Cole Hamels: 10-day IL (oblique strain); Willson Contreras: 10-day IL (foot).
GIANTS: Evan Longoria: 10-day IL (strained plantar fascia); Johnny Cueto: 60-day IL (Tommy John); Travis Bergen: 60-day IL (shoulder).
The Pitching
Despite the possible implications, something tells me this trio of Cubs starters may have some issues in the City by the Bay. Mills is new, Lester's been pummeled by the Giants and Darvish will have his work cut out for him, squaring off against Bumgarner.
For all of their problems, the Giants do possess pitching, and there's a twisted irony in the fact that although it's the very thing holding the team together, it's also what's likely to be the first component dissolved. Ah, but that's baseball.
The Offense
Little can be said about the Cubs' offense that hasn't been said for days, weeks and months. This is a team who could (and should) have a 100+ run differential, but they continually fail to hit at the most crucial times, and they continue to strand runners in scoring position. If the Cubs offense shows up, this will be a good series, and the Cubs can win it; if not, they could be taking a serious hit in the standings this week.
Not that the Giants are any better- as they sit at minus 42 in that department, but somehow, they've held it together to the tune of a perfect .500 record (50-50). The Giants have some power as well, but it helps them none, that Evan Longoria remains sidelined.
Mound Matchups
Monday: RHP Alec Mills (0-0, 4.50 ERA) vs RHP Shaun Anderson (3-2, 4.87). Game time 8:45 PM CDT; WGN and MLB TV.
Alec Mills had me eating crow last week, as he outperformed my wildest expectations of him. Mills has had no experience with the Giants, so it's anybody's guess as to how he'll perform. Last time out (vs. the Reds), Mills gave up three runs in the first but would settle down nicely, holding Cincinnati scoreless for the next five innings.
The Cubs are equally unfamiliar with Anderson, never having seen him either, but Anderson's been hot, posting an 8-4 record in a dozen starts this year. Anderson did get rocked a little in his last outing though, giving up a career-high five earned runs.
Tuesday: RHP Yu Darvish (3-4, 4.46 ERA) vs LHP Madison Bumgarner (5-7, 3.65) Game time 8:45 PM CDT; ABC-7 and MLB TV.
Hopefully, Darvish is still flying higher than a kite, after finally earning a win at Wrigley last week. I've told the naysayers (and yes, I was one of those last year) that he was steadily improving this year, and in his previous handful of starts, he's validated my opinion. Most are still clouded by the huge contract and lack of performance last year, but Darvish has said he wanted to prove his worth ($126M worth of worth) to the fans this year, and he's certainly starting to do so.
Darvish has only faced about half of the Giants' roster, but except for Vogt (batting .286 in 21 at-bats), he's completely blanked everyone else- even if the sample size is small.
If there are only two reasons for the Cubs to sign Bumgarner, they have to be (1) that he's absolutely clobbered this entire roster (except Anthony Rizzo, batting, .250 in 8 at-bats) and (2) that he just about killed David Bote in spring training, after nailing him in the head with a fastball. Do your scouting now- he may (or may not) be a Cub in the next eight days.
Wednesday: LHP Jon Lester (9-6, 3.87ERA) vs RHP Tyler Beede (3-3, 4.70). Game time 2:45 PM CDT; NBC Sports Chicago, MLB Network (out of market only) and MLB TV.
Lester admits he had trouble throwing anything that didn't wind up being hit last week (4 runs on 12 hits in six innings), but despite a rough outing, the Cubs battled back to get him a no-decision. The more significant problems are Jon's road record: 3-4 with a 5.09 ERA, and the fact that most of the Giants have clobbered him in the past.
Beede's total experience with the Cubs amounts to facing Daniel Descalso once (and no, Descalso didn't hit that time either). In his last four starts, he's allowed three runs or less, and he went eight innings in his previous outing.
Series Prediction:
There's a ton at stake here, but unfortunately, I think the Cubs will buckle. Between a poor road record, questionable pitching from the pen, an offense that is still failing to score at crucial times, and an opponent who's fighting to stay together as a team, it all adds up to being too much for the Cubbies. Giants take this series 2-1, with implications reaching far beyond the scores and standings.
Next up: The Brewers in Milwaukee, beginning Friday at 7:10 PM Central (NBC Sports Chicago).

Tags: Cubs Baseball
,
Cole Hamels
,
Jose Quintana
,
,
Willson Contreras
,
,
Yu Darvish
,
Anthony Rizzo
,
David Bote
,
Daniel Descalso
,
Joe Maddon
,
Theo Epstein