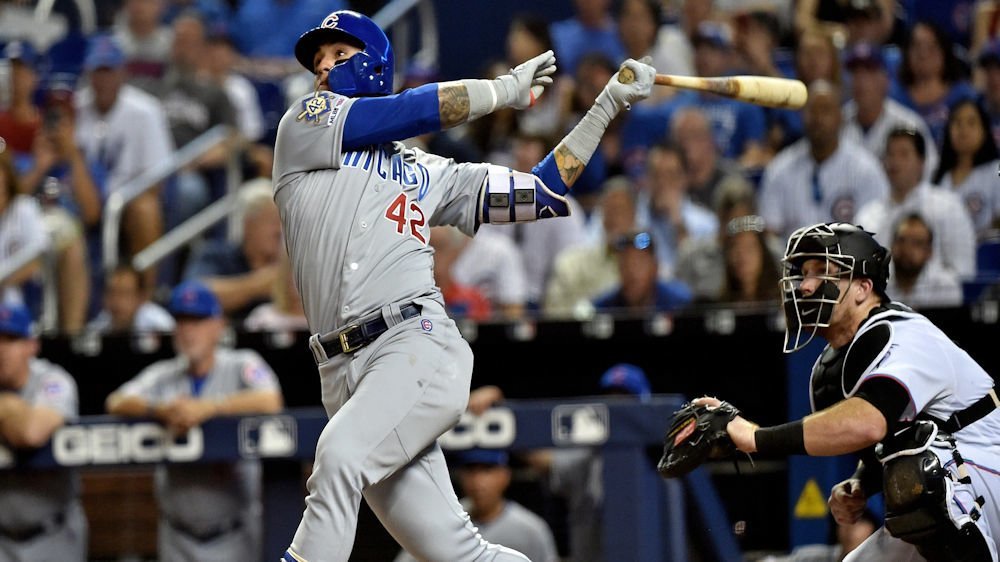 | | |
| --- | --- |
| Cubs vs Marlins Series Preview: TV times, Starting pitchers, more | |
---
| | | |
| --- | --- | --- |
| Monday, May 6, 2019, 6:00 PM | | |
After hunting Cardinals for the last three days, the Cubs are switching it up for the next series, looking to land some themselves some Marlin. There's never any telling what will happen in baseball, but after sweeping the Marlins in Miami a couple of weeks back, this should be a series that will allow the Cubs to continue to build a winning record in their quest to stay at the top of the standings.
Over the last ten games, the Cubs have produced an 8-2 record, scoring 53 runs, while the Marlins, over the same time frame, have gone just 2-8, scoring only 28 times.
The Pitching
In 17 starts for the Cubs, Cole Hamels, Jon Lester and Kyle Hendricks (the three starters for this series) have now combined for a 7-5 record with a combined 2.95 ERA over 97.0 innings. The trio has now allowed a total of 30 earned runs on 87 hits and 27 walks, but they've also fanned a total of 91 men. Although Hamels has been plagued with a barrage of walks over his last couple of starts, the threesome is still able to boast a combined strikeout to walk rate of 3.37.
The Fish have had a little less luck when the stats for their three starters this series (Alacantra, Smith, and Urena) are combined. Posting only a 5-8 record between them in 19 starts, the three have pitched to a combined ERA of 4.10 in 109.0 innings. The hits have flowed (107), as have the walks (36), while their 96 strikeouts have been their one positive note.
The Offense
The Marlins are definitely inferior to the Cubs (as of Sat), producing 231 hits (13th in the NL) to Chicago's 258 (10th in the NL). The Cubs have been able to parlay those knocks into a .257/350/.455 team slash line (.267/.361/.473 when excluding pitchers), being credited with 158 RBI out of 164 total runs in the process. Miami, however, is sporting a combined slash line of only .226/.289/.329 (.232/.295/.339 when excluding pitchers), racking up only 85 RBI and 88 total runs this season. Also, of note, the Fish rank dead-last in the NL in runs, doubles, triples, walks, grounding into double-plays, slugging and OPS, and rank 14th in homers.
Mound Matchups
Monday: RHP Sandy Alcantara (1-3, 4.86 ERA vs LHP Cole Hamels (3-0, 3.19 ERA). Game time 7:05 PM CDT; Televised on NBC Sports Chicago+ and MLB Network.
The Cubs had success against Alcantara in Miami (4/17), tagging him for seven hits and five earned runs in 6.0 innings. Opponents are currently hitting .429 against his sinker and are tagging his four-seam fastball for an average of .258. Alcantara is allowing a ton of baserunners this season, as his WHIP stands at 1.560, although he's managed to keep the ball in the park, allowing less than one home run per nine innings.
Cole Hamels has been a little off his game in the last two starts, lasting only 5.1 innings in each, as compared to his average of almost 6.2 innings in his first four appearances. Hamels had only issued three walks in his first four outings but has allowed a total of nine in the last two starts. Despite the inexplicable walks lately, Hamels still has a WHIP of only 1.091 and has struck out 37 of the 152 batters that he's faced (24.3%).
Tuesday: LHP Caleb Smith (3-0, 2.00 ERA) vs LHP Jon Lester (2-1, 1.73 ERA). Game time 7:05 PM CDT; Televised on NBC Sports Chicago+ and MLB Network.
If there's any bright spot in the Marlins' rotation this season, it's Caleb Smith. He's managed to maintain a WHIP of only 0.833 in 6 starts this year and has managed to hold his opponents to a batting average of just .168. When he's not striking guys out (45 so far this year in 36 innings), he's getting soft contact off of almost everything he throws (average exit velocity of 84.7 mph). Of the seven Cubs that he's faced, Smith has been able to hold them to a combined batting average of just .214 in 17 at-bats, allowing only one RBI, that came courtesy of a solo-shot from Kris Bryant.
Jon Lester has been equally as brilliant in his five starts, posting a WHIP of 0.962, walking just seven and allowing only 18 hits in 26 innings. Lester has been more susceptible to the long-ball, than has Smith, already giving up seven dingers to the 102 men that he's faced. Nonetheless, the Cubs offense has compensated for most any of Big-Jon's shortcomings, posting a 3-2 record while he's on the hill. In their three wins with Lester starting, the Cubs have outscored their opponents 33-4, while during their two losses, they've been outscored only 8-4.
Wednesday: RHP Jose Urena (1-5, 5.45 ERA) vs RHP Kyle Hendricks (2-4, 3.93 ERA). Game time 7:05 PM CDT; Televised on WGN, SAP WGN and MLB Network.
Jose Urena has had about as much bad luck this season as any starter in MLB. With minimal run support from his teammates, there aren't many ways to compensate for the team-leading 49 hits that he's allowed, even if he has only issued 12 walks in 39.2 innings this year. The team has gone 1-6 behind Urena and has been outscored 42-20 in his seven starts this season. Although the Cubs have not seen Urena this year, they have done well against him in the past, posting a slash-line of .248/.361/.426 in 101 at-bats, while tagging him for 13 singles, nine doubles, and three dingers.
Kyle Hendricks has struggled immensely this season, though his complete-game shutout on Friday was an excellent way to lower his ERA while detracting from some of the ugliness surrounding four of his previous five starts this year. I stumbled upon an interesting fact the other day- in each of the last two years, Hendricks has posted an ERA above 5.00 in his first five starts but has lowered it by as much as half, during his #6-#10 starts. If Friday's start was any indication of what's to come, we should see great things out of Hendricks for a while.
Thursday: RHP Trevor Richards (0-4, 4.10 ERA) vs RHP Yu Darvish (2-3, 5.79 ERA). Game time 1:20 PM CDT; Televised on NBC Sports Chicago and MLB Network.
Righty, Trevor Richards hasn't had much going for him this season; he's yet to win, he's taken four losses in seven outings, and his ERA is above four. He's given up 17 earned runs in 37.1 innings, he's been taken long five times, and he's walked a total of 21 guys this season. For some reason though, Richards tallies strikeouts, and he'd fanned a total of 34 so far. Only Baez, Bote and Bryant have hit off of him, collecting a .500 batting average in 8 at-bats. As a team, the Cubs have batted just .167 against him in 15 total at-bats, although Kyle Schwarber, Mark Zagunis, and Taylor Davis have never faced him. Even with the limited hits, the Cubs have managed to tag Richards for six runs.
I've not lost hope for Darvish yet, but at the very least he's been extremely unpredictable. The Marlins have managed to bat only .213 against him (39 total at-bats), and they've been held to just three runs. Only Chad Wallach has homered (1) off of Darvish, but Yu has never faced five of the Marlins' 12 position players. Darvish blames his last outing (vs. St. Louis) on throwing too many sinkers (51 total) and says that he intends to change this up quite a bit for this start and beyond.
With the way the Cubs have been playing, I see no reason why a second sweep over Miami isn't within reach. The pitching is spot-on, the bats have been hot, the defense is tops, and if nothing else, they're home. Next guest: Milwaukee.