| | |
| --- | --- |
| Cubs vs. Pirates Series Preview: TV times, Starting pitchers, Predictions, more | |
---
| | | |
| --- | --- | --- |
| Friday, August 16, 2019, 1:21 PM | | |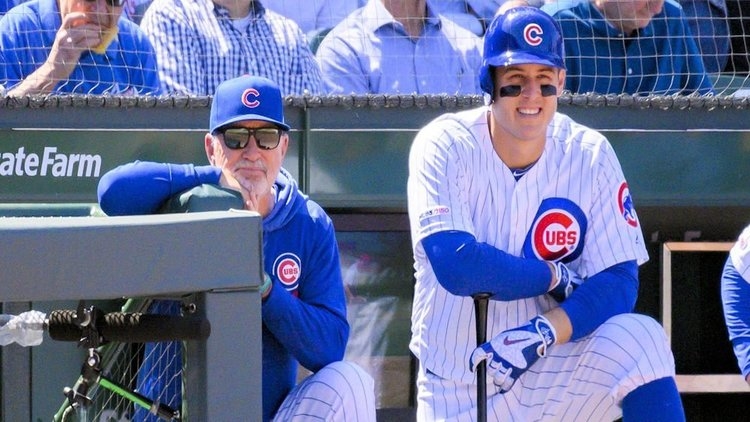 With the way Pittsburgh's been playing over the last month, this should be a golden opportunity for the Cubs to grab a little leverage in the standings. How bad have things gotten in Pittsburgh? So bad, that they Pirates elimination number is now in the upper 20s and could become a lot lower if the Cubs could produce an almost inconceivable road-sweep. The Bucs are in some serious trouble.
On the surface, the Cubs are in good shape, leading their division while the number of remaining games is dwindling by the day, but somehow things still don't seem right. They have been much more authoritative in their wins recently, but somehow it seems awfully late in the year to emerge as a valid contender. I got the same vibe last year, and 163 games later, I was watching Colorado playing the Brewers for the NLDS.
Injury Report:
CUBS: Willson Contreras (hamstring); Daniel Descalso (ankle): Brandon Kintzler (pectoral); Steve Cishek (hip); Allen Webster (arm); Ben Zobrist: Day-to-day, as he attempts a comeback.
PIRATES: Francisco Cervelli (concussion); Lonnie Chisenhall (hand); Chad Kuhl (elbow); Gregory Polanco (shoulder); Edgar Santana (Tommy John surgery); Jameson Taillon (Tommy John surgery).
The Pitching
It's scary to think how bad the Pirates may have dwindled in the standings, had Kela, Osuna, and Crick not been playing while awaiting appeals for their part in the altercation between the Pirates and Reds on July 30. The trio ultimately dropped their appeals and served their suspensions; all are now active again.
That whole messed stemmed from the Pirates pitchers throwing up-and-in to the Reds offense, something that also became an issue when the Pirates last faced the Cubs in mid-July. Had cooler heads not prevailed, there may have been at least a mini altercation in that game, but the Cubs were able to contain an angry Joe Maddon who was looking to get a piece of Clint Hurdle. Shortly after Maddon's outburst (and subsequent ejection), David Bote took a pitch to the helmet.
It will be interesting to see if the Hurdle and the Pirates have changed their "pitching strategy" at all- something Hurdle vehemently denied was intentionally occurring, when interviewed after the issue at Wrigley Field. I'm not sure what the Cubs may do if the issue repeats itself. However, they cannot afford to have guys suspended for fighting. The problem is, they also can't afford to have Kris Bryant (or whomever) on the IL with a concussion, secondary to taking a fastball to the head. Both MLB and the umpires are well aware of the issues between the Bucs and Cubs, and I wouldn't be surprised to see both sides warned before the first pitch.
The Offense
While there's absolutely no reason that the Cubs' offense shouldn't cream the Pirates at PNC Park, their unstable-- and often nonexistent-- offense may stand in their way. After a fantastic homestand last week (as most of them are), the Cubs fell into the abyss again the minute they hit the road. After a decisive 12-5 win over Cincinnati to open the road trip, the Cubs went 1-5 over their next half-dozen road games, settling for a 2-2 series tie with the Reds, then dropping the first two in Philly.
Anthony Rizzo has been cold (contributing just a couple of homers in the last two months), but then again, so has nearly everyone else, including Nicholas Castellanos, who's had a pair of games this week which have netted a combined 1 for nine at the plate. Despite Nick slowing down some, he's still the odds-on favorite in my book to be the guy who produces at least some hits consistently.
The Pirates have been crashing lately-- so much so, that they 've dropped ten games in the standings over the last month, but their last three games have netted an inexplicable total of 29 runs. Pittsburgh has some quality hitters, but much like the Cubs, they fail to be able to tap into that talent when needed.
Mound Matchups
Friday: RHP Kyle Hendricks (8-9, 3.48 ERA) vs RHP Joe Musgrove (8-11, 4.71 ERA). Game time 6:05 PM CDT; WGN.
Kyle Hendricks is generally about as steady as they come- even if the Cubs don't seem to give him any run support- but he was shellacked in his last outing (vs. CIN). Lasting only 2.2 innings, Hendricks gave up 12 hots, three dingers, and seven runs, before Joe Maddon got the ingenious idea to replace him.
Hendricks did face the Bucs once this year (July 2 in Pittsburgh), and those results weren't great either. In what would end as a 5-1 loss for the Cubs, Kyle lasted just 3.0 innings, allowing two runs on four hits, but the short outing was due to his recent return from the IL.
Joe Musgrove hasn't had the best year, as indicated by his record, ERA, and WHIP, but he managed to help earn the Pirates a 1-1 record vs. Chicago in his two starts this year against Chicago. In a combined 9.0 innings of work, Musgrove managed to fan a total of 10, while issuing just two walks. Those outings also ended with the Cubs combining for only five hits and two unearned runs.
Saturday: LHP Jon Lester (9-8, 4.43 ERA) vs LHP Steven Brault (3-1, 4.33 ERA). Game time 12:35 PM; ABC-7, MLB Network (out of market only).
Big Jon's struggled over his last three outings, allowing a total of 19 runs (17 earned runs) over a combined 14 innings pitched. Much like the beating Hendricks took last time out, Jon was also allowed to be hung out to dry this month, in an outing against Oakland that saw him give up 11 runs in four innings (9 ER, ten hits, two homers, three walks, and six strikeouts).
In Lester's two outings against Pittsburgh this year, the Cubs are 2-0, outscoring the Bucs 20-4 (although both of those starts were at Wrigley). Lester is coming off a five-inning start in Cincinnati, which netted the Cubs a 6-3, though all three of those runs were charged to Lester.
Brault's only faced the Cubs once this year (April 8), but they clobbered him. Lasting just 3.0 innings, the Cubs pummeled him for four hits, a homer and a pair of walks, as Chicago cruised to a 10-0 shutout.
Over Brault's last four outings, he's given up a total of eight runs. However, his inning count has been low (4.2, 4.0, 5.1, 4.2). Three of the four starts have come against the Brewers, while the last game against the Cards- Pittsburgh lost all four of those games while being outscored 24-19.
Sunday: LHP Jose Quintana (10-7, 4.11 ERA) vs RHP Mitch Keller (1-1, 7.94 ERA). Game time 6:10 PM CDT; ESPN. (I was praying that we were done being tormented by Alex Rodriguez, but apparently not).
Q's last outing against Philly started rough (three hit-by-pitch), but he spun it into a phenomenal appearance, striking out 14 in six innings. Unfortunately, the Cubs offense took the night off, causing Chicago to lose by a final of 4-2.
The Cubs are 3-0 in Quintana's three outings vs. Pittsburgh this season, and Quintana has pitched deep each time (total of 20 IP). The good news is that Q has beaten them in ONC Park this year (July 4), and with a little luck (and maybe a little run support) he should be able to do it again.
If there's one pitcher in this series that should struggle immensely, it's rookie, Mitch Keller. Used as an emergency starter in the rotation, Keller has only four starts this season, and the runs have been plentiful for the opposition. In 17 innings of work, Keller's coughed up a total of 18 runs on 26 hits and eight walks, though he seems to be able to keep it in the park- which may hurt the Cubs, as we all know how much they depend on the long ball.
Series Prediction:
Only because it's the Pirates, I'm leaning toward a 2-1 series win for the Cubs in this one. I believe they can beat Keller on Sunday, and I'd tend to think they'll beat Brault before they beat Musgrove, but with this team, there's no telling.
Next up: Home sweet home, as the Cubs begin a new homestand, starting with San Francisco.

Tags: Cubs Baseball
,
Willson Contreras
,
Daniel Descalso
,
Brandon Kintzler
,
Steve Cishek
,
Ben Zobrist
,
David Bote
,
,
Anthony Rizzo
,
Kyle Hendricks
,
,
Jose Quintana
,
Joe Maddon