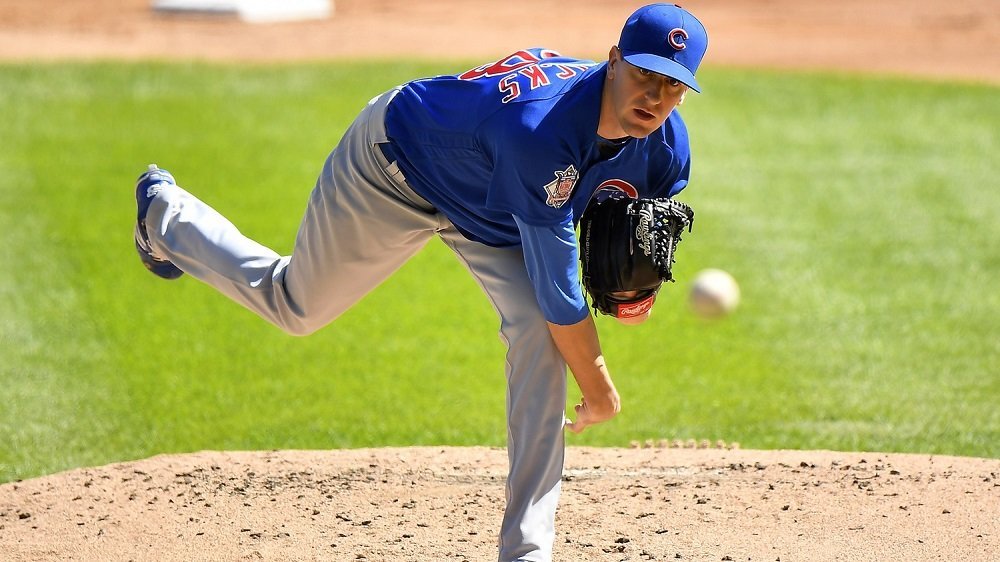 | | |
| --- | --- |
| CubsHQ 2019 Preview, Part 3 (Cont.): The Professor and Q | |
---
| | | |
| --- | --- | --- |
| Tuesday, February 19, 2019, 11:00 AM | | |
Before I get started with the remainder of the rotation, I needed to clarify something. Many who read the first part of this section questioned the rotation order that I was using, beginning with Lester, Hamels, and Darvish. I am basing this rotation off the current Cubs depth chart, as provided by the team. Things will be subject to change coming out of spring training.
Currently listed as the Cubs' number four starter is the Professor, Kyle Hendricks. Not an overly flashy guy, and not an arm with a ton of strength, but make no mistake, Hendricks is an effective man on the mound. For Kyle, maintaining control is the key to overcoming a power deficit, and control is just one thing he possesses. Hendricks has now thrown 6,374 consecutive pitches (including postseason appearances) since his last wild pitch.
Posting a 14-11 record for 2018, Hendricks managed a 3.44 ERA over 199 innings, while striking out a total of 161 with a WHIP of 1.146. Throughout his five-year MLB career (all spent with the Cubs), the Professor has pitched to a 52-33 (.612) record with an ERA of just 3.07. Despite the lack of speed on his fastball, few can argue over Hendricks' 3.59 strikeout to walk rate.
In addition to control, Kyle Hendricks has stamina and determination on his side. Leading the team with an average of just over six innings per appearance, Hendricks is not only a workhorse for the team, but he does so in an effective manner.
On September 17, Hendricks went 8.2 innings against the Diamondbacks, in what should have been a complete game, but Joe Maddon got cold feet in the ninth and pulled Hendricks for a reliever in the ninth, despite the Cubs leading 4-1. In his final two starts for 2018, Hendricks would tally a total of 15.2 innings, capping off a season that saw him go seven or more innings a total of eleven times, with four of those appearances lasting eight innings or more.
Rounding out the expected, starting rotation is left-hander, Jose Quintana, whose $10M team option was picked up by the Cubs this winter. Quintana has created some controversy among fans, as a good majority feel that his salary has far outweighed his performance, thus far. Although Quintana undoubtedly had waves of good and bad in 2018, I've always maintained that he was "quietly solid."
Posting a 13-11 record for 2018 and averaging almost 5.5 innings per game last season, Q managed to tally 158 strikeouts while walking only 68, earning him a 2.32 strikeout-to-walk ratio. Despite giving up a total of 81 runs last year on an ERA of 4.03, Quintana tied his career high in wins with 13 in 2018.
With the anticipated return of a healthy and effective Yu Darvish, the Cubs will be sporting quite the rotation to open up 2019. Assuming that injuries don't prevail, any rotation that has Darvish and Quintana as their fourth and fifth starters is destined to be good, so long as the offense does their jobs.
It would seem that the logical rotation come Opening Day would be Lester, Hendricks, Hamels, and Quintana, followed by Darvish, but one never knows what manager, Joe Maddon is thinking. Darvish could arguably go in the fourth spot, but his past injuries may leave him in the five-hole for now. Should Maddon choose to make his rotation alternate between southpaws and right-handers, it would stand to reason that Darvish would assume the fourth spot, with Quintana taking the fifth.
Stop by tomorrow, as we look at the fail-safes in the Cubs' starting rotation: Tyler Chatwood and Mike Montgomery.