| | |
| --- | --- |
| CubsHQ 2019 Preview, Part 3: The Cubs Rotation; perhaps MLB's best | |
---
| | | |
| --- | --- | --- |
| Friday, February 15, 2019, 9:15 AM | | |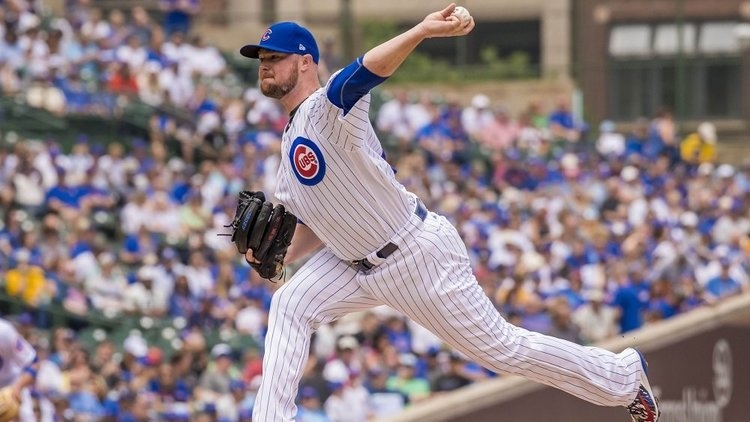 For all of the ranting and raving about a slow winter with not many signings, there's one thing most fans can agree on: The Cubs' rotation is pretty damn solid, even if there is still a question mark or two.
With a total of seven regular starters last year (including Darvish, Chatwood, and Montgomery), the starting rotation pitched to a 59-46 (.562) record with a collective ERA of 3.91. Once Darvish and Chatwood are excluded, the remainder of the starters managed a 54-37 (.593) record and a collective ERA of just 3.43.
While many, including me at times, pled silently for the team to sign at least one starter for 2019 (more on that later), Theo Epstein is content with trotting out a nearly identical rotation to that of the start of the 2018 season. There's little question that performance is a must, but the Cubs are on the hook for an expensive starting rotation for 2019 ($85,405,000.00 to be exact). With a total team payroll of $209,900,714.00 for this season (barring any last minute signings), the starting rotation, alone, accounts for nearly 41% of player payroll for 2019.
Expected to lead the Cubs onto the field for opening day, is Jon Lester, the 35-year-old left-hander. Lester is entering the fifth year of a six-year, $155M deal with the Cubs, though the Cubs have a team option for 2021, worth another $25M.
Lester enjoyed a solid year in 2018, pitching to an 18-6 (.750) record and holding down a 3.32 ERA in 32 starts, which totaled 181.2 innings of work. Averaging 5.66 innings per game, Lester worked his way to a WHIP of 1.310 and a strikeout to walk ratio of 2.33. In his four seasons as a Cub, Lester has managed a 61-31 (.636) record and a 3.64 ERA.
After picking up his $20M option, the number two spot in the rotation will be held by the "new guy," Cole Hamels. After a dismal start with Texas in 2018, Hamels joined the Cubs in late July and turned things around. In his 12 starts as a Cub, Hamels went 4-3 (.571) last season, with a 2.36 ERA over 76.1 innings pitched. The only Cub to do so in 2018, Hamels tossed a complete game against the Reds on August 23, in the Cubs 7-1 win.
With a partial season behind him and a full season as a Cub just ahead, Hamels has vowed to take on more of a leadership role in the clubhouse in 2019.
In an interview with MLB.com, Hamels addressed the leadership role.
"I've been in this game a long time, so I think that's where I need to be," Hamels said. "That's kind of the role that's directed toward you if you play this game long enough. That's kind of where you fit, so I understand that. I've had a couple years to really kind of do what I need to do in order to try to be that sort of leader."
Although things may change, the number three spot in the rotation could be Yu Darvish's if he plays to his potential. There's no way around it, 2018 was a disaster for Darvish and the Cubs. Between injuries and rehab assignments, Darvish only made a total of eight starts for the Cubs last season, all the while being surrounded by questions about his willingness to want to play. When he did pitch, it was subpar, pitching to a 1-3 (.250) record, a 4.95 ERA, and a WHIP of 1.425 in just 40 innings of work.
Although generally quiet, Darvish has been very forthcoming about his surgery and rehab progress this off-season, even taking time to do a short interview without his translator last week. Although many feared that Darvish had lost his desire to play, he has personally vowed to show the team, ownership and the fans that he was, and still is, worth what the Cubs are paying him.
Occasional videos have surfaced of Darvish working out this winter. He does appear to be pain-free as he continues to rehab, recently throwing 45 pitches off the mound. He doesn't appear to have lost his control, and he seems to be throwing harder in every subsequent video.
Darvish was the sole reason that I felt the Cubs should sign another starter this year, as I can't help this lingering feeling that he's going to break down again, either mentally or physically. If Darvish departs the rotation early again this year, there's little doubt that Mike Montgomery will get the nod, but that's likely to lead to an overly taxed bullpen as the season wears on.
Tomorrow: The remainder of the rotation.