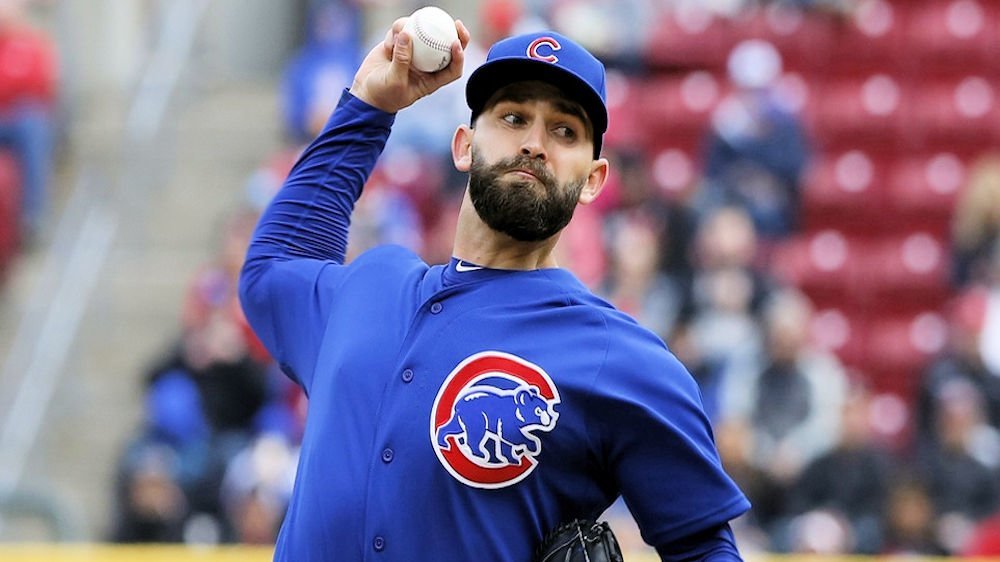 | | |
| --- | --- |
| CubsHQ 2019 Preview; Part 4: The Backup plan with Monty and Chatty | |
---
| | | |
| --- | --- | --- |
| Wednesday, February 20, 2019, 9:41 AM | | |
With injury being an almost inevitable part of any season, who will the Cubs look to for support if a starter goes down? Both of their current backups have a desire to be starters, and while one has years of experience, the other offers control and stability.
Listed as the number-six starter in the Cubs rotation is reliever-turned-starter, Mike Montgomery. Due to Yu Darvish's injury in May of 2018, Monty would receive the nod to join the starting rotation on May 28 against Pittsburgh. In his inaugural outing as a starter in 2018, Montgomery would go 5.2 innings, leading the Cubs to a 7-0 win.
In 19 starts last season, the majority of Montgomery's outings resulted in no-decisions for the young left-hander, as he posted a record of only 5-6. Carrying an ERA of 3.99, Monty was able to boast a 2.21 SO/W ratio throughout his 124 innings of work last season.
Although he's no Jon Lester or Pedro Strop, Montgomery will chew up innings, while offering consistent pitching. In 38 games last year (including 19 relief appearances), Montgomery was able to average 3.26 innings per game overall. From the starter's position, Montgomery gave Joe Maddon and his team an average of just over five innings per start last year, despite a rough patch that began in early August against Washington, which saw Montgomery chased out of the game after just one inning due to a shoulder injury.
While his time on the DL wouldn't last long, the effects of his injury would linger for the rest of the season. Montgomery would return the rotation on August 30th, and while the team went 4-2 in Monty's final half-dozen starts, Montgomery would be able to average just over four innings per outing, while giving up an average 2.66 runs per start. Before his injury, in 13 starts, Monty was averaging 5.2 innings per game, while allowing an average of just 2.1 runs per outing.
There's little doubt that Mike Montgomery wants to stay in the starting rotation, but with the expected return of a healthy Yu Darvish and the possibility that Tyler Chatwood gets it figured out, Monty will be stuck waiting in the wings. I have it on good authority that Montgomery wasn't opposed to being traded this winter, so long as that trade gave him the opportunity to join a starting rotation somewhere, but while the Cubs may have considered such a move, nothing materialized.
Last but not least, we've arrived at the Cubs' Achilles heel, Tyler Chatwood. I promised to be kinder to Chatwood this year, figuring that the slate was wiped clean after a disastrous 2018, but before we can look to the future, we must acknowledge the past.
They say you can't expect much from a number-five starter, but for $38M over three years (AAV of $12.67M), you'd certainly hope the guy could chew up innings, even if he couldn't pitch all that well; but this wasn't the case for Chatty.
Posting only a 4-6 (.400) record with an ERA of 5.30 in just 20 starts, Chatwood was chased from the rotation at the beginning of the All-Star break, when the Cubs traded for Cole Hamels. After being sent to the bullpen to start the second half of 2018, Chatwood would only appear in another five games, and only then if the game was a clear blowout.
Boasting the worst base-on-balls record in baseball, Chatwood would issue a total of 94 walks (only one intentional walk) in 103.2 innings, while striking out just 85. While most of the team had a SO/W ratio better than 2.0, Chatwood's was a dismal 0.89. Those who weren't receiving walks from the struggling right-hander were hitting, as Chatwood gave up 92 hits in addition to the astronomical walk rate. All told, of the 486 batters he faced, 187 would reach base, good enough for his opponents to have an OBP of .385.
Alas, 2019. Through the help of pitching coach, Tommy Hottovy, a problem was identified with Chatwood's mechanics during his windup and delivery. While Chatwood says that he's working hard to correct the issue, it's evident that his future as a starter for Chicago remains grim, despite Chatty's desire to do so. As of now, it would appear that Chatwood's only chance of rejoining the rotation would be based on injuries to his teammates, and even then, he may still be taking a backseat to Mike Montgomery.
Further complicating a possible return to the rotation for Chatwood, are the minor leaguers currently sitting on the Cubs' 40-man roster. Kendall Graveman has experience starting, as do Alec Mills, Kyle Ryan, Justin Steele, and Jen Ho Tseng. Despite a tough first inning in his only major league start, Duane Underwood, Jr., also showed promise as a starter, and lest we forget the up and coming Adbert Alzolay.
For now, it looks like Tyler Chatwood will be forced to continue in his undefined role out of the bullpen. There's little doubt that a positive spring training might earn Chatty some early appearances this season, but by all accounts, Chatwood was a beast in spring training last year, and look at how that played out.
Next up, it's a look at the position players followed by the bullpen, as we get closer to the start of the regular season.

Tags: Cubs Baseball
,
Mike Montgomery
,
Yu Darvish
,
,
Pedro Strop
,
Tyler Chatwood
,
Cole Hamels
,
Kendall Graveman
,
,
Kyle Ryan
,
Justin Steele
,
Adbert Alzolay
,
Joe Maddon
,
Tommy Hottovy