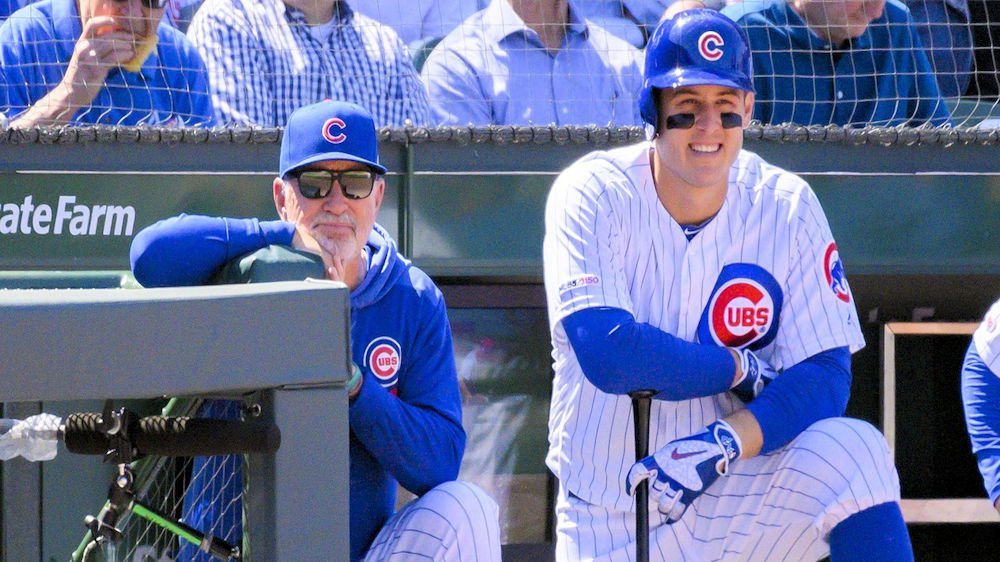 | | |
| --- | --- |
| CubsHQ Mailbag: Cubs' Pitchers batting eighth, Will Joe Maddon be extended? | |
---
| | | |
| --- | --- | --- |
| Monday, June 17, 2019, 3:00 PM | | |
If there's one thing I like, it's discussing baseball, and even more specifically, the Cubs. I'm always grateful (and more than a little flattered) when people value my insight enough to ask my opinion on things. I won't claim to be the expert, after all, my last name's "Allison," not "Rosenthal," and for a little guy, Kenny Rosenthal has some pretty big shoes to fill. Nevertheless, we decided to pool some of the questions and put them in a "mailbag" style format.
Cliff Frederick asks: "Joe Maddon likes to bat his pitcher 8th in the order. Is this strategy really effective, and if so, why don't the other NL managers widely employ it? I've only seen one other team do this."
Without digging into a million stats, there really isn't much evidence that I've seen to support batting the pitcher in the eighth spot. In addition to Joe Maddon doing this, I've seen a couple of other teams employ this strategy over the years (the Reds come immediately to mind), but I really can't see an advantage.
For the Reds, batting a guy like Michael Lorenzen or Anthony DeSclafani eighth, has some merit, as both of those guys can hit consistently, but in the grand scheme of things, most pitchers generally don't hit with any consistency, unless they get lucky. Maddon likes to think outside the box, but sometimes his craftiness and desire to be different, as you'll see below, could actually be hurting the Cubs.
Much is made about who bats leadoff, who cleans up, and so on, but anyway you look at it, the batting order is only going to matter the first time through, as unless a team sends nine men to the plate every inning, each inning will see a new "leadoff" man. No matter how you slice it, each man bats only once for every nine at-bats the team takes and shifting the pitcher around in the order isn't going to change that.
The theory behind batting the pitcher eighth is that you're adding power to the bottom of the order by hitting a position player ninth, which seems to make sense. However, all you're doing is shifting where a nearly automatic out would come into play.
So far as the Cubs are concerned, Cole Hamels and Jose Quintana do appear to bat better in the eighth spot, but Quintana's sample size is small. Every other pitcher who's been a regular in the rotation since last season (including Tyler Chatwood and Mike Montgomery) do better when batting ninth. (The following are career batting stats)
Willy Garcia and Thomas Pycz ask: "Is Joe Maddon really in danger of losing his job, not being extended?"
This is a great question, as there had been a lot of talk about it over the winter, but not much has been mentioned as of late.
The last anyone "officially" knew the Cubs had failed to offer Maddon an extension beyond this season, and that Maddon hadn't requested one. There seems to be a couple of "main" theories about what's going on, but everyone seems to have their own opinions.
The first is that the Cubs may be ready to move on from Joe Maddon for a few different reasons. Maddon's contract with the Cubs (five-years/$25M) ranks among the highest in baseball, and the trend seems to be shifting toward cheaper management. Last year Maddon made $6M, which was tied with Mike Scioscia (Angels) and Bruce Bochy (Giants) for the highest managerial salaries in MLB. Alex Cora, who won last year's World Series with the Red Sox earned just $800k, while Mike Shildt (who was the Cardinals interim manager) made only $700k.
Next, the Cubs ownership may be growing a little impatient with Joe, as they built this team to win, and except for 2016, they've fallen short. Not that Maddon hasn't done a great job- he has, but I don't think the Ricketts family wanted to settle for lost NL Championships, Game-163s, and wildcard losses. When asked, Maddon said earlier this spring, "Let's just win the World Series and see what happens." Powerful words, but thus far the Cubs haven't looked like a team who'll be able to stave off the Dodgers, should the Cubs make it to the playoffs. Despite a winning record with the Cubs, many, including myself, felt that nothing short of a World Series victory in 2019 would earn him an offer to stay.
There's been some question about whether Maddon's "lame duck" status has caused him to underperform (slack-off, muffing it), but I don't believe that to be true. Maddon's always been a bit eccentric, and he's simply finding ways to creatively play the hand that he's been dealt- albeit in strange ways at times. I don't for a minute believe that this is some sort of "screw the Cubs" mentality, as if Theo Epstein or Tom Ricketts thought so, Maddon would've already been fired.
The next school of thought centers around whether or not Maddon even wants to be extended by Chicago. Maddon is a more than accomplished and successful manager, as proven by his stints with the Angels, Rays and the Cubs, but the fact remains that he's going to be turning 66 in February, and, according to playerswiki.com, has a net worth of around $12M. Maddon's been in the majors since 1996, and that equates to an awful lot of nights away from home. I suppose it's possible that he may feel that he's completed what he wanted to accomplish in Chicago, and for whatever reason, wants a change of scenery. There's plenty of teams looking for managers like Maddon, but the likelihood of him getting a contract anywhere near as large as what the Cubs have paid him is slim.
As I watched the Cubs game Sunday night, I had a bit of an epiphany. Everyone's said how terrible it would be if Joe left the Cubs since he just opened his "Maddon's Post" restaurant in Wrigleyville. Maddon seems to love cooking, and the restaurant is doing well from what I've read. He constantly posts about the restaurant on social media, but very seldom does he ever post about the Cubs.
A week or so ago, during a Cubs/Cards game, Joe Buck guilted Maddon into sending food to the broadcast booth and out to their production truck- a really unprofessional thing to do, in my opinion- but Maddon happily obliged, reaping the benefit of free advertisement as Buck and Smoltz stuffed their faces with pizza on live TV.
Back to my epiphany- I'm beginning to wonder if being a restaurateur is the next chapter in Maddon's life. Maddon's by no means dumb, and opening the restaurant was a very planned and calculated move on his behalf. Setting up the restaurant near the ballpark only adds to its name value, as Maddon is an icon in the city. He's had an established residence in the area for several years, and this would be a good way for him to remain near the Cubs, without actually being a part of the team.
I don't always agree with his managerial decisions, but Maddon's a likable guy, who's bound to excel in whatever endeavor he chooses to pursue next.
Thanks for the questions. I look forward to being able to try and answer more of them in the future. If you have one you'd like me to answer, you can message me on Facebook (Ken Allison CubsHQ), Twitter (@KenAllison18) or by email (ken@cubshq.com).
I look forward to hearing from you.