| | |
| --- | --- |
| CubsHQ Mailbag: The Cubs' leadoff spot, Kris Bryant's future, pitching up and in | |
---
| | | |
| --- | --- | --- |
| Tuesday, August 6, 2019, 12:53 PM | | |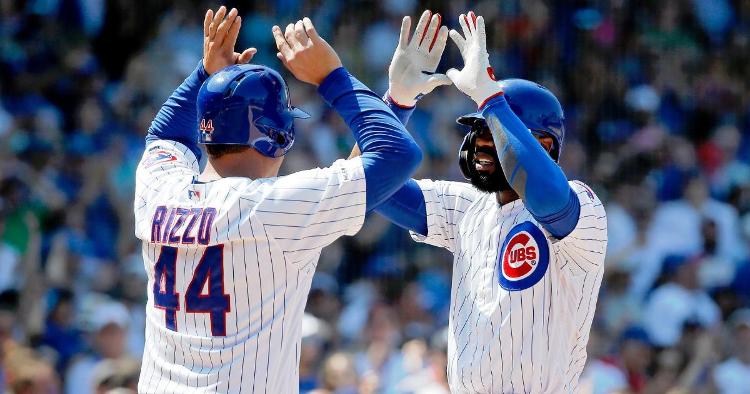 Marianne A. asks: Is Jason Heyward the right guy to be leading off?
When Joe Maddon elected to start using Kyle Schwarber as the leadoff man, I thought, "Well, OK. He has some power, and he's been taking walks this year; so why not?" Well, that's as far as it went with Schwarbs, as it was always one of the three true outcomes in baseball: walk, strikeout or homer, and that just wasn't doing it.
Maddon rode the Schwarber train for a total of 56 times this season, watching Kyle post slash line of .229/.304/.520 in 253 plate appearances as the leadoff man. While Schwarbs managed to net 17 homers, 26 walks and 36 RBI from that spot, he also fanned a total of 70 times, for a strikeout rate of 27.67%.
Of course, once Kyle came out of the leadoff spot, his production seemed to pick up a little:
Kyle Schwarber this weekend vs. Brewers:

BB
Groundout
1B
BB
BB
BB
1B
HR

— Tony Andracki (@TonyAndracki23) August 4, 2019
Enter Jason Heyward, a solid hitter who seems to go back and forth between being burning hot and freezing cold, but certainly, a guy who doesn't always need to swing for the fence. I'd have thought Heyward to be more of the leadoff type back in 2012 when he was with Atlanta, but even then, he was the Braves', number-two man. J-Hey has had quite a different kind of season in 2019- his best, by far, as a Cub.
Surprisingly, Heyward's slash-line as the leadoff man is quite pitiful (for 2019), as Maddon attempted to use him in the number-one spot earlier this year, but what he's done this time around has been insane. Overall, Jason has slashed just .157/.204/.431 making him statistically worse than Schwarber in the leadoff spot, but those stats encompass Heyward's 12 total games, batting in the first position.
Heyward .331 with .370 on-base percentage, a .598 slugging mark and a .969 OPS in last 34 games since June 22. Heyward's .331 average in that span 4th in NL. Heyward's 825 OPS 94 points higher than his .731 OPS in 2018

— Mark Gonzales (@MDGonzales) August 5, 2019
Over the last week, with Jason again batting first, he's amassed a slash line of .320/.370/.680- worthy of batting first. In his latest reign in the leadoff spot, J-Hey has also racked up four singles, a double, a triple and a pair of homers, tallying four RBI along the way. His strikeout percentage has been extremely low (18.5% in 27 plate appearances), and his walk-rate is only at 7.4% (because he is continually putting the ball into play).
As the Cubs front office continued to drone on about how badly they needed a certified leadoff man before the trade deadline, I continually preached that all they needed to do was look within the organization. Maybe it wasn't Schwarber, Javier Baez or Anthony Rizzo, but with all that talent, certainly they had a guy on the roster who could hit out of the one hole. I really think they've found that guy in Jason Heyward.
Ernest Feliciano asks: I have an interesting question for you: Being that Bryant turned down $200 million do you believe he should have been traded to get his value knowing you're not going to be able to resign him?
There are still mixed reports about whether that rumor was true (although I just saw a reference to it the other day in The Athletic). Whether or not that rumor was true, there some interesting issues (potential snags) that will arise over Kris Bryant when he hits free agency, the two biggest being that the Cubs toyed with his service time and that his agent is a guy named Scott Boras.
The Cubs were able to manipulate Bryant's service time in the majors, by optioning him to the minors when he was still a relatively new player. This manipulation caused KB to have to wait an additional year to become a free agent, which didn't sit well with either Bryant or his agent.
Now slated to earn free agency after the 2021 season, Bryant will undoubtedly be searching for a Bryce harper-esque deal, and Boras will be more than willing to play hardball with the Cubs front office when that time comes. Something to keep in mind is that Javier Baez becomes a free agent the same year, and the likelihood that they'll retain both is unlikely.
If the rumor about the $200M offer to KB was just a rumor, the Cubs have made no effort in attempting to offer Bryant an extension, which wouldn't be uncommon, being that he still has a couple of years left, but in the age of teams trying to lockdown players with extensions, it somehow seems odd.
I think Theo Epstein needs to start working on an extension (soon), if for no other reason than to test the waters with Bryant and Boras. Locking KB down now would have obvious benefits, and if the talks stall, the Cubs may want to focus instead on attempting to secure Javy with an extension- as the Cubs can ill-afford to lose both. The Cubs would be foolish to let Bryant walk away as a free agent when his trade value is still insanely high. While I wouldn't move him anytime soon, I'd definitely do so before the July 31 trade deadline in 2021, if talks about an extension haven't progressed.
Lisa Gengler asks: At the very least, the Cubs and the Reds have serious issues with Pirates pitching (up and in). What if anything can/will MLB do about it before someone gets hurt either with a pitch or a brawl resulting from a pitch?
A while back, Joe Maddon feigned an attempt to get to Pirates' manager, Clint Hurdle, as Maddon felt the Bucs were head-hunting with fastballs up-and-in. Then it happened again on July 30th in the Pirates/Reds game- and while Maddon failed to completely make his point, Amir Garret, Yasiel Puig and the remainder of the Reds went far beyond yelling and pushing.
The Reds' and Pirates' benches have cleared. pic.twitter.com/za8hYc0zuX

— FOX Sports Ohio (@FOXSportsOH) July 31, 2019
The problem with enforcement in these situations is that MLB is forced to be reactive, rather than proactive, in most cases. There will undoubtedly be fines and suspensions over the brawl in Cincinnati, but these things get handled on a case by case basis. Umpires can issue warnings- even before the start of the games but proving that a pitch was intentional is strictly a judgment call.
Discipline announced for Reds-Pirates brawl: pic.twitter.com/yEAPhx1gyF

— Mark Feinsand (@Feinsand) August 1, 2019
Sometimes accidents happen. On July 30, Yu Darvish went up-and-in on Jose Martinez, of the Cardinals, but this was clearly a pitch that got away, as opposed to an attempt to brush Martinez back. Look at Tyler Chatwood's 2018 season- his pitches were so wild, that there's almost no way to assign blame for beaning a guy, and virtually no way to hold him accountable for errant pitches. I suppose MLB could institute stricter policies and penalties for blatant infractions, but again, not every tight pitch is meant to do harm.
Fines do little good and punishing the team- perhaps through forfeiture of the game- will only result in appeals which are likely to be overturned. Penalties or not, there's no way to govern emotion, even when that emotion turns dangerous.
Thanks for the questions. If you have a question, or if you'd like to hear my opinion on something, you can email me at ken@cubshq.com, or reach me either on Twitter (@KenAllison18), or Facebook (Ken Allison CubsHQ).