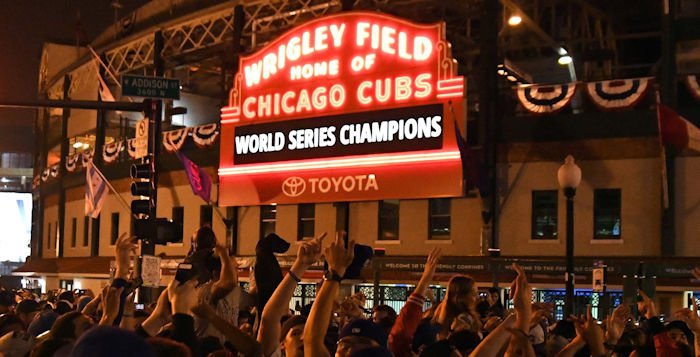 | | |
| --- | --- |
| Cubs News: Curses and Heartbreak Fade Away in Thrilling Night in Cleveland | |
---
| | | |
| --- | --- | --- |
| Thursday, November 3, 2016, 1:49 PM | | |
It might be! It could be! It is! A World Championship for the Chicago Cubs!
Harry Caray's legendary home run call echoed through my mind early Thursday morning when our beloved Cubs clinched the franchise's first World Series Championship since 1908. As a slow roller bounded toward third baseman Kris Bryant's glove, replays show Bryant breaking into a grin long before the ball settled into leather. As his throw sailed into the mitt of first baseman Anthony Rizzo, Bryant's smile turned into a full-fledged grin and the celebration began.
And I couldn't help but think: this is one is for all the Cubs who suffered through those painful decades of defeat. Somewhere, Caray is hoisting a cold Bud and warming up his vocal cords for the seventh inning stretch. Somewhere, Ron Santo is the young boy we all remember, scooping up yet another drag bunt and firing to first and raising his arms in celebration. Somewhere, Ernie Banks is bounding out of the dugout with his trademark smile, looking ahead to next season and shouting, "Let's win two!"
Making this win even more special is that Major League Baseball needed what the Cubs and Cleveland Indians delivered over the past ten days. Baseball needed an exciting, well-played series to draw in the masses, and both teams delivered. As NFL ratings continue to decline, baseball had a chance to take a step forward in the nation's consciousness, and what we saw were moments of clutch hitting, precision pitching, gutsy baserunning and the kinds of managerial decisions that define seasons and careers.
There is nothing better in sports than a dramatic game seven, and Wednesday night's performance now stands among the best. Sure, we have Sandy Koufax shutting down the Twins in 1965, and the duel between John Smoltz and Jack Morris in 1991. There was the five-inning save by Madison Baumgarner. But nothing, nothing, compared to Wednesday.
The Cubs took the early lead. Lost the lead. Retook the lead. Lost the lead. A gutsy pitching performance by a closer who was overworked. There was a rain delay. Another clutch hit by a youngster still rehabbing a torn ACL. A critical decision to take second by a pinch-runner, setting in motion a walk to Rizzo and giving Series MVP Ben Zobrist a chance to deliver yet another clutch hit.
Game Seven delivered it all.
As the Cubs celebrated in the locker room, showering each other with champagne, memories came flooding back of a childhood filled with games on WGN. Every afternoon I would dash in from school, thrown my books on the kitchen table and grab a snack before turning on the TV to see what Harry and Steve Stone had to say about the Cubs that day.
The Cubs were, at best, Lovable Losers most of the time. At their worst, they were a bumbling, fumbling collection of misfits that left even me closing my eyes at times. There were great players for sure – Ryne Sandberg and Andre Dawson and Lee Smith and Ron Cey, but somehow, some way, the Cubs always found a way to break your heart.
On one unbelievable, dramatic and thrilling night in Cleveland, the curse and the heartbreak all went away. For some reason, all of the pain Cubs fans have suffered through the years was worth it to see the franchise finally win it all.
Yes, Ernie, let's win two. It might be… it could be……