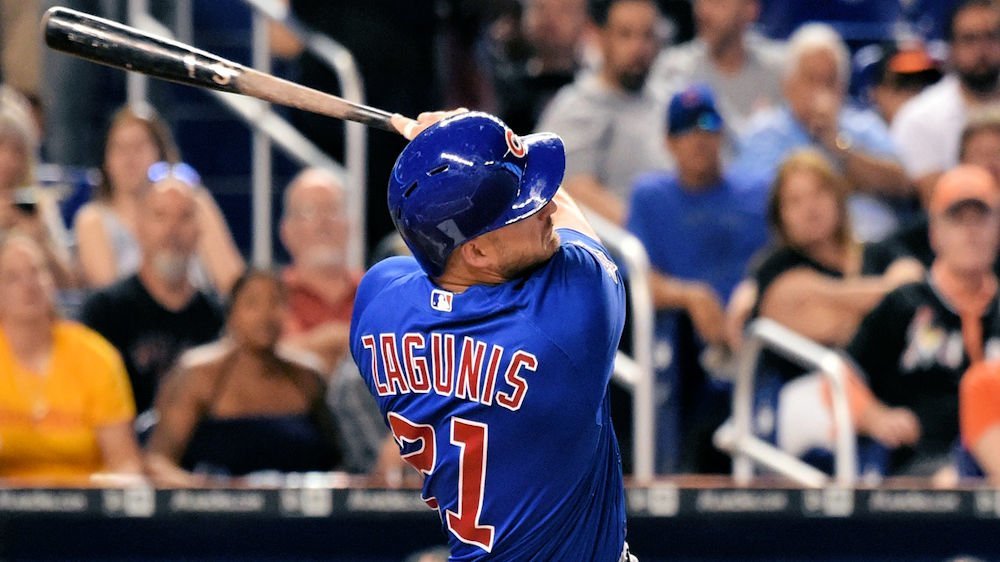 | | |
| --- | --- |
| Down on the Cubs Farm: Iowa wins with homers by Zagunis and Giambrone, Lange debuts, more | |
---
| | | |
| --- | --- | --- |
| Sunday, June 23, 2019, 12:01 PM | | |
It was another busy night on the farm with the Cubs coming away with a 2-3 record for the evening.
IOWA CUBS 6 – Round Rock Express 1: In a surprise move on Saturday, Craig Kimbrel got the start for Iowa pitching in back to back days for the first time in 2019. Kimbrel lasted just 2/3 of an inning giving up a 1ER on 1H with 1BB and 1K in what ended up being a bullpen day for Iowa. That didn't seem to bother the Cubs at all as they used a five-run first inning to bury the Express before winning 6-1.
It was Round Rock jumping in front early as they picked up their lone run of the game off Kimbrel in the first. That run came courtesy of Joshua Rojas as he took Kimbrel deep for his third homer of the season and 1-0 Express lead. That lead was short-lived, however, as the Cubs played long ball in the second to not only tie things up but to take the lead for good.
Kimbrel K ?? pic.twitter.com/MAAUXP8BaR

— Iowa Cubs (@IowaCubs) June 23, 2019
Dixon Machado continued to have a big series as he took a leadoff walk to set things up for the offense. Mark Zagunis wasted no time on the very next pitch, cracking his first homer of the season to give Iowa a 2-1 advantage a lead in which they refused to let go of. Ian Happ answered that with a single before a two-out walk to Robel Garcia, setting the stage for one of Iowa's hottest hitters in Trent Giambrone. Round Rock was then victim to just how hot Giambrone is as he launched his team-leading 15th homer of the season to push the Iowa lead to 5-1 after one inning. The 15 homers from Giambrone also happens to be the most in the Cubs system as his power surge this season has been a pleasant surprise.
With Craig Brooks now in relief of Kimbrel, the Round Rock bats had gone silent as he pitched 2 1/3 flawless inning with a pair of K's keeping things at 5-1. It was in the bottom of the third when Iowa picked up the final run in the contest when a leadoff Phillip Evans single and two out Jim Adduci double had a pair of runners in scoring position. Erick Castillo pushed the lead to 6-1 with an infield single, as the Cubs bullpen took care of the rest to pick up the 6-1 rain-shortened win.
Mark Zagunis clubbed his first home run of 2019, and he is your @EMCInsurance Player of the Game! pic.twitter.com/X0By76JboE

— Iowa Cubs (@IowaCubs) June 23, 2019
Iowa now stands at 42-33 and continues their stranglehold on the top spot in their division. With only five innings being completed, the Cubs didn't get too many at-bats, but it was Zagunis leading the way with a multi-hit effort. Happ was one of five others who picked up a hit in the victory.
On the pitching side of things, Iowa was strong throughout as the bullpen took care of things start to finish. Following the Kimbrel and Brooks combo to open the game, Danny Hultzen continued his comeback effort with a scoreless inning striking out two batters. Junichi Tazawa and Dillon Maples closed things out as mother nature washed things away early.
The rain drowns out the rest of this one, but Iowa gets the victory in the shortened contest. We're back in action tomorrow at 1:08! pic.twitter.com/q9CE819Myf

— IowaCubsGameDay (@IowaCubsGameDay) June 23, 2019
TENNESSEE SMOKIES 2 – Montgomery Biscuits 5: Looking for the series lead on Saturday, the Smokies turned to a surprise starter who was making his AA season debut. That starter was Alex Lange, who judging by his Myrtle Beach stats would be the last person in the world you would expect to see in AA. Failing to win a game and sporting an ERA over 7.00, Lange showed great poise and promise on Saturday, tossing six innings giving up two earned runs in his debut to receive the no-decision as the bullpen let one get away late 5-2.
Both teams got off to a slow start offensively, but it was the Smokies grabbing the lead first in the bottom of the third inning. It was all about the extra base hit in this inning as Charcer Burks led things off with a double. After advancing to third on a sacrifice bunt, Connor Myers made it a 1-0 game with a double himself putting himself in scoring position also. Roberto Caro and Jared Young added walks later that inning to load the bases, but Montgomery was able to pitch around that jam keeping things 1-0.
With Lange surprising dealing through four innings, the Biscuits finally broke through in the fifth as they managed to grab the lead. Brett Sullivan got things started with a leadoff walk putting the tying run on base. Four pitches later it was Robbie Tenerowicz sitting on a 3-0 heater and not missing it as he sent one deep for his third homer of the season and 2-1 Montgomery lead.
That lead was short-lived, however, as the Smokies were back at it in the bottom of the sixth. With two outs in the inning, P.J. Higgins extended the inning with a double as the Smokies looked for a nice rally. Jhonny Pereda continued that two pitches later with a liner to center as Higgins came around to score making it 2-2 after six. That was the last run of the game for Tennessee as the Biscuits got to their bullpen over the next three innings.
With Tommy Nance now in the game, the Biscuits wasted no time in retaking the lead as two singles and a hit by pitch gave them a 3-2 lead with Rene Pinto picking up the game-winning single in the seventh. Pinto was not done on the evening, as he would later add a two-run shot in the ninth to push the lead to 5-2 as Montgomery was in full control down the stretch.
The Smokies did have a golden opportunity to retake the lead in the seventh as they kept the pressure on yet again. With one out, Christian Donahue took a walk to put a runner on base before advancing to second on a Myers single. Myers then made the biggest out of the inning as he was thrown out on an attempted double steal ahead of Caro walk. That would have loaded the bases with one out, but instead, the Smokies had runners on the corners with two outs and couldn't get the job done eventually falling 5-2.
Now at 34-38, the Smokies continue to search for consistency as they are looking for a nice winning streak. Both Pereda and Myers had good nights at the dish, picking up a pair of hits each and driving home both runs in the contest. Caro, Higgins, Burks, and Donahue picked up the other four hits in the loss, while Vimael Machin was held hitless. Despite a rare rough outing allowing 2 ER in the ninth inning, Wyatt Short still spots an impressive ERA as it currently sits at 1.80 for the season.
Tough loss in what was a solid debut for Alex Langehttps://t.co/sOTQVoWz3d

— Tennessee Smokies (@smokiesbaseball) June 23, 2019
MYRTLE BEACH PELICANS 3 – Fayetteville Woodpeckers 5: Once again, the Pelicans appeared destined for a win as they went toe-toe with Fayetteville from start to finish. The only problem is, when you are a losing team, you find ways to lose, and that is precisely what happened to the Pelicans as they yielded a trio of ninth-inning runs to fall 5-3.
With Erick Leal on the hill, the Pelicans were looking for this win as the start of the second half has not gone as planned. Saturday wasn't much better as Jacob Myers led off the ball game with a triple for Fayetteville. A few pitches later saw Chandler Taylor manufacture a run with a sacrifice fly and just like that it was 1-0 Woodpeckers. Leal continued to struggle in the first inning as the next batter made it a 2-0 game when J.J. Matijevic went deep giving the Woodpeckers early control of this game.
That lead didn't last long for the Woodpeckers; however, as the Pelicans came back hungry in the bottom of the second. With a man on base, it was time for Luke Reynolds to display some power, as he went deep for the homer to even things up 2-2. Myrtle Beach would later take the lead in the bottom of the fourth when Jimmy Herron brought home Cam Balego with a single to make it 3-2 as Leal finished his outing after five innings allowing just those 2ER in the first and had a chance at a victory.
With newly promoted Jeffrey Passantino now in the game in the sixth for the Pelicans, not many people knew what to expect considering how no one on the Woodpeckers has seen him in person yet. It is safe to say that Passantino passed his first test of the season tossing a brilliant three innings in which he allowed 0ER on just 1H to go with 0BB and 5K, keeping the Pelicans in front through eight.
It was in the ninth when things began to come unraveled as Manuel Rondon entered the game in hopes of picking up the save. Early on, it was evident that Rondon was in trouble as three of the first four batters he faced collected singles as the bases were loaded in the ninth. Looking for a double play ball to get out of the jam, Michael Papierski had other plans as another single made it a 3-3 game with the bases still loaded.
Rondon was on the verge of limiting the damage picking up a huge second out via strikeout, but it was Miguelangel Sierra who came through in the clutch with a huge single to once again put the Woodpeckers on top 5-3 with Myrtle Beach down to their final outs. They were unable to do anything in the ninth inning as the Pelicans fall 5-3 and drop to 21-49 on the season.
With just four hits in the game, it comes as no surprise the Pelicans struggled to score runs as they have done so much of this season. Outside of the Reynolds and Herron RBI singles, the Pelicans received their final hit from Balego as the bottom third of the order provided the punch. Herron had two of the teams four hits in the loss while Miguel Amaya was 0-3 with 1K.
Rain is falling ???, but fly balls don't fall when @zdavis24 is in centerfield!! @SportsCenter #SCtop10 @ESPNAssignDesk pic.twitter.com/1dWd74N0Cq

— Myrtle Beach Pelicans (@Pelicanbaseball) June 23, 2019
South Bend Cubs 1 – Bowling Green Hot Rods 2: Pitching continues to be the story for South Bend as they got another great outing from Faustino Carrera on Saturday. In five innings, Carrera allowed just 2R 1ER with both coming early in the contest. However, with the Cubs offense struggling to find their footing all night long, Carrera was saddled with a tough-luck loss as the Cubs fell 2-1.
Both runs off Carrera came early in the game as the Hot Rods struck first in the second inning. A leadoff Grant Witherspoon single nearly went to waste with the next two hitters being retired, but it was Tony Pena coming through with a grounder up the middle to make it a 1-0 Hot Rods lead. Carrera then made a huge mistake as his attempted pickoff throw went by the wayside, allowing Pena to score from first for the 2-0 lead.
A one-out double from Cole Roederer set the Cubs up in a great position to cut into that deficit, but they were unable to cash in still trailing 2-0 after two. The rest of the game moved along extremely fast as neither team could do much offensively until the South Bend had a chance at a seventh-inning rally. With two down in the inning, Christopher Morel extended things with a walk ahead of a Roederer single and just like that two men were on. Once again South Bend was kept off the board as they were still looking for that clutch hit despite out hitting Bowling Green on the night.
That clutch hit came in the bottom of the eighth inning after Marcus Mastrobuoni picked up the one-out double. With two outs in the inning, Andy Weber finally came through with men on base picking up a single to make it 2-1 Hot Rods. South Bend appeared ready for more in the ninth as both Morel and Jonathan Sierra singled putting the winning run on base. However, it was not meant to be as Gustavo Polanco grounded out to end the game with the Cubs falling 2-1.
South Bend is now 1-2 to start the second half and 38-33 overall in 2019. The Cubs got a multi-hit from Roederer to lead the way as six other players collected one hit on the night. Brennan Davis picked up one of those hits as his average still sits above 320 at 321 while Tyler Durna cooled off going 0-4. Enrique De Los Rios was fresh up from Eugene and looked like he belonged in A ball all along, tossing 2 1/3 scoreless innings in his season debut. Sean Barry threw a scoreless 1 2/3 himself as his ERA falls to 1.08.
Cubs drop a close one tonight to the Hot Rods. We'll try to finish the series off with a tie tomorrow afternoon! pic.twitter.com/A0irBPgirT

— South Bend Cubs (@SBCubs) June 23, 2019
EUGENE EMERALDS 4 – Tri-City Dust Devils 7: The Emeralds winning streak came to an end Saturday as the Dust Devils were all over their pitching for a 7-4 win. Six of those runs came off the combo of Jeremiah Estrada who allowed 5ER in just 2 1/3 innings of work, and Jesus Tejada allowing 1ER in 1 2/3 innings as the Emeralds were put in a 6-0 hole early.
Five of those six early runs came in the second inning as the Emeralds did themselves no favors that half inning. With the bases loaded and just one out following a pair of walks and a single, it was a wild pitch from Estrada that made things a 2-0 game. A Carlos Luis single a few pitches later made it 3-0, but an error on the same play allowed a second run to score putting Tri-City up 4-0. Sean Guilbe capped off that inning with a two-run shot for his first of the season to make it 6-0 Dust Devils.
Eugene began to chip away at that lead in the bottom of the fourth inning as they used a nice inning of their own to make things a game once again. Fernando Kelli continues to lean on extra-base hits, picking up a leadoff triple to set the offense up. Edmond Americaan got the Emeralds on the board with an RBI single before stealing second base a few pitches later.
Standing on third with one out, Jake Slaughter struck out for what appeared to be out number two. However, Americaan was able to sprint home on the same play as a wild pitch made it 6-2 with Slaughter also reaching first. A walk to Danny Zardon put two runners on ahead of Jonathan Soto single to bring things to 6-3 as the fourth inning finally ended.
Tre Carter was able to get one of those runs back in the top of the fifth with a sacrifice fly as the Dust Devils increased their lead to 7-3. That score would hold up until the bottom of the ninth when Eugene tried for one last desperation shot at putting some runs on the board. Zardon reached base with a one-out walk, but with two outs now in the inning it didn't seem like much was going to come from this. That was until Luis Vazquez ripped a double to make it 7-4, but Vazquez also was the final hitter as he was thrown out trying to advance to third on the play ending the game with the Emeralds falling 7-4.
Eugene is now 5-4 on the season as they will look to start a new winning streak. Kelli continues to thrive in the leadoff spot, collecting two of the teams five hits in the loss. Americaan, Soto, and Vazquez added the other three hits as the Emeralds managed just five for the game. After the pitching struggled early, the one bright spot was Yunior Perez who tossed five innings of relief allowing just 1ER on 3H to go with 1BB and 5K.
FINAL | Four-game win streak is sadly snapped as errors cost the Ems in front of a near-capacity crowd at PK Park. Back at it tomorrow at 5:05pm!

Tickets: https://t.co/KkTe6jzKkS#MiLBPride #GoEms pic.twitter.com/q7aPgRtlb9

— Eugene Emeralds (@EugeneEmeralds) June 23, 2019

Tags: Cubs Baseball
,
Dixon Machado
,
Mark Zagunis
,
,
Robel Garcia
,
Trent Giambrone
,
Craig Brooks
,
Phillip Evans
,
Jim Adduci
,
Erick Castillo
,
Junichi Tazawa
,
Dillon Maples
,
Charcer Burks
,
Connor Myers
,
Roberto Caro
,
Jared Young
,
Jhonny Pereda
,
Christian Donahue
,
Vimael Machin
,
Wyatt Short
,
Luke Reynolds
,
Cam Balego
,
Jeffrey Passantino
,
Manuel Rondon
,
Miguel Amaya
,
Faustino Carrera
,
Cole Roederer
,
Christopher Morel
,
Andy Weber
,
Jonathan Sierra
,
Gustavo Polanco
,
Tyler Durna
,
Sean Barry
,
Fernando Kelli
,
Luis Vazquez