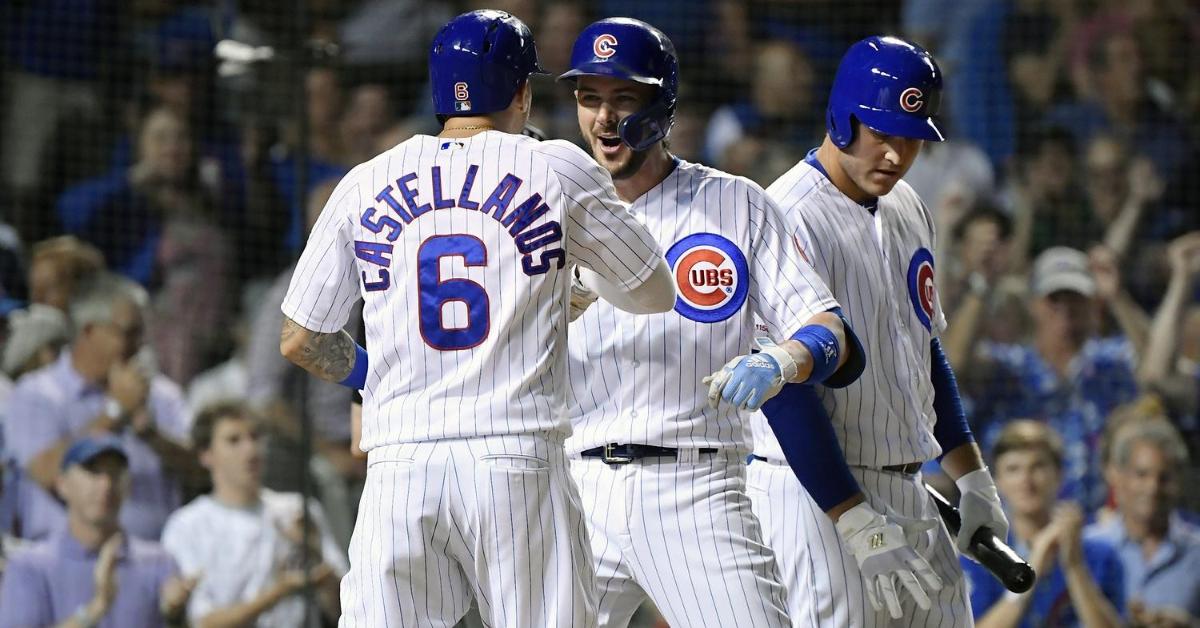 | | |
| --- | --- |
| Five questions the Cubs must answer for 2020 | |
---
| | | |
| --- | --- | --- |
| Sunday, November 3, 2019, 4:05 PM | | |
Change has officially begun on the Cubs roster for 2020, as David Ross is now the new skipper for Chicago. That is just the beginning of what is expected to be a busy offseason for Chicago as the front office has hinted several times that there will be some change going through the roster this season.
With Ross now in charge of things from a managerial standpoint, this team will have plenty of similar faces but will look vastly different in terms of how they perform everyday tasks and performances. With tons of questions still left unanswered, including who Ross's coaches will be, what players will be back, and what players won't and what exactly will expectations be in 2020. With some of those questions being sorted out in the next few weeks, there are still five more questions that the Cubs need to answer going forward.
1. How will Ross handle managing former teammates?
This seems to be the biggest question about the Ross hire as many of the current Cubs roster played with him in 2015-16. Not to mention his friend Jon Lester going back to Boston, and Ross has tons of connections with this team both as players and as friends.
This will be the biggest storyline surrounding the Cubs through spring training as it is no secret that Ross is still friends with some of the players on this team. The biggest challenge and or question mark he may face is how he can separate friendship from managing? The good news for him is that only ten players from that World Series-winning team are currently on this roster, meaning a large chunk of guys never played with him.
That number could drop even more if individual players are not retained or traded away, so managing this year's Cubs team may not be as difficult as one may think. Ross has had a veteran edge to him both as a player and displayed that the day the Cubs hired him as manager. He made it clear that he always has and will continue to put people in their place and hold them accountable when something needs to be said even if they happen to be his friends.
2. Will the Cubs shake up their roster through trades?
Another huge question surrounding the Cubs will be the status of their young core. Once viewed to be the group that would give the Cubs multiple titles is now on the verge of being broken apart as they have not developed the way anyone had hoped. This has the front office taking an aggressive approach by saying no one is untouchable on this roster.
Over the past five seasons, the Cubs have won over 470 games, and the offense has been built around guys like Javy Baez, Anthony Rizzo, Kyle Schwarber, Kris Bryant, and Willson Contreras. Each of them are at different stages of salary (arbitration) and all figure to be part of the 2020 season plans and beyond at this point.
However, it seems very likely that one, if not multiple players from this group may be dealt away this season as the Cubs do not anticipate being able to resign everyone. By trading away some of their core, they would be able to at least get something back for that player which could help them add other impact players to areas they need to fix.
By doing that, the Cubs would also extend their championship-contending window as it would make their team better long-term vs. short term. It would be hard to imagine anyone on the Major League roster being off-limits in trade talks under the current circumstances. Still, it would also be hard to imagine the Cubs parting ways with Rizzo or Baez as they have become the heart and soul of this team.
3. Who will the team be targeting to help upgrade the pitching?
By now, it is no secret that the Cubs need help on the pitching front should they want to be a world series contending team. Not only do they have one of the oldest starting staffs with only Kyle Hendricks under the age of 30, but they also rank near the bottom in overall velocity making for a big problem if they cannot hit their spots.
With Gerritt Cole and potentially Stephen Strasburg leading a class of hard throwers this offseason, the Cubs would make sense as a suitor looking to add not only youth to an aging rotation, but a front-line starter who can bring high velocity as well. The Cubs did receive some good news earlier this week as Yu Darvish will not opt-out of his deal and would presumably become the Cubs ace next season. Despite that, adding at least one more starting pitcher is on the top of the Cubs list in the coming months.
Last season the Cubs spent big on closer Craig Kimbrel. Although his 2019 was a waste of a season, the Cubs are hoping with a regular offseason and spring training that he can once again get back to his regular self. With Steve Cishek, Brandon Kintzler, and Pedro Strop, all impending free agents, not only will the Cubs be in line for a starter, but a setup man or even a couple of nice young arms to anchor the bullpen.
4. Which internal free agent is the most important to bring back?
This may be the most straightforward off-season question to answer as Nicholas Castellanos takes home the prize here. Not only was he a fan favorite the moment he put on a Cubs jersey, but he gave the Cubs a huge spark and energized them with his incredible two-month display of offensive production.
At just 28 years old and a Scott Boras client, Castellanos will be a unique free agent this season, and it will be hard to set his market in terms of annual dollars. After all, you could look at his production with the Tigers and see an outfielder worth 12-15 million. Otherwise, you look at what he did with the Cubs, and he is set to make 20 plus million annually, which is something Boras is sure to bank on this offseason.
The one thing the Cubs may have over anyone else in terms of bringing Castellanos back is that not only does he fit what the team needs, but he has expressed mutual interest too once again return to Chicago. Before making his decision, Castellanos will undoubtedly be watching how the Cubs approach the offseason in terms of what they do to improve the team and where they invest their money. After tasting what a postseason chase feels like last season, you can bet he wants to keep that taste in his mouth with whomever he signs with next season.
5. What positions are the most in need of an upgrade?
If you had posted this question last season, the answer would have been second base, and that would not have been close. As it stands today, second base is still one of the positions in need of an upgrade, but now center field has also entered the conversation given the down season Albert Almora had last year.
It is not a coincidence that Nico Hoerner got looks at both second base and center field in the minors before filling in at shortstop the team's final 20 games. They know what positions they need to fix and will do whatever they need to do to fill those holes. Given the immediate impact Hoerner had in his limited time this season, he is almost a lock to make the Cubs opening day roster and should at least fix the second base problem for the Cubs.
That still leaves center field as an issue, but resigning Castellanos could help solidify center field a little bit by moving Jason Heyward to center where he plays well enough to hold down that position. Should the Cubs miss on Castellanos, then they must reexamine platooning Almora and Ian Happ as they did in 2017. Happ will be in the mix no matter what because he can also play second base.
The Cubs have plenty of options at second base as Hoerner, Robel Garcia, David Bote, Tony Kemp, and Daniel Descalso all could be on the roster fighting for that spot. Happ also presents an intriguing trade piece given that he is a switch hitter who can play five or six positions and that he hits for power both ways.
Should the Cubs throw his name out there to try and improve the team, would Mookie Betts be the answer in center field? There is no question he would fill that hole and at 27 years old, would make a ton of sense for the Cubs. The only problem is, not only will he be entering arbitration, but at what price would he come at? The only way I see the Cubs dealing for him is if the Red Sox can sign him to an extension beforehand. That way, the Cubs don't risk losing him in free agency.
All in all, the Cubs will have plenty of questions they need to answer before baseball resumes in 2020. These are just five of the more important ones that the organization will face as they reconstruct this team, the way they want to build for the future.

Tags: Cubs Baseball
,
David Ross
,
,
Anthony Rizzo
,
Kyle Schwarber
,
,
Willson Contreras
,
Kyle Hendricks
,
Yu Darvish
,
Steve Cishek
,
Brandon Kintzler
,
Pedro Strop
,
Jason Heyward
,
,
Robel Garcia
,
David Bote
,
Daniel Descalso