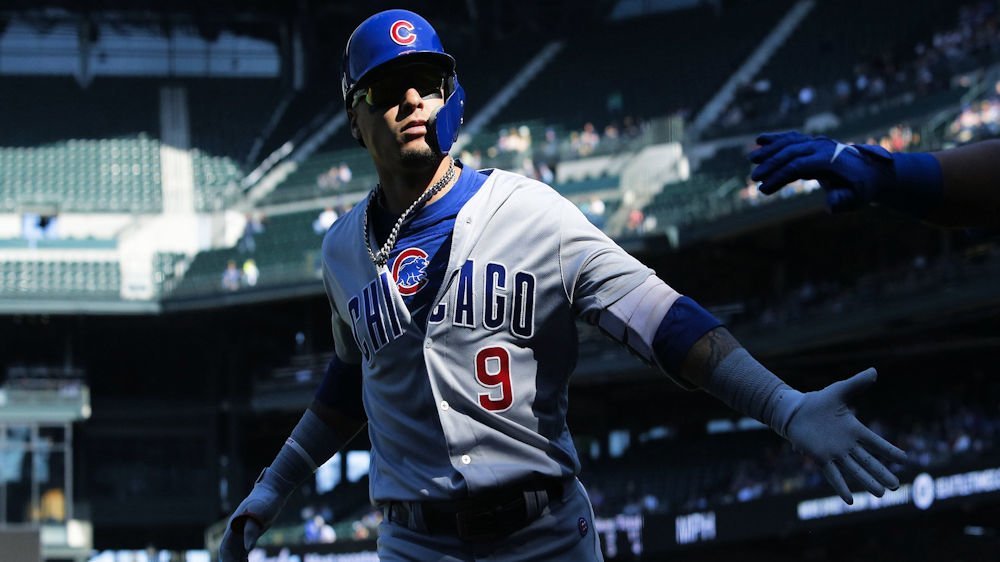 | | |
| --- | --- |
| Fly the 11-0 W, Cubs notes, Clutch Cubs with two outs, standings, more | |
---
| | | |
| --- | --- | --- |
| Thursday, May 2, 2019, 8:26 AM | | |
Next Game: Off-day tomorrow. Friday: 1:20 PM CDT: Cards vs Cubs. RHP Jack Flaherty (3-1, 4.06 ERA) vs RHP Kyle Hendricks (1-4, 5.33 ERA).
Feel free to visit CubsHQ.com during the game as we will have a live game thread covering the ballgame with one of our writers. If you haven't joined our 100% free site, REGISTER HERE. It takes only 30 seconds to get a full membership.
CUBS NEWS AND NOTES:
Wednesday's Game Recap: After an incredible win Tuesday night, the Cubs (15-12) looked to sweep the Mariners (18-14) last night in their 2-game at T-Mobile Park. Big-Jon Lester (2-1, 2.37 ERA) took the mound for the Cubs, while the Mariners sent lefty, Marco Gonzalez (5-0, 2.80 ERA) to the hill.
The romp started in the second inning, and it was all Cubs from there. Javier Baez led off the second with a towering home run, but that was just the start of a 6-run rally in the second. Before the night was over with, the Cubs tallied 11 runs, with homers from Baez, Anthony Rizzo, and Willson Contreras, pus a total of 4 sac-flies (Kyle Schwarber, Ben Zobrist, Contreras, Rizzo).
Lester's performance was amazing (though overshadowed by the offense), as he went 7.0 innings, giving up no runs, only giving up a single hit (literally), and issuing just one walk, while striking out eight. Lester managed to drop his ERA from 2.37 to just 1.73 with this outing that saw him throw 97 pitches, 66 of which were strikes. Final score: Cubs-1; Seattle-0.

Cubs/Mariners notes Going into last night, the Cubs had gone 7-2 for their last nine road games, after starting the season with a 1-6 record on the road. Jon Lester entered last night's game with a 5-0 record against AL West teams since joining the Cubs, posting a 1.36 ERA (5 hits/33 AB). This includes Big-Jon's Opening Day win against the Rangers this season, in which he went 6.0 innings and allowed two runs.
Long stretch ahead: Beginning today, the Cubs will play 26 of the next 27 days, including 16 straight from May 14-May 29.
Cardinals/Cubs Probable Pitchers: Friday: vs RHP Jack Flaherty (3-1, 4.06 ERA) vs RHP Kyle Hendricks (1-4, 5.33 ERA). Saturday: RHP Michael Wacha (2-0, 4.64 ERA) vs RHP Yu Darvish (2-3, 5.02 ERA). Sunday: Adam Wainwright (2-2, 3.96 ERA) vs LHP Jose Quintana (3-1, 3.48 ERA).
Time to shake it up: After an off-day today, the Cubs will host the Cards, Marlins, and Brewers on the next homestand. With all three teams battling for top honors in the standings, things in the NLC should get a big shakeup this week. Watch for my in-depth series preview, which will post some time before tomorrow's game.
Addison Russell: Theo Epstein has referred to the decision to keep Russell in AA as a "baseball decision," and says that it has nothing to do with his domestic violence issues Epstein sites that he wants Russell to get the equivalent of a "regular spring training" while he's there, before returning to the Cubs.
Personally, as this situation unfolds, I think Russell may end up being traded by the July deadline. The Cubs have vowed to stick by the beleaguered shortstop, and they have- as Russell could have been released when the situation began last year. They've seen his suspension and rehab through, and continue to stand by him, providing him a place (Iowa) to try to regain his defensive form, while improving on his hitting.
Rizzo on Russell's return: Despite how I see the situation with Russell unfolding, Cubs' first-baseman, Anthony Rizzo, sees Russell returning. When asked about how they'll find room for Addy, Rizzo says, "I will play center-field as long as we are winning."
Home Run Mania: According to Jeff Passan (ESPN), MLB is currently on pace for 6,361 homers, and that doesn't account for the expected surge in that usually occurs in the summer. The record is 6,105, set in 2017. Before this year, only two teams ever had 50+ dingers before May, this season, there were four of them.
Two outs? No biggie: This season, Chicago has scored 71 runs with two outs in an inning, third-most in the majors behind the Dodgers (75) and Mariners (74). The Cubs' hitters have a team OPS of .874 with two outs in an inning, tops in the majors … the Dodgers are second (.858).
Milestones coming: (1) Rizzo needs 1 homer to tie Frank Sauer for 9th all-time (199 HR) in franchise history. (2) Rizzo needs two homers to reach 200 for his career. (3) Kyle Hendricks is just eight strikeouts short of reaching 700 in his career.
Cubs pitching: Since the start of this season, the Cubs pitchers now rank 2nd in MLB in terms of ERA with a collective 3.55. The Dodgers lead the way (3.50), with the Indians at #3 with a 3.64 team ERA.
Yesterday's Cub Birthdays: Happy birthday to ex-Cubs Rudy Meoli (68) and posthumously, Paul Carter (125).
NL CENTRAL SCHEDULE (April 28 – May 4, 2019)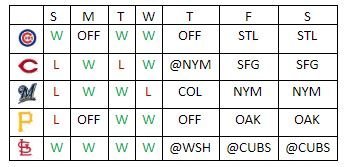 YESTERDAY'S NL CENTRAL SCOREBOARD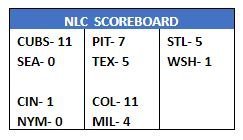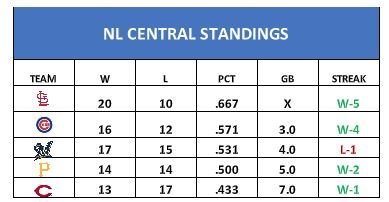 Tags: Cubs Baseball
,
Kyle Hendricks
,
,
,
Anthony Rizzo
,
Willson Contreras
,
Kyle Schwarber
,
Ben Zobrist
,
Yu Darvish
,
Jose Quintana
,
Addison Russell
,
Theo Epstein