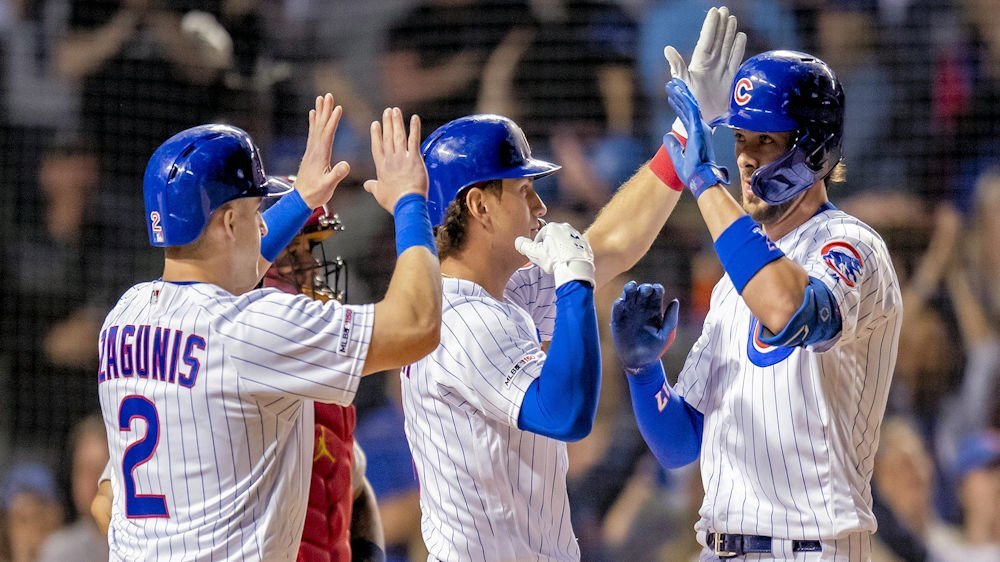 | | |
| --- | --- |
| Fly the Sweeping W, Cubs in first place, KB's slam, Javy being Javy, more | |
---
| | | |
| --- | --- | --- |
| Monday, May 6, 2019, 8:52 AM | | |
Next Game: Tonight: 7:05 PM CDT: Cubs vs Marlins. RHP Sandy Alcantara (1-3, 4.86 ERA) vs LHP Cole Hamels (3-0, 3.19 ERA).
CUBS NEWS AND NOTES:
Sunday's Game Recap: The Cubs bypassed two tremendous obstacles already this weekend with the Cards (Kyle Hendricks's previous starts and Yu Darvish's continuing control issues), allowing them to try yesterday for the sweep, their seventh win in a row and sole possession of first place in the NLC. The Cubs sent lefty, Jose Quintana (3-1, 3.48 ERA), to do their bidding, while the Cards countered with righty, Adam Wainwright (3-2, 3.73 ERA).
Word of the day: SWEEP. Jose Quintana got knocked around a little bit in his six innings, but that's no surprise, as this bunch of Cards has had good luck against Q. Nothing more than singles though (8 total), and the Cubs' offense took care of the rest. The night saw homers by Willson Contreras and a much-needed grand-slam in the eighth from Kris Bryant. The great defense last night by Zo, tallying an outfield assist in throwing a greedy Matt Carpenter out at third, then laying out for a fantastic catch in left. There was also a bit of sloppy defense, as the Cubs racked up four errors on the night, but it didn't cost the Cubs much.
Tyler Chatwood got tagged for a pair of homers and three runs in the ninth, but this is what happens when Joe Maddon forgets the guy exists for a week. No biggie though (other than to Chatwood's ERA and WHIP), as the Cubs clobbered the Birds 13-5, assumed sole control of first place and completed the sweep. Bring on the Fish.

Marlins/Cubs Probables: Tuesday- 7:05 PM: LHP Caleb Smith (3-0, 2.00 ERA) vs LHP Jon Lester (2-1, 1.73 ERA). Wednesday- 7:05 PM: RHP Jose Urena (1-5, 5.45 ERA) vs RHP Kyle Hendricks (2-4, 3.93 ERA). Thursday- 1:20 PM: RHP Trevor Richards (0-4, 4.10 ERA) vs RHP Yu Darvish (2-3, 5.79).
Bryzzo! Although Rizz struggled a bit (1 for 5), the Bryzzo duo combined to go 3 for 9 (.333) last night, also producing a walk, two extra-base hits, a grand slam and 6 RBI.
#KBoom!

4th career grand slam for @KrisBryant_23! #EverybodyIn pic.twitter.com/vAwmL6CWlE

— Chicago Cubs (@Cubs) May 6, 2019
What's the difference? After last night's game, the Cubs are boasting a +51 run differential, which is tops MLB. Going into the game, the Cubs owned the best-run differential in the NL (+43) but trailed Tampa (+46) for the best in the majors.
For the record: Prior to Sunday night's game, Chicago was 18-12 through 30 games; the team's best start since 2016 when they went 24-6, and the fourth-best record in the N.L. behind the Dodgers (22-13/.629) the D-backs (20-13/.606) and the Cardinals (20-13/.606); the Cubs have won series against all three of those teams this season.
Javy being Javy: Javy, who yesterday smacked a game-winning solo homer in the eighth inning, ranks third in the N.L. with 11 homers. Baez also ranks second with 21 extra-base hits, tied for second with 27 runs scored, third with a .659 slugging percentage and tied for fifth with 41 hits. The last Cub with at least 11 homers in the team's first 30 games was Alfonso Soriano, who hit 11 homers in the first 30 games of 2011. Báez has posted a 1.012 OPS this season, tops among all major league middle infielders, with Minnesota's Jorge Polanco in second at .976 and St. Louis' Paul DeJong in third at .950.
Booming bats: Going into last night's game, The Cubs lead the N.L. and are second in the majors, averaging 5.67 runs per game thus far; Texas leads MLB with 5.77 runs per game. Chicago's hitters have posted a .349 on-base percentage, second in the majors behind Atlanta (.351), and the Cubs .804 team OPS is third in the majors behind Houston (.822) and Minnesota (.815).
Willy & J-Hey: Willson Contreras' .421 OBP ranks fifth in the NL, and Jason Heyward is right behind with a .414 OBP, which ranks sixth. The top four are Cody Bellinger (.489), Christian Yelich .456, Jeff McNeil (.426) and Freddie Freeman (.424).
Karma blesses Baez: After Javy's would-be double was ruled a foul ball on Saturday, the Cubs challenged and lost. Instant karma… two pitches later Javy smacked what would become the tie-breaking, game-winning homer. Joe Maddon commented: "Thank God that we did not get what we wanted right there. If that had been called fair, it would've been much more difficult to score him probably, but we get another shot, and the ball goes in the bleachers. It was loud. It was gone the moment he hit it. He doesn't surprise anymore."
Happ improving: Ian Happ was sent to AAA for one reason: to improve. Looks as though he's doing so. Happ has now tallied a .283 BA, 14 BB, only 6 K over his last 14 games, and has only one strikeout in his last eight games, spanning 35 plate appearances. There is a caveat though: it's an entirely different world in AAA.
Yesterday's Cub Birthdays: Happy birthday to ex-Cubs Dave Gumpert (61), and posthumously, Jim Kirby (96), Lennie Merullo (102), and Tom Vickery (152).
NL CENTRAL SCHEDULE (May 5 – May 4, 2019)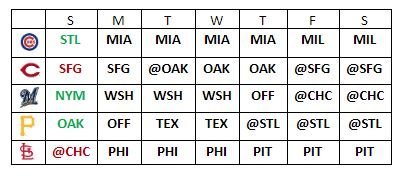 YESTERDAY'S NL CENTRAL SCOREBOARD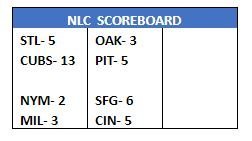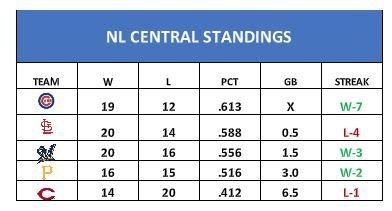 Tags: Cubs Baseball
,
Cole Hamels
,
Kyle Hendricks
,
Yu Darvish
,
Jose Quintana
,
Willson Contreras
,
,
Tyler Chatwood
,
Caleb Smith
,
,
Jason Heyward
,
,
Joe Maddon