| | |
| --- | --- |
| Chicago Cubs: Fly the W, Baez homers, Bryzzo slumping, Bote injury, standings, and more | |
---
| | | |
| --- | --- | --- |
| Thursday, April 18, 2019, 8:35 AM | | |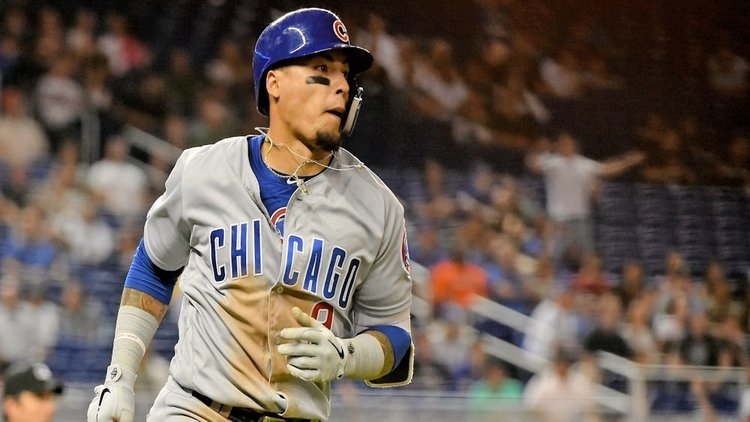 Next Game: OFF-DAY TODAY, then on Friday: 1:20 PM, D-Backs vs Cubs. RHP Merrill Kelly (1-1, 3.79 ERA) vs RHP Kyle Hendricks (0-3, 5.40 ERA).
CUBS NEWS AND NOTES:
Wednesday's Game Recap: Like Meatloaf sang, "Two out three ain't bad," but when the Cubs faced Miami again last night, they were desperately seeking a third win and the series sweep, in hopes of climbing out of fourth place in the division. For the Cubs, it was veteran lefty, Cole Hamels, while the Fish sent RHP Sandy Alcantara to the hill.
The offense worked, the defense worked (save for Kris Bryant's error which may have caused Hamels a shot at a complete game), the bullpen worked, and "Hollywood" Cole Hamels is an absolute beast: 7.0 innings, three hits, 0 runs, 0 walks, eight strikeouts. Hamels has now gone three starts (21.0 innings) without issuing a walk, and his record stands at 3-0.
As for the offense, Bryant and Anthony Rizzo continue to struggle, although Bryant managed a hit, Kyle Schwarber chalked-up a hit, Javier Baez hit another home run, and Daniel Descalso continues to be the clutch hitter that the Cubs thought he'd be.
Final score: Cubs-6, Marlins-0. SWEEP.

Movin' on up: With the completion of the sweep last night in Miami, the Cubs improved to 8-9 (.471) on the season. Aiding in the Cubs ascent from the bottom of the standings, Milwaukee blew their chance at sweeping the Cards on Wednesday afternoon, allowing Chicago to narrow the gap by a full game. The Cubs are now 3.0 games out of first, still stuck in fourth place behind Milwaukee, Pittsburgh and St. Louis, respectively. The gap between the Cubs and Cards is 1.5 games, and they're currently 2.5 games behind the Bucs.
Javier Baez: After hitting his 100th double on Monday, Javy Baez became only the 75th Cubs player in franchise history to do so. Before last night, Baez had doubled four times in his previous three games. Baez set another landmark last night with his 500th career hit, and let's not forget he belted another dinger. Is it safe to call him the best all-around player on that team, or are we still supposed to pretend it's someone else?
Hot take: @javy23baez's 501st career hit was better than his 500th. #EverybodyIn pic.twitter.com/QnDiMp6KQm

— Chicago Cubs (@Cubs) April 18, 2019
Daniel Descalso: When asked if the Cubs' struggles were a thing of the past, Descalso replied, "It's definitely in the past. It happened a couple weeks ago." Descalso has become the go-to guy when the team needs a hit, so much so, that Joe Maddon referred to him tonight as "a pro's pro." Descalso is now hitting .571 this season with two out and runners in scoring position.
Would you believe us if we told you @DanielDescalso got another two-out RBI? #EverybodyIn pic.twitter.com/JBLaTQedPS

— Chicago Cubs (@Cubs) April 17, 2019
Starting Rotation is steady: By the end of last night, the Cubs' starting rotation had posted an ERA of 1.72 in their last eight games (the eighth game being the day Jon Lester was injured). In those eight games, the starters went a total 47 innings, giving up just nine runs. In the series Cubs/Marlins, the Cubs' starters combined for a total of 19.2 innings, allowing just 2 earned runs in three games, while posting an ERA of just 0.92. Excluding Lester's two innings on April 8, the starters have averaged just under 6.2 innings per start over their last seven games.
No walks. No runs.@ColeHamels has a recipe for success. #EverybodyIn pic.twitter.com/xxcG24rqR8

— Chicago Cubs (@Cubs) April 18, 2019
Run differential: The Cubs currently have a +18 run differential, which is good enough for second in the NL. The Dodgers lead the National League with +29, while the Phillies hold the third spot at +17.
NL Central run differential update... pic.twitter.com/F3rF5Uw75i

— Jordan Bastian (@MLBastian) April 18, 2019
Kris Bryant: Yesterday marked Bryant's fourth anniversary since making his major league debut (2015). Bryant made Rookie of the Year in 2015, NL MVP in 2016, and helped the Cubs to win the World Series. As of now, Bryant is slumping, going only 13 for 60 (.217) at the plate, and even when he makes good contact, he can't seem to buy a hit.
Anthony Rizzo: Rizzo went 0 for 4 again last night, dropping his batting average to an abhorrent .159. Throughout the last ten games, Rizz has gone just 3 for 38 (.079) with ten strikeouts. You can see the frustration on his face, as no matter what he does to break the slump, it continues to plague him.
Jose Quintana: After a brilliant appearance on Tuesday night, Q extended his scoreless streak to 14 innings- the third longest for any starter in MLB so far this season.
Brandon Kintzler: Salt admits that he was a little worried when the ball left the bat with two outs in the bottom of the eighth but said he then remembered how the big Marlins Park plays. "Only Stanton hits it out there with the roof open," Kintzler said.
David Bote: Both Bote and the crowd cringed when Bote appeared to strain his chest muscles after a swing in Miami on Tuesday night, but the reports from the clubhouse say that he was only cramped up- no muscle strain- thank God.
Maddon on Darvish: "I do believe his stuff keeps trending in the right direction. He keeps getting better."
D-Backs/Cubs Probable Pitchers: Saturday: Zack Greinke (2-1, 5.79 ERA) vs RHP Yu Darvish (1-2, 6.11 ERA). Sunday: Robbie Ray (0-1, 3.52 ERA) vs LHP Jose Quintana (1-1, 5.14 ERA).
Jen Ho Tseng: After being designated for assignment by the Cubs on April 6, then released on April 11, Jen Ho Tseng has signed a minor league deal with the Rangers. Tseng will go to extended spring training in Arizona to begin a throwing program.
Yesterday's Cub Birthdays: Happy birthday to ex-Cubs (all posthumously) Roberto Peña (82), Bob Osborn (116), Morrie Schick (127), Scott Perry (128), Tom Needham (140), Morris "Mike" Jacobs (143), and Adrian "Cap" Anson (167).
NL CENTRAL SCHEDULE (April 14 – April 20, 2019)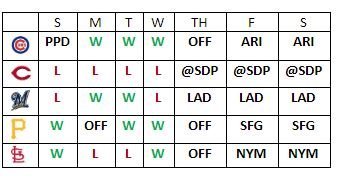 YESTERDAY'S NL CENTRAL SCOREBOARD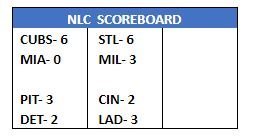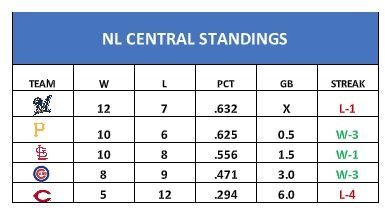 For all of you statistics nuts, I will be calculating the numbers tomorrow for my third stats, ratings and rankings column, which will post on Friday before the game.

Tags: Cubs Baseball
,
Kyle Hendricks
,
Cole Hamels
,
,
Anthony Rizzo
,
Kyle Schwarber
,
,
Daniel Descalso
,
,
Jose Quintana
,
Brandon Kintzler
,
David Bote
,
Yu Darvish
,
Joe Maddon