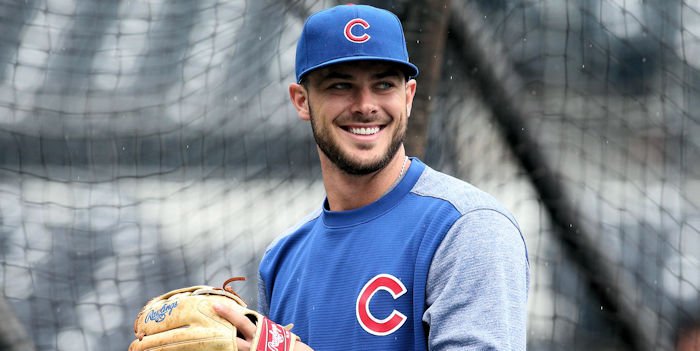 | | |
| --- | --- |
| Fly the W, Darvish injury, Bryant wants to stay a Cub, Trout's $430 mil, and MLB Notes | |
---
| | | |
| --- | --- | --- |
| Wednesday, March 20, 2019, 2:07 PM | | |
Upcoming Cubs games (Central time): Today: 9:05 PM: Dodgers @ Cubs (Pitchers TBD). This game will be televised on NBC Sports Chicago, MLB.TV and SportsNet LA. March 21: 3:05 PM: Giants @ Cubs (Pitchers TBD).
Cubs' Opening Day: 8 days. March 28 @ Rangers; (Lester vs TBD). Game time: 3:05 PM Central. (WGN, MLB.TV).
Cubs' Home Opener: 19 Days. April 8 vs. Pirates: Game time: 1:20 PM Central. (ABC-7, MLB.TV)
Tuesday's Game Recaps:
Game 1- Mariners @ Cubs: A minor league team for the Mariners took on the Cubs at Sloan Park yesterday afternoon, in a game that got a little ugly for a brief time. After Willson Contreras and Kris Bryant plunked, followed by Contreras being buzzed during his next at-bat, Carl Edwards, Jr. decided to his Austin Nola in the back, causing Edwards' ejection. Yu Darvish looked through 4.2 innings but had to be removed due to a blister on his finger. When the smoke cleared, the Cubs emerged victors by a final of 6-4.

Game 2- Cubs @ Royals: Cubs @ Royals: This one just wasn't meant to be. Thomas Hatch, making his major league debut, got rocked for eight runs (7 ER), in just the two innings that he pitched. Other pitchers would struggle for the Cubs as well, with the Royals seeing a baserunner in each of the eight innings that they batted. Although the Royals were held scoreless after the second, while the Cubs began to chip away at the lead, it was a little too little, a little too late, with a final score of 8-6 in favor of KC.

Yu Darvish: After pitching 4.2 innings yesterday, Darvish had to be pulled ahead of schedule due to a blister that had formed on his ring finger.
Brandon Morrow: When asked about the closing spot in his absence, Morrow says, "The Cubs have plenty of options to close games while he continues to rehab.
"I think we're pretty well set up. Every arm helps. I think people get nervous about quote-unquote closers. We've got a lot of guys who can handle it."
Kris Bryant: Commenting on Mike Trout's extension, Bryant says, "Obviously, he deserves every penny of it and more. The guy's been the best player in baseball. He's probably one of the best players ever. He obviously likes it in L.A. and now he's there forever. It's pretty cool. I'm happy for him." The Cubs have had no such extension talks with KB, who adds, "Everybody in this clubhouse would want to finish their careers with this team, myself included." Bryant did add, "I'm just getting tired talking about this stuff. It's really boring. I just want to play baseball. I just said boring again. That's not cool."
Pedro Strop: Stropy threw a bullpen yesterday, and all went well; however, Maddon says they'll be careful with him for a while.
Joe Maddon: When Maddon was asked about whether Trout's extension was good for the game, Joe's reply was, "It's good for the Trout family. You will have little minnows running everywhere on that one. "
Cubs Birthdays: Celebrating today are ex-Cubs Manny Alexander (48), George Altman (86), Jim Willis (92), and posthumously, Clyde Shoun (107), Johnny Butler (126), and Emil Geiss (154). Celebrating yesterday were ex-Cubs David Ross (42), Garry Jestädt (72), Paul Smith (87), and posthumously, Richie Ashburn (92).
Tuesday's Scoreboard: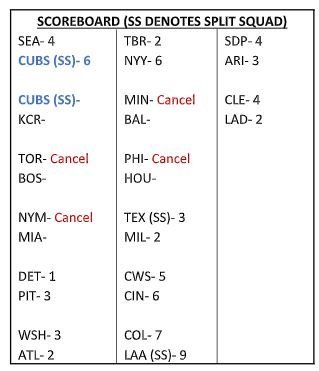 WEDNESDAY (EDT): REGULAR SEASON: 5:35 AM: SEA @ OAK (from Tokyo). PRESEASON: 1:05 PM: PIT @ MIN, NYY @ HOU, MIA @ STL, DET @ PHI, ATL @ TOR. 4:05 PM: CIN @ TEX, ARI @ CWS, MIL @ SDP. 6:05 PM: BOS @ BAL. 9:05 PM: LAA @ CLE (SS). 9:40 PM: KCR @ COL. 10:05 PM: LAD @ CUBS, CLE (SS) @ SFG.
THURSDAY (EDT) 1:05 PM: BAL @ PIT, ATL @ TBR (SS), HOU @ DET, NYY @ STL (SS), TOR @ PHI, MIA @ NYM. 4:05 PM: SFG @ CUBS, KCR @CIN (SS), CLE @ TEX (SS), LAD @ MIL, TEX (SS) @ CWS, LAA @ ARI. 6:05 PM: TBR (SS) @ BOS. 6:35 PM: STL (SS) @ WSH. 9:40 PM: CIN (SS) @ SEA.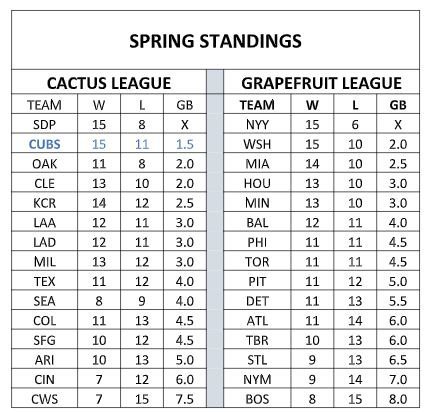 News from around MLB:
Record Breaker: In the constant battle to see who can land the biggest contract, Mike Trout is your new leader. Trout has signed a 12-year, $426.5M deal.
Bryce Harper: Speaking on the subject of Trout's extension, Harper said, "When I talked to him this offseason, I told him, 'Man, I want to get as much as I can so that you can blow me out of the water pretty much.' And he did. I'm very happy for him."
Astros: Houston has come to terms with Alex Bregman on a 6-year, $100M deal.
Giants: The Giants have optioned Ray Black and Tyler Beede to the minors.
Indians: Cleveland has released veteran outfielder, Matt Joyce from his minor league contract after the team informed Joyce last week that he would not be making the MLB team.
Rays: Tampa is in agreement with IF/OF Brandon Lowe on six-year, $24M contract with two club options.
Tigers: Detroit has announced that RHP Michael Fulmer has been recommended for Tommy John surgery after undergoing MRI and consulting with Dr. James Andrews. He's seeking a third opinion.