| | |
| --- | --- |
| Fly the W, Darvish's sim game, Cubs' YouTube channel, Rule changes, more | |
---
| | | |
| --- | --- | --- |
| Saturday, March 9, 2019, 11:25 AM | | |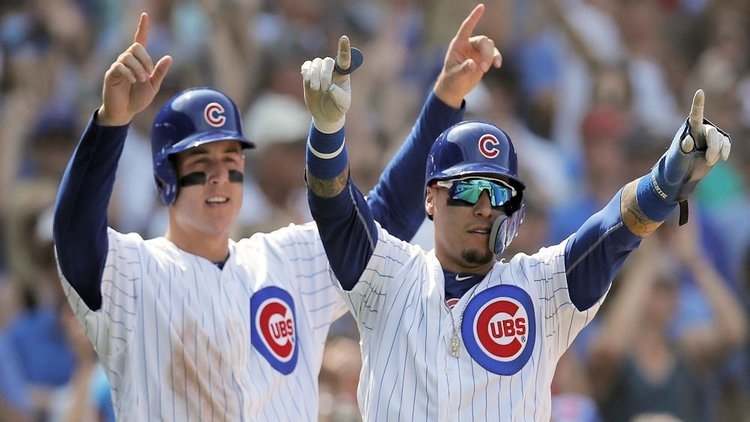 Upcoming games: March 9, 2:05 PM Central, Angels @ Cubs (SS) (Griffin Canning vs TBD for Cubs), also at 2:05 PM Central, Cubs (SS) at Giants (Cubs TBD vs Dereck Rodriguez). March 10, 2:05 PM Central, Cubs at Brewers (Pitchers TBD). This game will be televised on WGN, MLB.TV and Brewers FSWI (for those of you who may live in Wisconsin).
Cubs' Opening Day: 19 days. March 28 @ Rangers; (Lester vs TBD). Game time: 3:05 PM Central. (WGN, MLB.TV).
Cubs' Home Opener: 30 Days. April 8 vs. Pirates: Game time: 1:20 PM Central. (ABC-7, MLB.TV)
Friday's Game Recap: After suffering a loss to the Rockies on Thursday, the Cubs traveled to Peoria Stadium last night to take on the Mariners. Righty Duncan Robinson (0-0, 11.57 ERA) got the start for Chicago against Mariners' sent lefty, Marco Gonzalez (0-0, 1.29 ERA) to the hill. Almora, Rizzo, Baez, and Bote would combine to go 10 for 13 as the Cubs cruised to a 9-3 victory. Oh, did I mention Rizzo's towering blast to right field?

Yu Darvish: In his sim game at Sloan Park yesterday, Yu Darvish pitched four innings, allowing one hit and one walk, while striking out three. A relaxed Darvish said he wanted to pitch in the season-opening series against Texas, kiddingly saying, "I want to hit Gallo and Odor." He also says that he doesn't want to hear "boos" at Wrigley Field, "Only Yu's."
Yu Darvish dealing in sim game at Sloan pic.twitter.com/XFgJlIhc70

— Bruce Levine (@MLBBruceLevine) March 8, 2019
Tyler Chatwood: I joked on Facebook yesterday that I may have to send Chatwood an apology letter if he keeps up at the rate he's been going. In 2018 Chatwood had a walk-rate of 8.2 per nine innings, leading all of MLB with a total of 95 walks in 103.2 innings. Striking out only 85 of the 486 batters that he faced, Chatwood's SO/W ratio was a dismal 0.89.
It's still early, but thus far Chatty (in 8.0 innings) has posted a 2.25 ERA, which is currently better than Lester (3.67), Hendricks (4.15), Strop (13.50) and about 2/3 of the remaining staff, all while pitching more innings than any of them. He has walked only one of 31 batters that he's faced, while striking out five, giving him a SO/W rate of 5.0 and a BB/9 rate of just 1.1. Although he did manage to plunk one batter, he's recorded no wild pitches this spring and has only spiked a couple of balls in the dirt. Very impressive thus far.
Javier Baez: According to Rick Morrisey of the Chicago Sun-Times (whom I often disagree with), Javier Baez deserves to be the starting shortstop, no matter when, or if, Addison Russell returns. I've been saying this for months now, but Russell's not doing bad this spring, so I'll reserve final judgment for a while.
Jon Lester: When asked about new pitching coach, Tommy Hottovy, who transferred to his position from that of advance scout, Lester said, "He's just got to adapt to being on the field. It's really easy inside and watching on TV, but when you're in the dugout, for all of us, it speeds up sometimes. Hopefully, this spring is kind of a good learning curve for him as far as the mound visits and dealing with scheduling and bullpens and all that nonsense and dealing with our attitudes out there. It's been really smooth getting to this point."
The Off-Season: Ever wonder what your favorite players do when there's no more baseball? Check out this video from the Cubs:
An in-depth side you haven't seen before. pic.twitter.com/2ea1XZo6TW

— Chicago Cubs (@Cubs) March 8, 2019
Marquee Network: According to 670 The Score, the Cubs will be unveiling a YouTube channel on Monday which will give fans a glimpse at what to expect from their new Marquee Sports Network.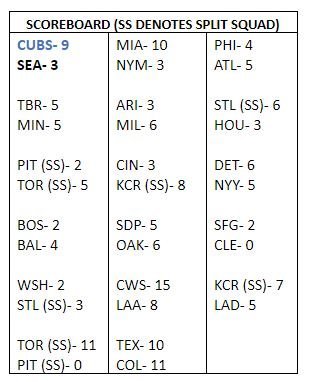 SATURDAY (EST): 1:05 PM: MIN @ PIT, NYM @ BOS, BAL (SS) @ TBR, ATL @ DET, HOU @ STL, TOR @ PHI. 3:05 PM: LAA (SS) @ CUBS (SS), CUBS (SS) @ SFG, COL @ CLE, CWS @ TEX, SEA @ LAD, MIL @ OAK. 3:10 PM: KCR @ ARI (SS), MIL @ LAA (SS). 6:05 PM: NYY @ BAL (SS). 6:35 PM: MIA @ WSH. 7:10 PM: ARI (SS) @ COL. 8:40 PM: CIN @ SDP.
SUNDAY (EST): 1:05 PM: ATL @ MIA, BOS @ TBR, NYY (SS) @ DET, TOR @ MIN, PHI @ BAL, WSH @ HOU, PIT @ NYY (SS). 1:10 PM: STL @ NYM. 4:05 PM: CUBS @ MIL, ARI (SS) @ CIN, SDP @ KCR, TEX @ SFG (SS), OAK @ CWS, SFG (SS) @ OAK (SS). 4:10 PM: CLE @ SEA (SS), LAD @ COL, SEA (SS) @ LAA. 5:10 PM: COL (SS) @ ARI (SS).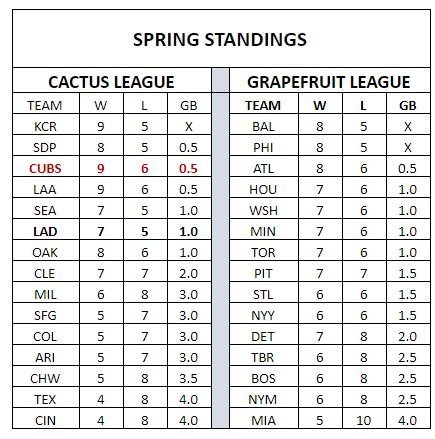 Other news from around MLB:
Rule Changes: MLB announced yesterday that it had reached a three-year agreement with the Atlantic League of Professional Baseball (ALPB) that will permit MLB to test experimental playing rules and equipment during the Atlantic League's Championship Season. The rules being implemented are: (1) Move the mound back 2 feet; (2) Larger bases (18 square inches); (3) Prohibition of defensive shifts; (4) Radar-enabled strike zone; (5) Three batter minimum for pitchers; (6) No mound visits (by players or coaches) unless removing the pitcher.
Baseball Wagering: With baseball gaming now legalized, MLB is considering a rule regarding lineups, to keep managers and players honest. The managers would have to send all lineups to the Commissioner for approval before releasing them to the media, to prevent tampering with things like the over-under.
Manny Machado: Thus far, for $300M, Machado has appeared in 4 games, with 11 plate appearances and ten at-bats. Machado is 2-10 (.200/.273/.400), with two doubles, 2 RBI, a walk and a strikeout. Bryce Harper has not yet appeared in a game for the Phillies.
Angels: P/DH Shohei Ohtani will play catch today for the first time since having TJ surgery. He'll throw about 60-70 light tosses and will back off hitting except for soft toss.
Orioles: Baltimore has acquired OF Dwight Smith, Jr. from the Blue Jays for international pool money. To make room, Baltimore has designated lefty, Josh Osich, for assignment.
Tigers: The Tigers have acquired catcher, Cameron Rupp, from the Giants for cash. Detroit has also optioned RHP Sandy Baez and LHP Matt Hall to Triple-A Toledo; they have also optioned RHP Franklin Perez to Class A Lakeland.
White Sox: Nicky Delmonico has a slight concussion and remains in concussion protocol after running into a wall on Thursday.