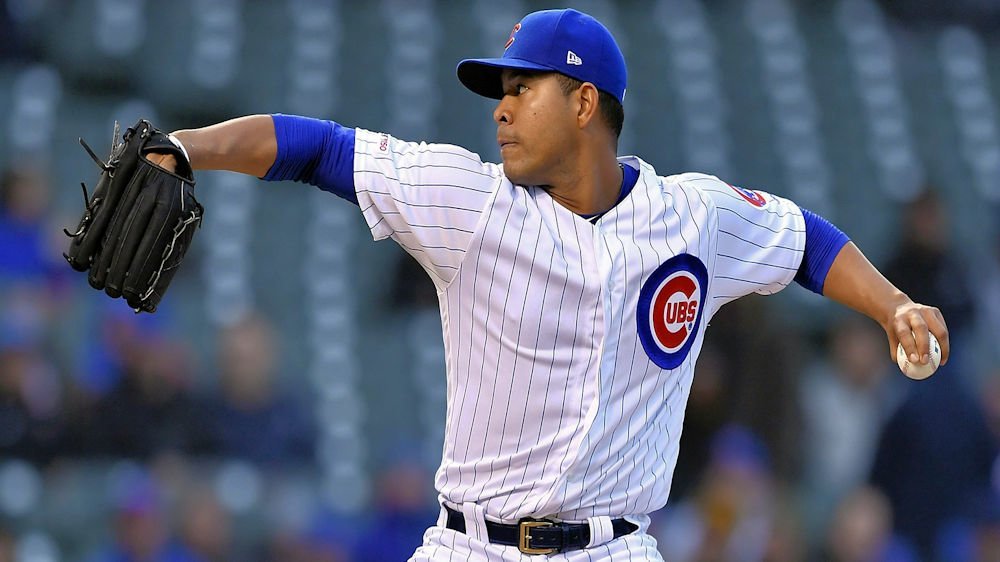 | | |
| --- | --- |
| Cubs News: Fly the W, Edwards deals with racism, Monty's a dad, Big Z, and more | |
---
| | | |
| --- | --- | --- |
| Wednesday, April 17, 2019, 8:40 AM | | |
Next Game: Today: 6:10 PM, Cubs vs Marlins. LHP Cole Hamels (2-0, 3.79 ERA) vs RHP Sandy Alcantara (1-1, 4.24 ERA).
CUBS NEWS AND NOTES:
Tuesday's Game Recap: In Game-2 of this set, the Cubs sent lefty, Jose Quintana (1-1, 5.14 ERA) to the hill to battle against Marlins righty, Pablo Lopez (1-2, 6.60 ERA).
This would be Q's best start of the season, pitching into the eighth on less than 85 pitches. His final numbers showed 7.0 IP, six hits, 0 BB, 7 K, and his ERA dropped to 3.43. There's little doubt that Quintana could have gone longer, but another knee-jerk reaction by Joe Maddon occurred when Q allowed a single in the 8th. Brandon Kintzler then replaced him for the eighth and Pedro Strop for the ninth, who both held tight.
Not a ton of offense last night, but clutch offense when it was needed most. Javier Baez (3 for 4) homered, Zo hit a sac-fly, Daniel Descalso went 2 for 3 (as did Davis Bote), and Jason Heyward went 2 for 4. The Cubs won it by a final of 4-0, and improve to 7-9.

D-Backs/Cubs Probable Pitchers: Friday: RHP Merrill Kelly (1-1, 3.79 ERA) vs RHP Kyle Hendricks (0-3, 5.40 ERA). Saturday: Zack Greinke (2-1, 5.79 ERA) vs. RHP Yu Darvish (1-2, 6.11 ERA). Sunday: Robbie Ray (0-1, 3.52 ERA) vs LHP Jose Quintana (1-1, 5.14 ERA).
Makeup Game: The Cubs have announced that their makeup game with the Angels will be played on June 3 at 3:05 PM (CDT).
Carl Edwards, Jr.: Carl Edwards, Jr. has been receiving racist messages on his Instagram account. MLB is investigating the posts. It's pathetic that in this day and age, a player would receive such messages. Baseball had moved past (or at least I thought it had moved past) these kinds of things, but I guess I was wrong. If I don't like a player it's based on his ability (or inability) to perform; it's not based on racial or ethnic background.
Theo Epstein on Edwards: "We were shocked by the racist, profanity-laced social media message sent to Carl Edwards Jr. earlier this month. We vehemently condemn the content of the message and are supporting Major League Baseball's investigation to identify the person responsible. In a sport that celebrates diversity and unites people from all backgrounds, we are appalled anyone claiming to be a fan would send divisive and bigoted insults to a player. Whether spoken, posted or published, this type of reprehensible language and views cannot be tolerated in our game or society."
Maddon on Darvish: "I do believe his stuff keeps trending in the right direction. He keeps getting better."
Maddon on Edwards' hate messages:
Willson Contreras: The Cubs' backstop is on absolute fire this season, with six homers, 12 RBI and a 1.300 OPS, as compared to 0 homers, 3 RBI and a .768 OPS last year through the first 14 games.
Victor Caratini: The injured catcher underwent surgery to remove his broken left hamate bone. Between recovery time and an anticipated rehab stint, Caratini is expected to be away from the Cubs until sometime in June.
Mike Montgomery: Monty was due for a rehab-start in South Bend yesterday, but the date has been pushed back, as his wife delivered a child on Tuesday. Congratulations to Mike and his wife, Stephanie, on their healthy new arrival.
Carlos Zambrano: There was talk about it over the winter, but former Cubs' pitcher, Carlos Zambrano is attempting a comeback at age 37. Zambrano hasn't pitched since 2012, but pitching isn't his only forte; Zambrano is (was) a career .238 hitter with 24 homers, and while he doesn't own a Cy Young Award, he is a 3x All-Star and owns a total of three Silver Slugger Awards. Zambrano will start his comeback with the American Association's Chicago Dogs.
History Tuesday marked the 47th anniversary (1972) of Burt Hooton's no-hitter against the Phillies. This was only Hooton's fourth career start.
#OTD in 1972, Burt Hooton no-hit the Phillies in the 4th start of his career ?? pic.twitter.com/2wms2NSbjh

— Cubs Talk (@NBCSCubs) April 16, 2019
Yesterday's Cub Birthdays: Happy birthday to Cubs CF Albert Almora, Jr (25), to ex-Cubs Antonio Alfonseca (45), Frank Fernández (76), Ed Winceniak (90), and posthumously, Ernest "Babe" Phelps (111) and Tommy Sewell (113).
NL CENTRAL SCHEDULE (April 14 – April 20, 2019)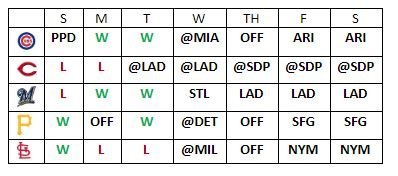 YESTERDAY'S NL CENTRAL SCOREBOARD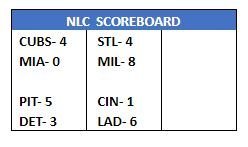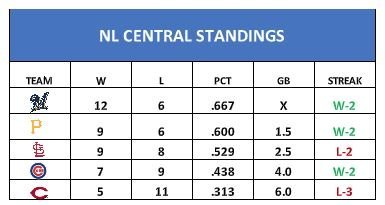 Note: With the season now in full swing (pun intended), most days, news for the Cubs and the rest of league comes in at a blistering pace. To make more room for the Cubs' stuff, we're trying something new. The MLB News portion of my daily column has now become its own feature on CubsHQ.com. Look for several editions per week, featuring highlights, standings, commentary, and video clips- oh, and please don't forget to check out the other great articles, commentary and game recaps on our site.

Tags: Cubs Baseball
,
Cole Hamels
,
Jose Quintana
,
Brandon Kintzler
,
Pedro Strop
,
,
Daniel Descalso
,
Jason Heyward
,
Kyle Hendricks
,
Yu Darvish
,
Willson Contreras
,
Victor Caratini
,
Mike Montgomery
,
Joe Maddon
,
Theo Epstein