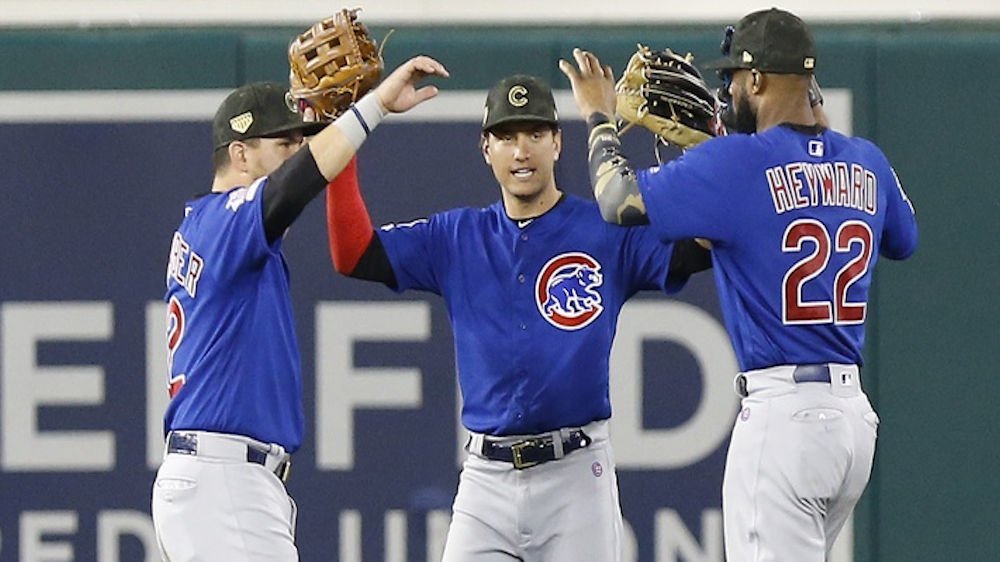 | | |
| --- | --- |
| Fly the W, El Mago injured, Rizzo hits dinger, Cubs eyeing closer, more | |
---
| | | |
| --- | --- | --- |
| Monday, May 20, 2019, 7:47 AM | | |
Next Game: Today, 7:05 PM CDT: Phillies @ Cubs. RHP Yu Darvish (2-3, 5.14 ERA) vs RHP Jake Arrieta (4-4, 4.02 ERA).
CUBS NEWS AND NOTES:
Sunday's Game Recap: The Cubs got off to a great start in the rubber match, but things fell apart fast in the sixth. With Chicago tagging the Nationals for single runs in the first through fourth innings (among those was Anthony Rizzo's 11th home run), Kyle Hendricks was cruising on the mound, on pace to throw another complete game with a total of about 90 pitches; then the paradigm shifted.
After pecking away at Hendo in the fifth, the Nats were able to tally a run finally. The Cubs answered back with a pair of runs in the sixth, but by this time Washington had Hendricks figured out, and reacted by putting up three more of their own, chasing the Professor out after just five-and-two-thirds. By the end of the seventh, Washington had added yet another, bringing them to within one. The Cubs' bullpen held this time, securing the win. Final score: Cubs-6; Nationals-5.

Cubs/Phillies Probable Pitchers: TUESDAY: LHP Jose Quintana (4-3, 3.68 ERA) vs RHP Zach Eflin (5-4, 2.89 ERA). WEDNESDAY: LHP Cole Hamels (4-0, 3.13 ERA) vs LHP Cole Irvin (2-0, 2.77 ERA). THURSDAY: LHP Jon Lester (3-2, 2.09 ERA) vs. RHP Aaron Nola (4-0, 4.47 ERA). As always, I'll have an in-depth series preview for you, before the start of Monday's game.
Class is back in Session: Entering last night's game, Kyle Hendricks was the first MLB pitcher to throw at least eight innings and fewer than 100 pitches in three consecutive starts, since Hisashi Iwakuma (Mariners) did so from May 8-20, 2014.
Javy injured: Talk about your worst-case scenario… Javier Baez tweaked what appeared to be his right ankle while charging a groundball last night. He stayed in for just about two innings after the injury, but after continuing to favor his right leg, was replaced by Addison Russell at short. For what it's worth, Russell's first opportunity to prove his worth at short failed miserably, when he air-mailed a ball past Anthony Rizzo.
¡Esto es CLASE y MÁS! ??#LasMayores pic.twitter.com/mgSBVW6ch4

— LasMayores (@LasMayores) May 20, 2019
Baez: "My heel kind of got jammed, but all good." pic.twitter.com/p8YROjJXdK

— Mark Gonzales (@MDGonzales) May 20, 2019
Javy's streak: Javier Baez ended a 15-game hitting streak on Saturday when he failed to reach base against Stephen Strasburg and the Nationals' bullpen. During the streak, Baez batted .381 with two homers, nine doubles, and five walks. Although he did fan a total of 23 times, his OPS at the peak of the streak was 1.039.
Cubs' eyeing closer: As the wait continues for Pedro Strop and Brandon Morrow, the Cubs are reported looking at Blue Jays' closer, Ken Giles (age 28). In 2019, Giles has a 1.47 ERA and nine saves (5th in AL) in 19 appearances this season. For his MLB career, he has a 2.73 ERA with 100 saves, 417 strikeouts, and a sparkling 0.98 WHIP. The righty has one more year of arbitration left before he hits free agency after the 2020 season. He currently makes $6.3 million in 2019. If the Cubs gets serious about acquiring Giles (and they probably should), it's going to require a trade, unless they negotiate a strictly cash deal, which is highly unlikely, given the Cubs' cash crunch.
Not "Happ"ening: Just when it looked like Ian Happ was starting to improve, courtesy of a minor league option, he's started going south again. Happ entered yesterday's game batting .189 with 11 strikeouts in his last ten games, with three of those on Friday. In his first couple of plate appearances yesterday, Happ added another couple of Ks. I have serious doubts that he'll ever be back in Chicago, and this certainly isn't helping his cause.
Ian Happ, who looked like he was turning things around earlier this month, is really struggling at the plate right now. Entered today's game hitting .189 with 11 strikeouts in his last ten games. Had three strikeouts on Friday and already two today.

— Tommy Birch (@TommyBirch) May 19, 2019
Bats are boomin': There are currently four Cubs with double-digit HR totals: Bryant (11), Báez (11), Contreras (11), Rizzo (11). The Cubs join Seattle and Houston as the only teams with four players to reach double digits in homers. No other N.L. team has more than two players with 10 or more dingers. This is the first time in the Cubs' history that four players have accomplished this feat in May.
It's opposite-field day. #TeamRizzo pic.twitter.com/sf6jkPT3ny

— Chicago Cubs (@Cubs) May 19, 2019
Kris Bryant: "Early in the season my timing was off," the Cubs' Kris Bryant said. "Now I feel like I'm right where I need to be." You certainly are, Kris.
Doolittle's jab: After Joe Maddon filed a protest with the league on Saturday night over what he perceived to be an illegal windup and delivery by Nats' closer, Sean Doolittle, the closer offered a response to the media. Doolittle says that "sometimes, [Maddon] has to remind people how smart he is." Doolittle's windup features a move similar to that of the one that Carl Edwards Jr. was using, which was deemed illegal. Joe's protest wasn't so much the move itself, but rather that if Edwards was prohibited from using it, then Doolittle shouldn't be allowed to do so either.
Cub Birthdays: Celebrating yesterday were ex-Cubs Josh Paul (44), Scott McClain (47), Steven "Turk" Wendell (52), Fritzie Connally (61), Luis Salazar (63), Curt Simmons (90), and posthumously, Walter "Pop" Williams (145) and Ed Hutchinson (152).
NL CENTRAL SCHEDULE (May 19 – May 25, 2019)
(Wins are in green, losses in red)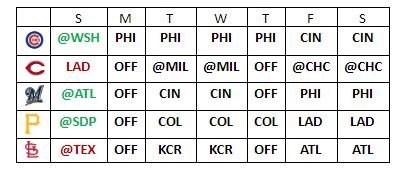 YESTERDAY'S NL CENTRAL SCOREBOARD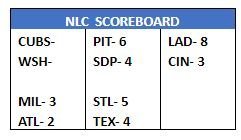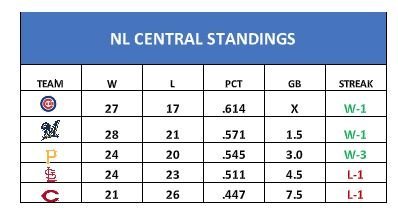 Tags: Cubs Baseball
,
Yu Darvish
,
Jake Arrieta
,
Anthony Rizzo
,
Kyle Hendricks
,
Jose Quintana
,
Cole Hamels
,
,
,
Addison Russell
,
Pedro Strop
,
Brandon Morrow
,
,
,
Joe Maddon