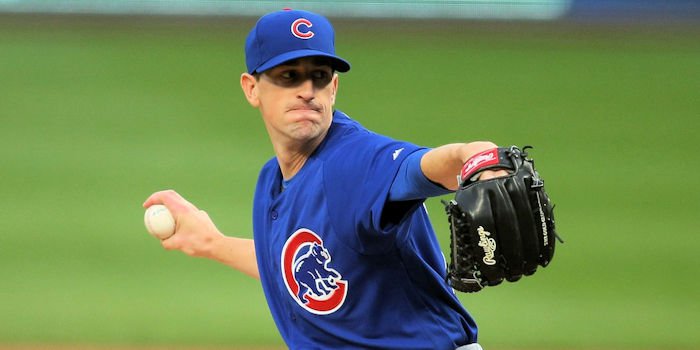 | | |
| --- | --- |
| Fly the W, The Professor got paid, Cubs release reliever, and MLB news | |
---
| | | |
| --- | --- | --- |
| Wednesday, March 27, 2019, 7:59 AM | | |
Cubs' Opening Day: Tomorrow: March 28, Cubs @ Rangers (Lester vs Minor). Game time: 3:05 PM (CDT).
Next Game: March 29: OFF. March 30, Cubs @ Rangers (Darvish vs. Volquez). Game time: 7:05 PM (CDT).
Cubs' Home Opener: 12 Days. April 8 vs Pirates: Game time: 1:20 PM Central. (ABC-7, MLB.TV)
Tuesday's Game Recap: In the final game of the spring season, the Cubs hosted the Red Sox for a second exhibition game at Sloan Park. After Kyle Hendricks became a late scratch, righty, Carl Edwards, Jr, squared off against Boston ace, David Price. The Cubs devastated the R-Sox by a final of 16-7.

Kyle Hendricks: The Professor won't be leaving for a while, as the Cubs announced yesterday that he had signed a four-year extension (club-option for a fifth year) with the Cubs. $63M: 2019: $7.405M. 2020: $12M. 2021: $14M. 2022: $14M. 2023: $14M. 2024: $16M vesting option or $1.5M buyout. The option in the Kyle Hendricks contract vests based on Cy Young voting in 2020. The contract also includes Cy Young escalators. There is potential to max out at almost $80 million.
Kyle says, "Hopefully, watching the way I pitch and get guys out will relate to a lot of younger pitchers. It's not always about velocity but about the way you go about getting guys out at the major league level."
Theo Epstein on Hendricks: "Early on it's easy to put ceilings on guys, based mostly on velocity. ... he's far exceeded that ceiling. We love the process that he uses to get to where he is. He's always working."
Junichi Tazawa: After releasing him last week, the Cubs have re-signed Tazawa to a minor league deal. Tazawa has new out clauses on May 15 and Aug 15 if not on the major-league roster. He'll make 900k if in big leagues with $1.25 million in performance bonuses.
Rob Zastryzny: The Cubs have released RHP, Rob Zastryzny on Tuesday. (Not a great gift- yesterday was his birthday.)
Mark Zagunis: I've said all spring that Zagunis was playing with an intensity that would earn him a roster spot, and while he's not yet received the call, reports are saying that a ringing phone will only serve to make the obvious official. After Ian Happ's demotion, there was little doubt that an OF spot would be available, and there are none more deserving than Mark Zagunis.
Cole Hamels: When you're hot, you're hot. Not that Hamels performance on Monday against the Red Sox (which included him hitting a game-tying homer) wasn't impressive enough, but on Sunday, Hamels managed a hole-in-one on the golf course. Hamels said after Monday's game, "Shoot; I've been having a pretty good couple days here, sometimes you don't want it to end."
Defense (or panic) mode: Cubs announcer, Jim Deshaies got a surprise visitor in the booth on Monday night: A foul ball. This is what happens when you look up from a monitor to see an unexpected friend:
Caption this. #JDPanicFace pic.twitter.com/u1rY8jnYWt

— Chicago Cubs (@Cubs) March 26, 2019
Attendance Record: This spring, the Cubs set an all-time attendance record at Sloan Park: 250,893.
Congratulations: Congrats to Cubs PA announcer, Andrew Belleson and his wife on the arrival of their new daughter.
Try to keep Twitter mostly "shop talk," but couldn't help myself with this one.

Fortunate and elated to welcome this little beauty just in time for Opening Day!! pic.twitter.com/at8awiaFM6

— Andrew Belleson (@ChicagoCubsPA) March 26, 2019
Unbelievable! OK, I've seen talented kids, but this is just insane. Look at the picture below, then let it sink in that a 10-year-old made this.
@Cubs Superfan Max Tutt has spent years working on his own Wrigley Field. An on-going project keeps him busy between baseball practice/games. He is having his 11th bday party during your opener & can't wait for a big W! @ARizzo44 @JLester34 @kschwarb12 @CubsJoeMadd are in there?? pic.twitter.com/O0Rj0m4GQE

— Amy Zenisek West (@AmyWest101112) March 26, 2019
Cubs birthdays: Celebrating yesterday were ex-Cubs Rob Zastry?ny (27), Jason DuBois (40), Jason Maxwell (47), José Vizcaíno (51), and posthumously, Joe Klügmann (124), Brad Hogg (130), Jimmy Lavender (135), and Jack McCarthy (150).
Tuesday's MLB Scoreboard: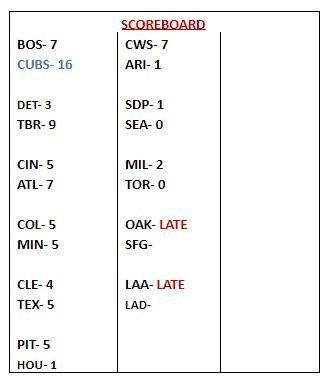 WEDNESDAY: NO GAMES SCHEDULED.
THURSDAY: MLB OPENING DAY.
MLB News:
Extension mania: In the last week (including Jacob deGrom below), MLB teams have signed ten extensions worth a total of $1,073,000,000. (That's billions for any Brewers fans who may be reading…)
Mariners: Hard to believe it was 19 years ago already, that Seattle "uprooted" the Kingdome.
It wasn't perfect—but it was ours.

19 years ago today, we bid farewell to the Kingdome. pic.twitter.com/uiIzlKmmKv

— Seattle Mariners (@Mariners) March 26, 2019
Mets: NY has reached an extension agreement with Jacob deGrom. The deal is for 5-years, $137.5M. Also, the veteran catcher, Devin Mesoraco, not happy with being sent to minor league camp, is now contemplating retirement.
Reds: Cincinnati has lost prospect Nick Senzel for "several weeks," following an ankle injury.