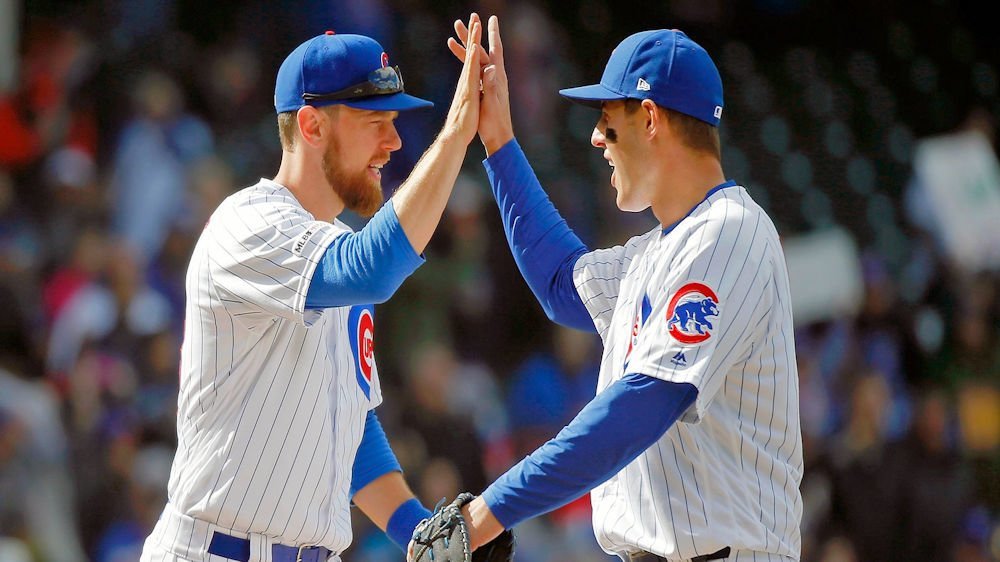 | | |
| --- | --- |
| Fly the W, injury updates, Mike Trout out, Maddon on KB, Standings, and MLB News | |
---
| | | |
| --- | --- | --- |
| Saturday, April 13, 2019, 7:38 AM | | |
Next Game: Today, 1:20 PM. Angels @ Cubs: RHP Chris Stratton (0-1, 6.48 ERA) vs. RHP Kyle Hendricks (0-2, 6.48 ERA).
CUBS NEWS AND NOTES:
Friday's Game Recap: In the second interleague matchup of the year, the Cubs began hosting the Angels on Friday for a three-game set. LHP Tyler Skaggs took the mound for the Halos, while Joe Maddon sent veteran lefty, Cole Hamels.
To say the Cubs looked sharp yesterday would be an injustice. Cole Hamels pitched eight incredible innings, allowing just one run on four hits. He issued no walks and struck out six batters. Then there was the offense with multiple homers (4 total), and a stolen base (Albert Almora, Jr.). Brandon Kintzler was the only reliever the Cubs would need, and he sent the Halos down, in order, on three groundouts. When all was said and done, the Cubs would win their second straight, by a final of 5-1.

Cubs/Angels Probable Pitchers: Sunday: RHP Trevor Cahill (1-1, 3.50 ERA) vs RHP Tyler Chatwood: 0-0, 6.00 ERA.
Kaboom: Anthony Rizzo and Willson Contreras both hit towering blasts in the bottom of the first yesterday, giving the Cubs an early 3-0 lead. The two homers combined measured 932 feet (Rizzo's 472', Contreras' 460'). Although he waited until the bottom of the fourth, Davis Bote also contributed to the home run parade. The Cubs weren't done yet though. In the seventh, Contreras sent his second blast of the day onto Waveland Avenue.
There's nothing but trouble at the corner of Willson and Waveland. #EverybodyIn pic.twitter.com/7hGnz7ZNTx

— Chicago Cubs (@Cubs) April 12, 2019
Pitching comes alive: In the last two days, Jose Quintana and Cole Hamels have combined for 15 innings of one-run ball, walking only one, while striking out 16. With Brandon Kintzler's clean inning today, the bullpen has now gone 18.2 innings without allowing a run.
For the season: AWAY GAMES: 2-7, 7.51 ERA, 74.1 innings pitched, 20 homers, 53 walks, 75 strikeouts. HOME GAMES: 3-1, 1.25 ERA, 36.0 innings pitched, three homers, six walks, 39 strikeouts.
Mike Trout: Still being treated for a recent groin injury, Trout stayed behind for medical appointments in Anaheim (his next is on Sunday), and will not be in town for the Angels/Cubs series this weekend.
Via Billy Eppler: "Imaging reveals a reduced amount of swelling to the groin. Mike also reports daily improvement. He will continue treatment in Anaheim, and he will be re-evaluated on Sunday. We will provide an update at that time."
Victor Caratini: Caratini's CT scan confirmed a fracture of the hamate bone in the left hand. Caratini will undergo surgery on Monday to remove the bone and is now expected to be out 4-6 weeks. Taylor Davis was in the dugout before the start of Friday's game, ready to go.
Anatomy 101: Below is a picture of where the hamate bone (in red) is located- this is the bone that Victor Caratini broke on Thursday night during an at-bat. Although the picture shows the right hamate bone, Caratini fractured the one in his left hand. This will undoubtedly affect his swing and possibly his ability to catch 100+ pitches a game.
When a pitch hits a catcher's mitt, the energy from it is sent through the mitt (which absorbs a lot of it), but the remainder travels down through the hand and into the arm, until it is completely dissipated; the same applies to energy from a pitch contacting a hitter's bat. The bone will be removed during surgery, which will cause Caratini to have to adjust his swing, as his hand will no longer grasp the bat the same way. While it won't affect his ability to catch quite as drastically, he'll still have to learn to compensate, as the ball tends to be caught in the area of the glove that housed the hamate bone.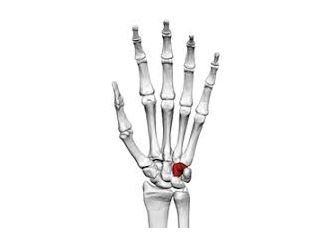 Willson Contreras: "We keep battling, man. I know it's a tough start, but we cannot be overthinking. We have to live in the present and let the bad things go."
Joe Maddon: When asked if the Cubs would be looking for catching help now that Caratini is out, Maddon replied, "We're probably looking a little bit." He expressed confidence in Taylor Davis and said that Davis is very familiar with the Cubs' pitching staff.
Pitching Injury Updates: (1) Mike Montgomery: Scheduled to throw a bullpen on Sunday. (2) Brandon Morrow: Nearing live bullpen soon. (3) Tony Barnette: Ready for live batting practice. (4) Xavier Cedeno: Threw in an extended spring game yesterday.
Maddon on Bryant: "I'm not really concerned about KB. He comes to play every day. He's gonna get disgustingly hot pretty soon. I really feel that."
3 AM: The Cubs played a "thank you" tribute to Tommy La Stella that lasted about 30 seconds, before yesterday's game, after which, La Stella acknowledged the crowd. When asked if he was OK after the video, Tommy replied, "It was so fast, I had no time to cry."
Welcome back, Tommy! Remember, we called a truce. pic.twitter.com/NEXyflqX98

— Chicago Cubs (@Cubs) April 12, 2019
Cub Birthdays: Birthday wishes (yesterday) to Brad Brach (33) and ex-Cubs Justin Ruggiano (37) and posthumously, Woodie Fryman (79), Walt Moryn (93), Berlyn "Trader" Horne (121), and Charlie Pick (131).
NL CENTRAL SCHEDULE (April 7 – April 13, 2019)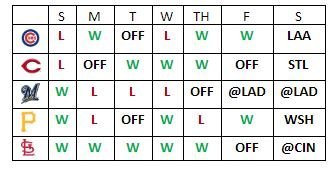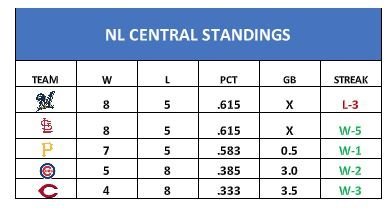 MLB News:
Athletics: The A's have signed veteran righty, Edwin Jackson, to a minor league deal.
White Sox: Eloy Jimenez had quite the day yesterday, slugging his first MLB home run… and then his second.
While we wait out this rain, can we interest you in watching @Lamantha21's second home run of the night? pic.twitter.com/ZAeYbkDYBE

— Chicago White Sox (@whitesox) April 13, 2019
Yankees: NY has sent catcher Gary Sanchez to the 10-day IL with a left calf strain (retroactive to 4/11). The Yanks have Kyle recalled Higashioka from Triple-A Scranton/Wilkes-Barre.
YESTERDAY'S SCOREBOARD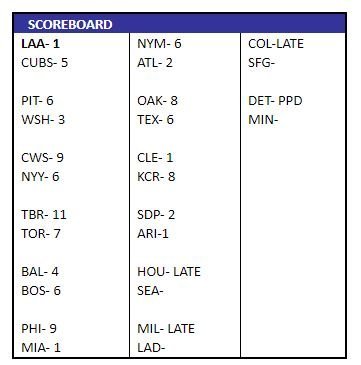 Tags: Cubs Baseball
,
Kyle Hendricks
,
Cole Hamels
,
Brandon Kintzler
,
Trevor Cahill
,
Tyler Chatwood
,
Anthony Rizzo
,
Willson Contreras
,
Jose Quintana
,
Victor Caratini
,
Taylor Davis
,
Mike Montgomery
,
Brandon Morrow
,
Tony Barnette
,
Xavier Cedeno
,
Tommy La Stella
,
Joe Maddon