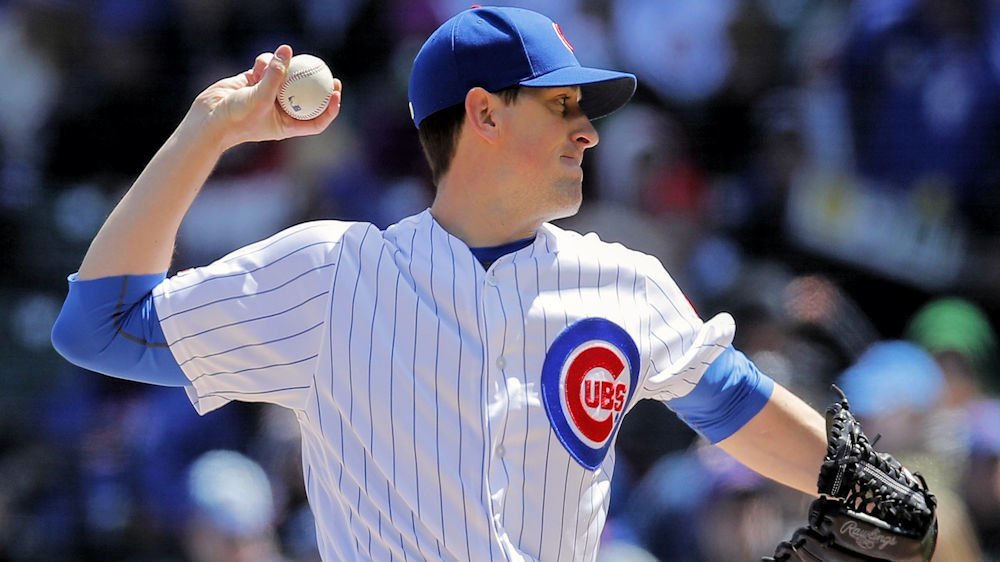 | | |
| --- | --- |
| Cubs News: Fly the shutout W, Hendricks' gem, Rizzo hot, 'The Maddux', standings, more | |
---
| | | |
| --- | --- | --- |
| Saturday, May 4, 2019, 8:47 AM | | |
Next Game: Today: 3:05 PM CDT: Cards vs Cubs. RHP Michael Wacha (2-0, 4.64 ERA) vs RHP Yu Darvish (2-3, 5.02 ERA).
CUBS NEWS AND NOTES:
Friday's Game Recap: After a stellar road trip, the Cubs (16-12) returned home to face the first-place Cardinals (20-11). The Red-Birds would pit RHP Jack Flaherty (3-1, 4.06 ERA) against a struggling Kyle Hendricks (1-4, 5.33 ERA), in the first of a three-game series. One word: WOW.
Hendricks went from being statistically the worst pitcher on the team in 2019 to having the best outing from a Cubs' pitcher all season. Take your pick: Shutout, complete game, or the fact he did it all on just 81 pitches. No walks, only four hits, and he only reached a 3-ball count on one batter (Matt Carpenter) all game long. While he didn't lend any excitement at the plate today, Hendricks did manage to pick a runner off of first. The Professor is back to educating, and that is a welcome, welcome, sight.
So far as the offense was concerned… Cardinals: None. For the Cubs, it was a grind breaking down Jack Flaherty, but when the right-hander slipped-up in the third, the Cubs pounced. Back-to-back walks would be Flaherty's downfall, as Rizzo made him pay dearly, hitting a three-run blast to right field. The Cubs would tally an insurance run in the seventh, but there was no need, as the Cards never even had a batter reach second base.
The defense was stellar, Kris Bryant made two unbelievable plays at third, and both Jason Heyward and Ben Zobrist laid-out for amazing catches in center and right-field, respectively.

Cardinals/Cubs Probable Pitchers: Sunday: Adam Wainwright (2-2, 3.96 ERA) vs LHP Jose Quintana (3-1, 3.48 ERA).
The "Maddux": I've seen people asking left and right on social media what a "Maddux" is… This is a term coined by MLB to describe a complete game, shutout on less than 100 pitches. It was named after Greg Maddux.
Yu Darvish While Darvish's last performance vs. Arizona was by far, the best he's had all season (6.0 IP, 2 H, 1 ER, 4 BB, 8K), he'll need to really ratchet it up a notch this afternoon A solid outing from Darvish, the offense and defense (in short, another W), would mean the Cubs would secure their 8th series win in a row, with a chance to sweep on Sunday night.
I never figured they'd sweep this series, and I thought today would be the one game they lost, but NOT SO. Chicago will undoubtedly be feeding off of Hendricks' performance as they enter play today, and if this team can somehow build any more momentum, they'll be damn near unstoppable.
Bryzzo on fire: It took Rizzo almost three-weeks to get his bat in gear, and it took Bryant even longer, but boy, was it worth the wait.
What pitching issues? With Hendricks' nine scoreless innings yesterday, over their last 20 games, the Cubs' pitching staff (starters and relievers) has now posted an ERA of 2.24 since April 8th (46 ER/185 IP)- this is the best in MLB during that time span.
The Cubs bullpen has posted a 1.97 ERA (15 ER/68.2 IP) and .597 OPS against, in its last 20 games (starting April 7) after posting a 9.51 ERA (31 ER/29.1 IP) and 1.041 OPS against, in its first eight games (from March 28-April 6).
When you're hot, you're hot: With the win over the Cards yesterday, the Cubs are now 8-2 over their last ten games, and tied for first (with Arizona) for the best records in MLB over that time period.
Rizzo on a roll: The Greatest Leadoff Man of All-Time is expected to reach four different milestones in May- even if he isn't leading off. Anthony tied Frank Sauer yesterday for 9th most homers as a Cub (199). By May 18th, Rizz is expected to hit his 200th career homer, and less than a week later (projected to occur on 5/24/19), he's expected to hit his 235th career double, tying Bill Buckner for 20th in the team's history. His next milestone, projected to occur just five days later (May 29) will be his 236th double, which will tie him for 19th in team history with Tom Burns. MLB predicts Rizzo will achieve an additional seven milestones next month. Way to go, Rizz.
The 199th home run of @ARizzo44's career!

No. 198 with the #Cubs. #EverybodyIn pic.twitter.com/SXAx9GVkZu

— Chicago Cubs (@Cubs) May 3, 2019
Oscar De La Cruz: Yesterday, the Cubs reinstated righty, De La Cruz to the 40-man roster, after completion of his 80-game suspension, which was handed down by MLB last July 6. In turn, the Cubs moved righty, Tony Barnette, to the 60-day IL with shoulder inflammation. De La Cruz has been in Myrtle Beach on a rehab assignment and has posted a 1-0 record, with a 1.20 ERA over 15 innings pitched, while Barnette had made four rehab appearances with Iowa, posting an 8.10 ERA (3 ER/3.1 IP).
Yesterday's Cub Birthdays: Happy birthday to ex-Cubs Ryan Dempster (42), Joe Kmák (56), Davey Lopes (74), and posthumously, Chris Cannizzaro (81), Ralph Michaels (117), Frank Morrissey (143), John Hollison (149), and George Gore (165).
Happy Birthday @Dempster46 ! pic.twitter.com/qoGuCGI6Vj

— CubsHQ (@ChicagoCubsHQ) May 3, 2019
NL CENTRAL SCHEDULE (April 28 – May 4, 2019)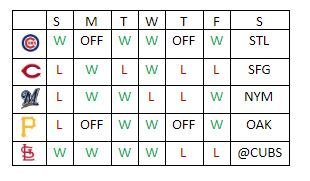 YESTERDAY'S NL CENTRAL SCOREBOARD