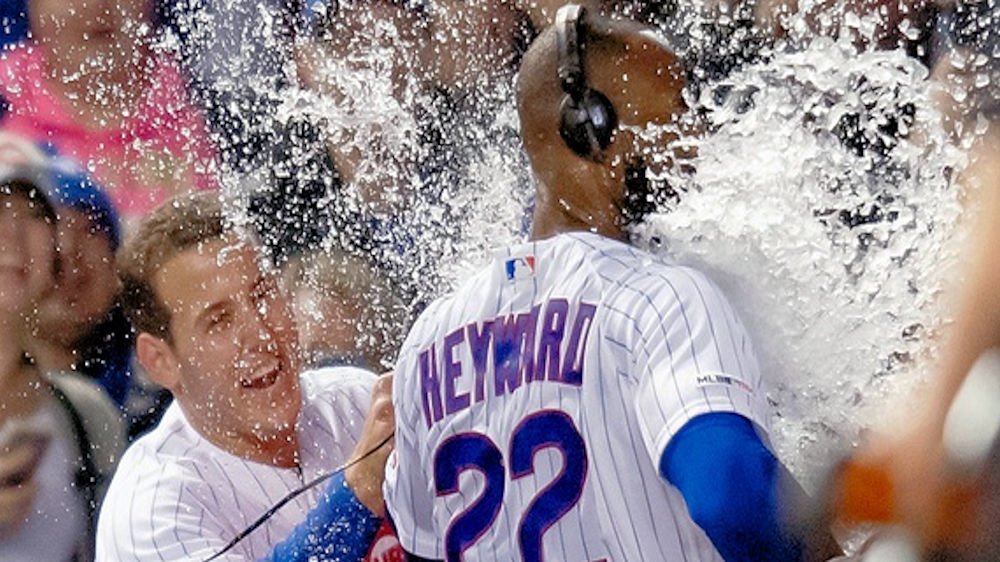 | | |
| --- | --- |
| Fly the walk-off W, Cubs' roster moves, Russell's return, more | |
---
| | | |
| --- | --- | --- |
| Thursday, May 9, 2019, 8:40 AM | | |
Next Game: Today, 1:20 PM CDT: Marlins vs Cubs. RHP Trevor Richards (0-4, 4.10 ERA) vs. RHP Yu Darvish (2-3, 5.79).
CUBS NEWS AND NOTES:
Wednesday's Game Recap: Walk-off wins (Tuesday night) are always a little exciting but getting down to the wire with the Fish should never happen for a Cubs' team of this caliber. A win is a win though, so on we march. Last night's game featured righty, Jose Urena (1-5, 5.45 ERA), against the Professor, Kyle Hendricks (2-4, 3.93 ERA). Both had struggled immensely to begin the season, but while Urena continues to languish, Hendricks broke loose in his last outing, pitching a complete game shutout against the Cards.
Making this game even more important for the Cubs, was that the Cards lost to Philly and the Brewers beat Washington earlier in the day. As the Cubs entered play, the Cards were a full game back in second, while the Brewers were tied for first with Chicago.
Except for a throwing error on the first play of the game, Kyle Hendricks was brilliant for eight solid innings and the biggest mistake of the night was Joe Maddon's decision not to let him finish what he'd started. Miami tied the game at 2-2 in the 9th, in part due to a pair of hits (1 each) given up by Brad Brach and Steve Cishek, then a wild-pitch (Cishek) that scored the tying run. There was no late-night heroics by Kris Bryant tonight, but Jason Heyward stepped up to lead off the 11th with a walk-off homer of his own. Final score: Cubs-3; Miami-2.

Brewers/Cubs Probable Pitchers: Friday- 1:20 PM: LHP Gio Gonzalez (0-0, 2.61 ERA) vs LHP Jose Quintana (4-1, 3.40 ERA). Saturday, 1:20 PM: RHP Zach Davies (4-0, 1.56 ERA) vs LHP Cole Hamels (3-0, 3.38 ERA), Sunday- 6:05 PM: Jhoulys Chacin (3-3, 5.03 ERA) vs LHP Jon Lester (2-1, 1.41 ERA).
The revolving roster: In a flurry of roster moves yesterday afternoon, the Cubs recalled Addison Russell and Mike Montgomery from AAA Iowa, granted Ben Zobrist a leave of absence for personal reasons (he was placed on the restricted list) and placed Pedro Strop on the 10-day IL (left hamstring). In the unlikely event that you missed the game, Russell started at second last night, in the absence of Zo.
Epstein on Russell: "I hope Addison continues to grow. That's what this is all about. He should expect to face adversity along the way. He doesn't deserve to be met with an unconditionally warm welcome and with open arms."
Russell's return: Here's my take on the Russell situation: I initially agreed that he shouldn't be allowed to play after what transpired last year. There's no doubt that Russell screwed up big, but MLB and the Cubs are who decided to let Russell continue in the game, so that part's not on him. After watching him for 11 innings in his first game back, I saw much of the same that I saw last year from him: Nothing. His fielding was decent (no surprise), but he still looks tepid at the plate, with weak swings and even softer contact. His biggest contribution of the night was a walk on his fourth trip to the plate.
Fan racism at Wrigley: Just a few weeks after Carl Edwards, Jr. received racist comments on social media, former Cub, and now NBC Sports Chicago reporter, Doug Glanville experienced an incident of his own. Cubs' President of Business Operations, Crane Kenney, issued the following statement: "We are currently investigating an incident that occurred during the Cubs' May 7 broadcast on NBC Sports Chicago while reporter Doug Glanville was on the air. An individual seated behind Mr. Glanville used what appears to be an offensive hand gesture that is associated with racism.
Such ignorant and repulsive behavior is not tolerated at Wrigley Field. We are reviewing the incident thoroughly because no one should be subjected to this type of offensive behavior. Any derogatory conduct should be reported immediately to our ballpark staff. Any individual behaving in this manner will not only be removed from the ballpark but will be permanently banned from Wrigley Field."
KB on the move: Before last night, Kris Bryant had a late-inning homer in each of his previous plate appearances for three straight games. A grand-slam on Sunday (vs. Cards), a solo shot on Monday (vs. Marlins) and a three-run blast on Tuesday night. Going into Sunday's game, Bryant had a total of three dingers and 15 RBI throughout his first 29 games, after Sunday's game, KB was sitting at six homers and 23 RBI. Impressive.
Gotta love Lester: After Tuesday night's game, Big Jon Lester offered some commentary on a few of the game's bloopers. I do my best to entertain you folks, but I've got nothing on Lester…
"God knows what he's doing over there..." ??@JLester34 didn't hold back on @ARizzo44, as his postgame presser felt like a standup comedy set after last night's walk-off W: https://t.co/1vXLFlWkNx pic.twitter.com/D4hIMXllOO

— Cubs Talk (@NBCSCubs) May 8, 2019
Yesterday's Cub Birthdays: Happy birthday to ex-Cubs Bill Powell (134) and Ross Barnes (169).
NL CENTRAL SCHEDULE (May 5 – May 4, 2019)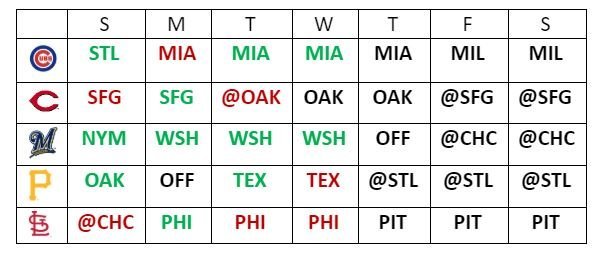 YESTERDAY'S NL CENTRAL SCOREBOARD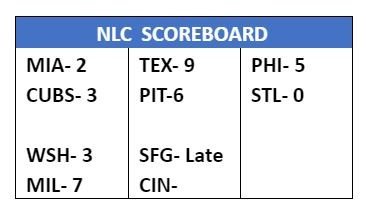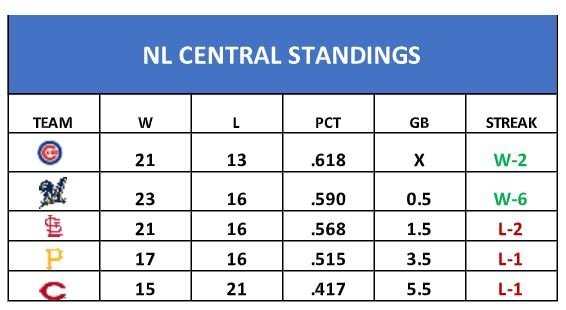 Tags: Cubs Baseball
,
Yu Darvish
,
Kyle Hendricks
,
Steve Cishek
,
,
Jason Heyward
,
Jose Quintana
,
Cole Hamels
,
,
Addison Russell
,
Mike Montgomery
,
Ben Zobrist
,
Pedro Strop
,
Joe Maddon