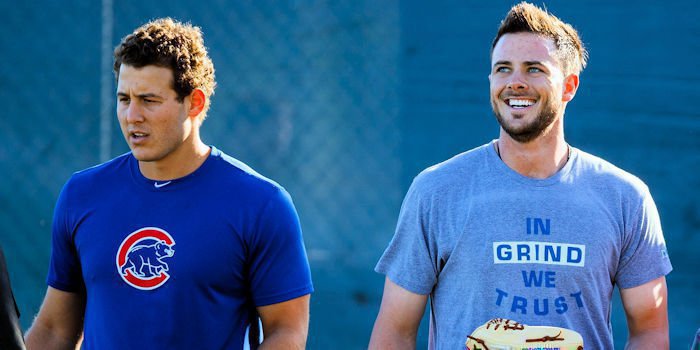 | | |
| --- | --- |
| Cubs News: Game Preview, Hoyer on Russell and Bryzzo, RIP Coppock, Standings, more | |
---
| | | |
| --- | --- | --- |
| Friday, April 19, 2019, 8:14 AM | | |
Next Game: Today: 1:20 PM, D-Backs vs Cubs. RHP Merrill Kelly (1-1, 3.79 ERA) vs RHP Kyle Hendricks (0-3, 5.40 ERA).
CUBS NEWS AND NOTES:
D-Backs/Cubs Series Preview: This should prove to be an interesting and exciting weekend-series between the Cubs and the Diamondbacks. The Cubs, moving up in the standings, just completed a sweep of the Marlins, while Arizona just swept the Braves, who in turn swept the Cubs just recently. The D-Backs will enter the series with a 10-9 record, while Chicago comes to battle with a record of 7-9. The Cubs hold an advantage in run differential (+12), as compared to Arizona who is even at this point.
As far as scoring is concerned, the D-Backs (including pitchers) are slashing .269/.331/.473, plating 99 runs thus far, while the Cubs, slashing .269/.357/.453, has scored 103 runs, making the teams nearly identical. In the pitching department, the Cubs have a team ERA (starters and relievers combined) of 4.55, allowing 85 runs (74 earned), while Arizona's staff is currently combining for a 5.36 ERA, allowing 102 runs, 97 of which were earned.
I'm not sure that the Cubs and Dodgers have ever had a working relationship, but this weekend would be an excellent time to start. Arizona is in 3rd place in the NL West, just 1.5 games behind the Dodgers. Meanwhile, the Cubs, currently in 4th place, (2.5) games back) are chasing Milwaukee. LA is in a position to help the Cubs, as they started a 4-game set against Milwaukee last night (taking the first game from the Brewers by a final of 3-1, moving the Cubs up 0.5 games), while the Cubs are preparing to host one of the two thorns in the Dodgers' side.
Get yourselves a Dodger Dog and root for LA this series, as I'm sure that at least a handful of Dodgers fans are scrounging for a Chicago Dog while doing the same. All bets will be off come April 23rd, however, as the Cubs will then play host to Los Angeles for a 3-game set. Let the games begin.
Every day game. Every night game. Every home game. Every road game.

Every game matters. #EverybodyIn pic.twitter.com/RG2QyTTIAa

— Chicago Cubs (@Cubs) April 19, 2019
D-Backs/Cubs Probable Pitchers: Saturday: Zack Greinke (2-1, 5.79 ERA) vs RHP Yu Darvish (1-2, 6.11 ERA). Sunday: Robbie Ray (0-1, 3.52 ERA) vs LHP Jose Quintana (1-1, 5.14 ERA).
Longest dingers: According to StatCast, the Cubs' five longest homers this year belong to: (1) Anthony Rizzo- 472 feet, (2-4) Willson Contreras-460 feet, 452 feet, 443 feet, and (5) Javier Baez- 439 feet.
Before the #Cubs play the DBacks today at 12:30 on @nbcschicago, can we get a @javy23baez HEAT CHECK? ??????#MyTeams Stream: https://t.co/7WGRd3nOh9 pic.twitter.com/LMrN5XSfns

— Cubs Talk (@NBCSCubs) April 19, 2019
The struggle is real: Anthony Rizzo, Kris Bryant, Albert Almora Jr. and Kyle Schwarber (combined): .197/.297/.393; the rest of the position players (combined): .355/.429/.598.
Jed Hoyer on Russell: "He has been compliant with everything we have asked him to do and then some " Hoyer said that the only plan for Russell at this point, is to get him ready for his 7-day, minor league appearance which will prepare him to return to the MLB team. Russell is eligible to start his minor league stint next week, before returning to the Cubs on May 2nd.
Hoyer on Bryzzo: "We know those guys will carry us at some point. ... But it's been a slow start to this point for those guys."
Addison Russell: Despite the Cubs' apparent intention to move forward with Addison Russell, the fans remain divided. A Twitter poll was posted asking fans how they felt about the subject, and 52% (out of 368 votes) thought that he didn't deserve a second chance.
Does Addison Russell deserve a second chance with the @Cubs?

— #EverybodyIn (@ChiTownSports) April 18, 2019
Pedro Strop: The Cubs righty says that the bullpen has recovered from the ugly start and will only get better with the return of Brandon Morrow.
Len Kasper: The Cubs announcer shares a little insight on Twitter from an observation that I, too, question all the time:
"I'm always amazed at people who buy the most expensive seats directly behind home plate, sitting there all day staring at their phones, while a ballgame is going on 40 feet in front of them. To each his/her own! I have a sofa for that at home & I don't pay a service fee for it."
Condolences: Chicago sportscaster, Chet Coppock, has passed away after succumbing to injuries sustained in a car accident last week; he was 70.
Very sad to hear the Chet Coppock news. He was very nice to me when I first arrived in Chicago. Sadly we lost touch with each other over the years. One of a kind doesn't begin to describe him. RIP Chet.

— Len Kasper (@LenKasper) April 18, 2019
Yesterday's Cub Birthdays: Happy birthday to ex-Cubs Marcos Mateo (35), Alberto González (36), Rich Bordi (60), Dennis Rasmussen (60), Mike Paul (74), and posthumously, Mal Moss (114), Danny Friend (146), and George Borchers (150).
NL CENTRAL SCHEDULE (April 14 – April 20, 2019)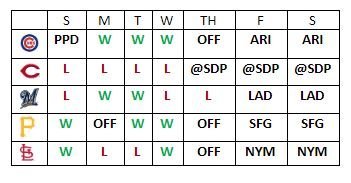 YESTERDAY'S NL CENTRAL SCOREBOARD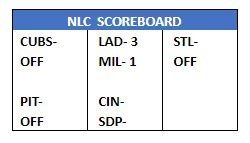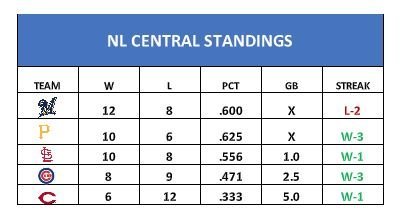 Tags: Cubs Baseball
,
Kyle Hendricks
,
Yu Darvish
,
Jose Quintana
,
Anthony Rizzo
,
Willson Contreras
,
,
,
Albert Almora Jr
,
Kyle Schwarber
,
Addison Russell
,
Pedro Strop
,
Brandon Morrow