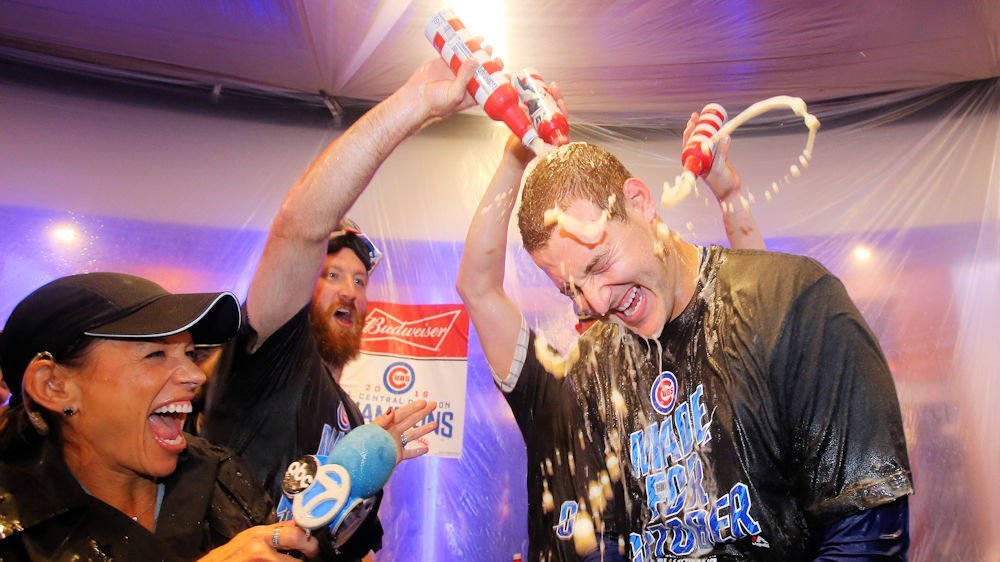 | | |
| --- | --- |
| Happy New Year: My Five New Year's resolutions regarding the Cubs | |
---
| | | |
| --- | --- | --- |
| Tuesday, January 1, 2019, 1:04 PM | | |
When I was a kid, my objective was always to be able to stay awake until midnight on New Year's Eve. As an "older" adult (somewhat subjective), my goal on New Year's Eve has shifted to being able to be asleep long before the ball drops. I almost didn't make it last night- last I saw of the clock before I dozed off, it read 11:35.
As I laid there trying to fall asleep, I decided to make my New Year's resolutions, silently to myself. Note- it is always best to do this when nobody is listening, that way when you goof up, nobody knows. I've already screwed up one of them this morning, but I'll try a little harder to achieve the rest.
I RESOLVE to take it a little easier on Tyler Chatwood in 2019. Chatty had a bad year last season, (actually, I would call it a disaster, but I'm afraid that would violate my resolution) and I think better things will come from him in 2019. I have been told that if anyone can turn Tyler around, it will be new pitching coach, Tommy Hottovy.
While I never had anything against Chatwood personally, my critiques came from a journalistic and commentary standpoint. As I continue to get to know people in the baseball world, I've come to learn that Chatwood is a pretty down to earth guy who may not have been getting all the help that he deserved last season. As a writer, I'd be remiss not to point out things that are broken, but I believe that 2019 gives the man a clean slate. Let's do this, Chatty.
I RESOLVE to have a little more faith in Yu Darvish. The Cubs say Darvish will return as of Opening Day in 2019, and I saw a video of him throwing a few weeks ago. He wasn't burning fastballs into his receiver, but he was throwing what looked to be pain-free.
Questions still linger about Darvish's desire to regain his once pitching ace form, and there are concerns that his heart may no longer be in it. Again, it has been said that if anyone can motivate Darvish, it will be Tommy Hottovy- this guy certainly has his work cut out for him.
Although Theo Epstein went out and signed another starter (LHP Kendall Graveman), Graveman will be down for most of the 2019 season as he recovers from Tommy John Surgery, so barring any radical changes in the next few weeks, it will be Darvish who gets the nod.
I RESOLVE to be a little less critical of Ian Happ. I've said it for months, and I'll repeat it, I still think Happ may be traded, but if he remains a Cub, I'll try not to be as brutal on him. Much like with Chatwood, I have nothing personal against Happ- in fact, I have nothing personal against any of those guys.
I think Happ had (has) a lot of weight on his shoulders, and I do believe he didn't rise to the occasion in 2018, but again- new year, new season, fresh start. I do think that Almora should be getting regular starts in center, with Happ playing more of a utility role. I understand this may hinder Ian's ability to get his offense rolling, but I also think that regular playing time will get Almora hitting more consistently.
I RESOLVE to sit back and let Theo, Jed and Joe do their respective jobs for the rest of this off-season, without me screaming (sometimes literally) as they continue to sit quietly through the winter. I know that there is some master plan out there for the 2019 Cubs, but as a spectator, it's frustrating not to know who they're looking at or how they'll proceed into spring training.
We do know that there are vacant spots in the bullpen, left by Chavez, De La Rosa, Garcia and Wilson, and with only 41 days until pitchers and catchers report, spots need to be filled. In the meantime, I'll calm down, stress less and wait with anticipation.
I RESOLVE (and this is my favorite) to make it to a game at Wrigley Field this season. My wife and son have never been to a game, and it's been much too long since I've seen our boys in person. Living in southwest Missouri will cause this to be a mini-vacation as opposed to a day trip, but I think it will be well worth the time and money.
I live only 170 miles from the Royals' stadium, but the Cubs don't play them this year. I'm just under 300 miles to Busch Stadium, but who wants to see the Cubs and Cards in St. Louis? I've been to Busch Stadium once (circa 1978) to see the Cards host the Mets, and while the stadium was nice, it's no Wrigley Field.
Give me a Chicago Dog, an Italian Beef and an Old Style, but most of all, give me Wrigley and the Cubs.
In closing, I also resolve to do my best to bring every one of you the latest news, rumors and entertaining commentary in the new year, and I will spend more time on our message boards, trying to interact with those of you who join (it's free- just create a login).
I hope everyone had a safe and happy New Year's celebration, now let's get serious- it's almost time for baseball again.