| | |
| --- | --- |
| Home Opener today, Baez on struggles, Epstein takes blame, and MLB News | |
---
| | | |
| --- | --- | --- |
| Monday, April 8, 2019, 8:24 AM | | |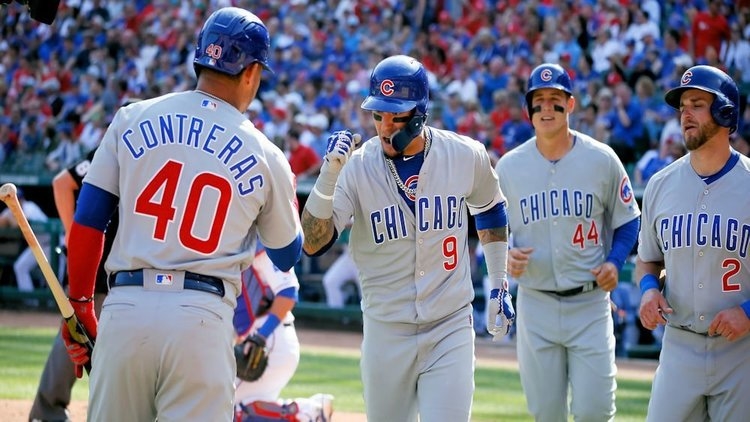 Next Game: Today (Home Opener), 1:10 PM. Pirates @ Cubs: RHP Jameson Taillon (0-1, 3.46 ERA) vs. Jon Lester (1-0, 3.00 ERA).
CUBS NEWS AND NOTES:
Sunday's Game Recap: Kyle Hendricks and the Cubs took on Zach Davies and the Brewers at Miller Park yesterday afternoon, in the rubber match of a three-game series. The Cubs would never lead in this game, and the Brewers had it won by the end of the third. With a final score of 4-2, the Cubs drop to 2-7 on the year.

Javier Baez: Baez talked about his team's early struggles to start the season.
"We're struggling and everybody's talking about it and the bullpen and the pitching and whatever. This is a team. It's everybody together. We're just trying to get out of it and move on. We're still in the first month, so there's still five months of baseball. We're the Chicago Cubs. Obviously, everybody's going to talk about us and about 2016 and all that bullcrap. Like I said, I don't control that. I like it, because when people talk about you, it's because they care. They either care or they hate you. Whatever."
Cubs/Pirates Probable Pitchers: Tuesday: Off-day; Wed: RHP Jordan Lyles (0-0, 0.00 ERA) vs. Yu Darvish (0-1, 8.10 ERA); Thursday: RHP Joe Musgrove (1-0, 0.00 ERA) vs. Jose Quintana (0-1, 10.29 ERA).
Offensive tidbit: The Cubs are 2-2 when scoring 10 or more runs this season (8 games). Last year, went 50-0 when scoring 7 or more runs.
Jason Heyward: After a struggle that lasted most of last season and continued into this year, J-Hey's bat has woken up. In the last two games, Heyward has gone 4 for 6 (.667) with 2 homers, 5 RBI, 3 BB and 2 stolen bases, while only fanning once. Heyward is the first Cub since 1900 to have multiple homers and multiple steals in the same game.
Heyward told reporters, "it's good to be a part of the offense."
Cubs' Jason Heyward: "it's good to be part of the offense" pic.twitter.com/wZso3LkDQa

— Mark Gonzales (@MDGonzales) April 7, 2019
Cole Hamels: Hamels knows that with the bullpen struggles, the key is to have the starters chew up more innings, thus lessening the team's dependency on the pen.
Cubs' Cole Hamels on 111-pitch outing pic.twitter.com/nSq3RiKE4j

— Mark Gonzales (@MDGonzales) April 7, 2019
Pick up the pace, boys: The Cubs are currently 2-7. There have been 57 teams in the Wild Card Era (since 1995) that have started 2-7 or worse. Of those 57 teams: 53 missed playoffs 2 won their division and 0 made World Series.
Theo Epstein: In an interview with ESPN's Jesse Rogers, Theo Epstein says the blame for the rough start should fall squarely on himself: "There is always a search for scapegoats when you get off to a tough start. [Pitching coach] Tommy Hottovy is not the problem; he's a big part of the solution. [Owner] Tom Ricketts is not the problem. It's not a resource issue. I know he's another one that's been taking a lot of heat. It's not a resource problem. If people have a problem with the allocation of resources, then that's on me. And it has been ever since I got here, with a lot of good and some bad."
Good, yet bad: The Cubs (60 runs, 2 wins) are the first team since the 1901 Brewers (61 runs, 2 wins) to score at least 60 runs in their first eight games of the season and only win twice.
Batting Orders: Over the off-season, Joe Maddon led the players, front-office and media to believe that he's be using a more consistent batting order this season, partially based on player concerns and complaints. While Joe has given the players more advanced notice of when they'll be playing, the batting orders continue to change daily.
Thus far this season, Maddon has used 8 different batting orders (9 when including pitchers) in the first 9 games (RECORD 2-7).
2015 RECORD: 97-65: 119 batting orders used (150 when including pitchers). 2016 RECORD: 103-58: 130 batting orders used (149 when including pitchers) 2017 RECORD: 92-70: 143 batting orders used (157 when including pitchers). 2018 RECORD: 95-68 152 batting orders used (160 when including pitchers).
Maddon not happy: You'll have to read his lips, but Maddon is not happy with the bullpen. Blatantly obvious that Joe says, "I'm so tired of this shit."
Joe - "I'm so tired of this shit" regarding the bullpen. #Cubs #CubsTalk pic.twitter.com/lcE1EX8HNa

— Chris (@cduta9902) April 7, 2019
Cub Birthdays: Birthday wishes (yesterday) to David Bote and to ex-Cubs Bill Stoneman (75), Tom Phoebus (77), Bobby del Greco (86), and posthumously, Richie Myers (89), Fred Lear (125), and John Ganzel (145).
NL CENTRAL SCHEDULE (April 7 – April 13, 2019)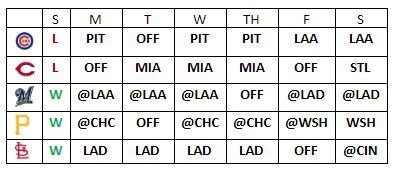 YESTERDAY'S SCOREBOARD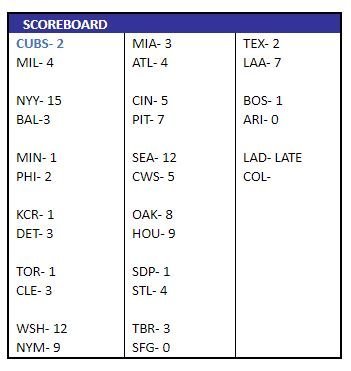 MLB News:
Braves: Atlanta has placed catcher, Brian McCann on the IL after he suffered a hamstring strain on Saturday. The team has promoted Alex Jackson to replace McCann.
Dodgers: The Dodgers' 72 runs are the most for any team through nine games since the 2000 Cardinals (75 runs), and the 22 home runs are tied for second-most in MLB history over a team's first nine games, behind the 2000 Cardinals (25).
Mets: NY has activated catcher, Travis d'Arnaud from the 10-day IL and has optioned backstop, Tomas Nido to triple-A Syracuse.
Rockies: In 1,938 all-time games at Coors Field, the Rockies and their opponents have combined for an average of 12.0 runs per game, the highest average at any stadium in major-league history that has hosted at least 1000 games. The all-time batting average there is .298.

Tags: Cubs Baseball
,
,
Kyle Hendricks
,
,
Yu Darvish
,
Jose Quintana
,
Jason Heyward
,
Cole Hamels
,
David Bote
,
Joe Maddon
,
Theo Epstein
,
Tommy Hottovy