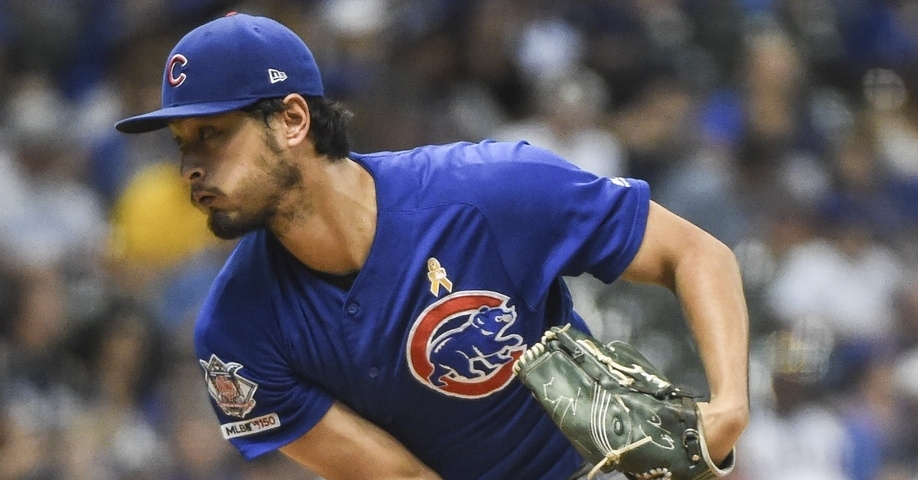 | | |
| --- | --- |
| How I would lineup the Chicago Cubs rotation today | |
---
| | | |
| --- | --- | --- |
| Monday, February 10, 2020, 6:00 PM | | |
With Cubs pitchers and catchers reporting tomorrow, it is time we dive into what the starting rotation is going to look like this season. This is how I would line up the rotation as of today if the season were getting underway.
Yu Darvish: After enduring one of the worst first seasons in a Cubs uniform, many didn't know what to expect out of Darvish in year two of his six-year deal. Through the first two plus months of the season, Darvish still wasn't wowing fans on the mound although his consistency was much better than in 2018.
Then the calendar flipped to July, where Darvish became not only the ace of the staff but one of the best pitchers in the National League over the next two months. Not only was he winning games and going deep into starts, but his command reached a level we have never seen from him in the past. It got so good he went 11 starts without walking a batter which is unheard of for him.
Yes, his final results were still not the greatest, but if you look at the second half, he put together, and you have tons of confidence in him moving forward. Do I expect him to perform as good as he was command wise the entire season, of course not, but if he can use the latter part of last season and transform that this year and you have a legitimate ace at the top of your rotation.
Jon Lester: Big Jon is nearing the end of not only his contract with the Cubs, but the end of his great career. In his five seasons on the north side, Lester has won double digit games each season with a mid-3.00 ERA during that time. The problem with him as of late, has been his age as it is starting to show over the course of the season.
Don't get me wrong, Lester was worth every penny of his contract, but he simply is not ace material anymore despite making 22.3 million. His velocity is down, the contact rate is up, and his strikeouts are down compared to what they were a few years ago. Lester knows this and won't shy away from admitting that.
With that being said, Lester needs to take this season as a transition year and reinvent his style of pitching to be successful. He isn't going to be what he was in 2015-17 and needs to realize he is more of a contact guy, so hitting his spots is crucial. He is still a solid no. 2 that any team would be lucky to have on their side.
Kyle Hendricks: One of two pitchers who will be under contract through this season, Hendricks has been nothing short of consistent since becoming a full-time starter in 2015. Yes, his stuff isn't overpowering by any means, but Hendricks knows how to pitch and is the closest thing that we have seen to a Greg Maddux like pitcher since Mad Dog himself.
His ability to hit the corners, work off his off-speed pitchers, and get hitters to be aggressive in counts allows his pitchers to seem much faster than they are in real-time. He has pitched like an ace at times that is for sure, but he has also gone through horrible stretches as you can tell when he misses his spots.
Given the performances he has strung together in the past, I was all for Hendricks being the ace of the Cubs staff last year. However, I have come to the realization that despite his great efforts on the mound, his stuff isn't ace material, so putting him in the middle of the rotation, for now, is the best option for the Cubs.
Jose Quintana: One of the biggest questions for the Cubs moving forward is that of Jose Quintana. As of now, he is slated to be the No. 4 in their rotation, but he is also in the final year of his deal. It wouldn't surprise me to see the Cubs dangle him in trade talks at some point this season.
Now in his fourth season, third full year with the Cubs, Quintana has been a consistent double-digit win guy who eats innings on the mound. The only issue I have with him has been his consistency or lack thereof. After pitching on the South Side for Seven seasons, the Cubs were hoping bringing him to the North Side would allow him to reach his true potential.
At times, Quintana certainly displays that as he can go through stretches where he looks like one of the best lefties in the game. On the flip side, he also goes through stretches as he did in September, where hitters tee off on him like batting practice making it unbearable to watch at times.
He is a solid No.4 starter in anyone's rotation, but he certainly hasn't lived up to what the Cubs gave up for him to this point. Being that this is his final year of control, it is now or never for Quintana if he expects to be with the Cubs all season.
Tyler Chatwood: Whether by default or the fact that he earned it based on his performance last year, Chatwood appears to be the early favorite for the No. 5 spot. After going 5-7 with a 5.11 ERA in 2018, Chatwood was demoted to the bullpen last season where he reinvented himself as the swing man for the Cubs.
He also managed to make six starts during the year, where he showed massive improvement posting a 3.95 ERA over those six starts. For the year, Chatwood still lacked command, but it was vastly improved from seasons past. Also, his velocity went up about three mph on his heater in the bullpen, making me wonder if he has found something in his delivery.
The No. spot in the rotation will be something to watch, but as of now, I like Chatwood as the No. 5 guy unless something drastically changes during spring. Depending on situations during the season, he too could be a trade candidate aimed at clearing some money off the decks.
Other Potential options: Alec Mills, Adbert Alzolay, Collin Rea and Jharrel Cotton are all options for the fifth and final spot in the rotation should the Cubs elect to keep Chatwood in the pen. All four of them have MLB starting experience with Rea the most experienced despite not starting a game in the bigs since 2017. He is the reigning PCL pitcher of the league and will get plenty of looks this spring.
Mills has been mostly a back of the rotation starter in the minor leagues but has gotten a handful of big-league starts the last two seasons. As primarily a swingman on the MLB roster, Mills has seen seven starts the past two seasons and pitched to an ERA of around 4.00. Although a limited sample size, he has shown he can handle starting duties when called on.
Alzolay is the mystery here as he is viewed as the readiest of the Cubs pitching prospects. In his two starts a season ago, Alzolay was lit up after pitching well in three games out of the pen. The problem with him has always been his health. Should he be able to stay healthy, look for him to land a bullpen spot out of spring with options to start down the road.
Cotton was an offseason acquisition used to create depth in the system. Also, a guy with some starting experience, Cotton, is the most likely, in my opinion, to end up in the minor leagues out of spring. I know he has potential, but I don't see the fit, and I don't think he is good enough to beat out four other arms for the fifth spot.