| | |
| --- | --- |
| Is Manny Machado the right fit for the Cubs? | |
---
| | | |
| --- | --- | --- |
| Thursday, October 18, 2018, 8:44 AM | | |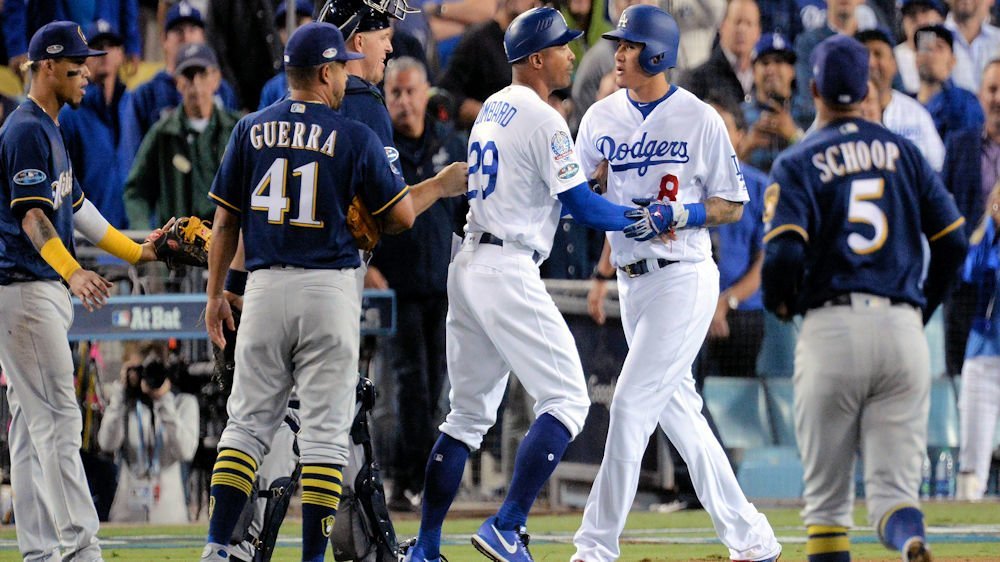 For the last few months, we've all been speculating on just where Manny Machado would wind up, once he was grabbed off the free-agent market. At the rate Machado's going, the list of the clubs that still might want him may be growing shorter by the hour.
Between Machado purposely trying to take out Jesus Aguilar's leg as he trotted at half-speed to first base, and then his comments about not being a hustling kind of guy, Mr. Machado seems to be committing career suicide right before our eyes.
First of all, the play with Aguilar wasn't even a bad attempt at making the contact look like an accident. It was blatantly obvious, from every camera angle possible, that Machado was, at the least, trying to be an ass, and at the worst, trying to hurt Aguilar. I don't care how many times Milwaukee eliminates the Cubs, trying to hurt a guy just isn't cool.
When you have Christian Yelich yelling expletives and calling you a dirty player making a dirty play, you may just have some issues. I'm not saying that Yelich never complains, but I can't recall ever seeing an interview with him where he called someone out like that, and Machado deserved every bit of it.
Granted, Aguilar did have about half of first base covered with his planted leg, but it isn't like the play was going to be close. Machado had ample time to veer off to his right by a half-step, and he would have reached first just as fast, had he done this, he still would have caught the outside of the bag with his left foot- but again, this wasn't even a close play. When it was over, he didn't even try to play it off as an accident, instead, he engaged Aguilar about covering too much of the base.
Manny Machado kicked Jesús Aguilar. Many #takes will follow. pic.twitter.com/uMopidt8IJ

— Fabian Ardaya (@FabianArdaya) October 17, 2018
Even if we write off the collision with Aguilar as an error in judgment by a young player during an intense playoff game, Machado's remarks about not hustling still have me shaking my head.
"Obviously, I'm not going to change, I'm not the type of player that's going to be 'Johnny Hustle,' and run down the line and slide to first base and … you know, whatever can happen." Excuse me, what?
"Hustling isn't my cup of tea."
- Manny Machado pic.twitter.com/zNqoB95MgI

— BASEBALL VAULT™ (@BSBVAULT) October 17, 2018
Manny, you're a big league ball player who is now about three weeks away from free agency; were you really dumb enough to say that not only don't you hustle but that you aren't going to change? Listen, I'm no player's agent, but I've gotta think that doesn't exactly bode well for upping the money amount that you think you somehow deserve.
While I initially thought that maybe Bryce Harper had a little too much attitude to fit into the Cubs' motif, I'm really starting to question your attitude and how that might (or might not) fit in with Chicago.
You have a dynamite glove and you can swing a mean bat, but dude, you won't even hustle down the line? I understand you not wanting to dive head-first into first base, and 99% of the managers out there would probably appreciate that, but as a fan, I'd expect to see you make at least a concerted effort to beat out a throw.
All I can say is that if the Cubs sign him, Theo had better schedule an intervention with Anthony Rizzo, Ben Zobrist, and Javy Baez, as this kid needs to have his attitude adjusted, and long before spring training starts.